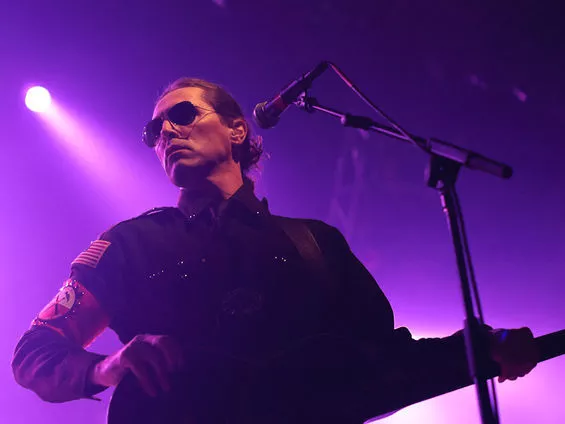 This weekend, Acoustics Anonymous and Hazard to Ya Booty put out new releases, Phat Buddha hosts a holiday party, and a couple of hometown stars -- Clownvis Presley and Kristeen Young -- play St. Louis shows. Read more about these picks and many more by checking out our recommendations. And don't forget the fine print -- plenty of other options along with previews await.
Friday (December 27):
Clownvis Presley w/ Brusier Queen, Bass Amp & Dano @ The Demo 9 p.m. | $10 From singing telegrams to NSFW Christmas shows, Clownvis knows how to stir things up. Check out this 2012 snapshot profile of the local clown gone good, and catch his raunchy comedic act live.
Hazard to Ya Booty CD Release w/ Collegiate Shag Brass Band @ The Gramophone 9 p.m. | $5 Local funky fusion rockers Hazard to Ya Booty releases its CD, the Precipice, with self-described "music so profound, it's physical."
Kowabunga! Kid w/ Soap Scum, Animal Teeth, Holy Doldrums, Anti-Prophet, Babe Maggots @ Livery Company 9 p.m. | free Kowabunga! Kid hails from Champaign, Illinois and plays punky garage rock. The bill also includes Soap Scum schlepping grimy hardcore and a lengthy line-up of local punk and "anti-punk."
Phat Buddha Holiday Party w/ Old Salt Union, Marquise Knox, Christina J, Mo Tre, Stevie Stone, Hakeen Da Dream @ Plush 8:30 p.m. | $5-$10 Phat Buddha Productions records a variety of clientele, as evidenced by the line-up it chose for its holiday party. Catch everything from blues and pop to "new grass" and hip-hop at this special local showcase.
For more Friday night options, check out the following shows previewed recently. Just click on the links to learn more: Jack Buck plays its last shows, Illphonics performs unplugged at the Kranzberg Arts Center.
Saturday (December 28):
Kristeen Young w/ Illphonics, Willis @ The Demo 9 p.m. | $10 St. Louis-raised, New-York based singer Kristeen Young performs alt-pop with an impressive vocal range. Check out one of her latest videos above and check out her unique performance with openers that are as all over the board as she is.
Acoustics Anonymous Album Release w/ Clusterpluck, Electric Rehab @ Old Rock House 9 p.m. | $12 Acoustics Anonymous self-identifies as "new grass" and acoustic country funk, citing Jerry Garcia as its biggest influences. If that sounds like your cup of tea, pick up a copy of its latest album at this release show.
Indyground w/ Sidewalk Chalk, Thelonius Kryptonite, Razi @ 2720 Cherokee 8 p.m. | $10-$15 Local label Indyground showcases some of the hottest artists on its roster for this all-star. The bill also welcomes Sidewalk Chalk from Chicago.
Also on Saturday via our critics' recommendations, go see Tilts at the Firebird, Nikki Hill at Blues City Deli, Perfect Pussy at Melt, the Disappeared at Lemmons and the Glass Cavalry at Plush.
Sunday (December 29):
El Monstero @ The Pageant 7 p.m. | $27.50-$42.50 El Monstero wraps up its slew on holiday shows this weekend. Catch the theatrical Pink Floyd tribute show while you can.
Orgone w/ The Reverbs @ Old Rock House 9 p.m. | $12/$15 Orgone brings the funk to the Old Rock House. RIYL: The Meters, Booker T & the MG's, butt-shakin'.
Weakwick w/ Brain Transplant, Stonechat @ Cafe Ventana 8 p.m. | $5 Weakwick hails from Minneapolis and though it only has two members, layers of noise and reverb-laden vocals will cause you to think otherwise. Check out its riff-heavy noise rock with a punk edge via Soundcloud. (MS)
Also from our critics' picks this week, consider grabbing a ticket to see St. Louis Symphony: Music of John Williams.
Note: Though we wish we could, we can't feature every great show happening in town in just one measly post. Peruse the St. Louis concert calendar for more ideas any time. Let everyone know what else you're looking forward to seeing this weekend in the comments below, and submit show info online any time to be considered for inclusion on these lists.
RFT MUSIC'S GREATEST HITS
Remembering STLPunk.com -- How to View the Site Today and Find Your Old Profile Page "Where Did My Dick Go?" The Gathering of the Juggalos' Best Overheard Quotations The Ten Best Dive Bars in St. Louis The 15 Most Ridiculous Band Promo Photos Ever
---