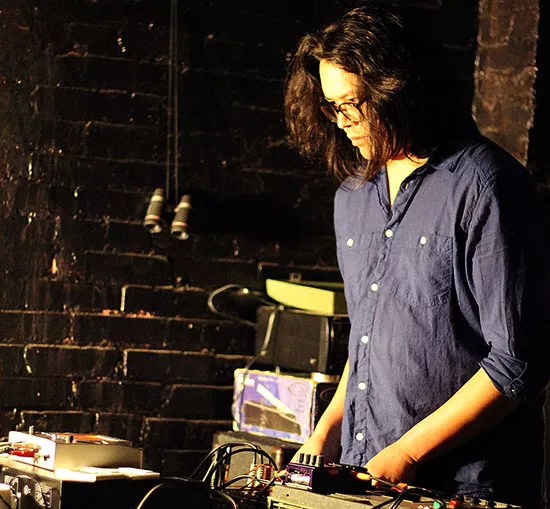 Mabel Suen
Josh Levi performing at Floating Laboratories.
Radiator Greys w/ DJ Max Eisenberg, Die Reihe and Brain Transplant Jade Room (3131 South Grand Boulevard) Tonight, December 26 | 9 PM | FREE
Every now and again, St. Louis gets shanked in the gut and leaks some of its talent all over another city. Josh Levi is one such case. When he left, the city lost a writer, artist, musician, booker and promoter all in one. Levi had a gift in bringing people together for any number of reasons, either through the subversive art of show posters or his underground show blog, Flood Yr Face. Tonight, Levi returns to perform at Jade Room (3131 S. Grand Boulevard; 314-664-2020) as Radiator Greys.
DJ Max Eisenberg and Die Reihe join Levi on the roster of St. Louis ex-pats on the bill tonight. Eisenberg might otherwise be known by his alter-ego DJ Dog Dick. By blending harsh sounds with tongue-in-cheek rap, Eisenberg pushes perverse dance music through a noisy filter. He approaches a heady mix of genres by packing the dense sound with absolute energy.
Die Reihe is the moniker of percussionist Jack Callahan. Since moving from St. Louis, Callahan has made a name for himself as a composer and experimental performer. Die Reihe represents an exploration in electronic sound using modular synthesizer - the latest in Callahan's expansive endeavors. Expect shifting tones stacked into ambient parts, making for a wholly atmospheric sound. Callahan's work is known for its subtle, varied dynamics.
The only true "local" performing tonight would be Brain Transplant, one of St. Louis' long-standing noise acts. Through the work of Chris Smentowski, Ajay Khanna and a revolving door of local artists, Brain Transplant offers a different experience, from show to show. Sometimes outfitted as a free-jazz hybrid with drums and horns and at other times an electronic duo, Brain Transplant is an ever-changing, morphing beacon of noise.
See also: Brain Transplant from "The 13 Best St. Louis Noise/Experimental Bands in 2013"
Josh Levi met with us ahead of the homecoming show tonight to discuss his influences and his work since moving to Washington D.C. Click through for the full interview.
RFT Music: Radiator Greys is a project you started while living in St. Louis. Before you return tonight, can you tell us about how the project has grown and evolved since your departure to Washington D.C.?
Josh Levi: Radiator Greys started out as a noise project I wanted to do centered around keyboard chords, no input mixer feedback, and cassette tape manipulation. At the time, the band I was in (Bikini Acid) was on hiatus, and I needed another vehicle for musical expression. After playing under so many different one-off monikers, I thought it beneficial to stick to just one project.
By moving to D.C., this became even more important in terms of booking shows or being booked on shows. I upgraded some equipment and incorporated a poor but decent excuse for a sampler and more vocals. None of my gear has cost more than $25 dollars.
For those who aren't familiar, can you speak more on the concept behind Radiator Greys?
I've always been equally intrigued by power electronics/harsh noise and ambient/ethereal sounds. With Radiator Greys I decided to combine the two in a more organic and compelling way. Through a comfortable wave of delay and high tones, I've managed to seamlessly weave pieces around reoccurring samples and a harsh vocal approach.
Before leaving St. Louis, you worked behind-the-scenes as a booker and promoter, including a music blog called Flood Yr Face. Can you tell us more about your many endeavors and other work you were involved in with the St. Louis music scene?
Flood Yr Face stemmed out of my involvement with booking the first Midwest Noise Festival in 2004 at the Lemp Neighborhood Arts Center. I had originally wanted Noisefest to be called that, but decided it might be better for something else. I was inspired by other people's showlistings and wanted to do it myself for some of the weirder things going on in St. Louis.
Through my involvement with places like the LNAC, Radio Cherokee, Spooky Action Palace, and a few other houses in the area I was able to roll on from there in terms of booking. The importance of branding was very clear early on, as people respond to the consistency of certain outlets. I wanted to focus mainly on noise, experimental, and some of the more no wavey and heavy punk bands as well.
Can you tell us about your role in Washington D.C., and your own work within the music community there?
Washington, D.C. is certainly a weird place. It's very transient with people staying for work from roughly 6 months to 3 years. It's very 9 to 5/power oriented and people are usually there for work reasons only (mainly governement/non-profit jobs). This certainly makes things challenging because sometimes there simply aren't enough people into or aware of what you may be doing.
Before moving, I knew of a few outlets (Sasha Lord Presents, Chris Moore of Coke Bust/D.O.C., and the long running avant-garde focused Sonic Circuits), however I saw a void for the type of music I had been booking in DC. People seemed to be unaware of this established "freak network" stemming from Western Mass and Providence all the way down to Asheville and Chapel Hill. Having booked many friends over the years in St. Louis, I was surprised to find that many either never played DC or had a rough one-off show years back.
With the culturally vibrant city of Baltimore just 45 minutes away, it makes sense. Taking my experience from St. Louis I applied all that I learned and focused on a booking venture with my newly-made friend Jacob Knibb, and started Select DC. I knew DC needed a name/branding to get behind in order to create any buzz and from what I can tell, it's working. In under a year we've been able to program 15 events with many featuring artists on many year-end lists such as NPR, The Fader, and Resident Advisor.
You aren't the only St. Louis ex-pat performing tonight. What was the idea behind bringing DJ Max Eisenberg and Die Reihe (Jack Callahan) into the mix? What about Brain Transplant, the only "local" act on the show tonight?
Since moving to D.C. I'm still amazed that New York is a mere 4 hours away. Both Jack and Max live up there and I've been lucky enough to stay in touch one way or another over the years. We all had a hankering to bust a quick/fun hometown gig and we were fortunate enough to be in town at the same time.
Brain Transplant was a MUST. Chris Smentkwoski and Ajay Khanna will fill out this line-up. They've been a huge influence on Jack, Max, and I during our formative years (and beyond) and it was only right to have them jam. Smentkowksi was one of the first people I met who played noise and was bringing so many innovative and interesting acts to St. Louis in the early 00s (Wolf Eyes, Black Dice, Nautical Almanac, Metalux). He ran the Brain Transplant website and listed all of the acts that he brought through and I just thought it was so cool and consistent. I knew that I could trust any gig he booked to be good.
What would you say to prepare an unsuspecting public for the gig tonight? As in, how would you convince someone who has never heard experimental or noise to come try it out for the first time?
Tonight should be fun! Max is a total ding-dong who knows how to start a party and I expect his DJ/MC antics to be nothing short of stellar. I've seen Jack grow from a young high school free jazz drummer to an adult maniac ripping a modular synth. Very focused and realized. I'll be joining Brain Transplant for a piece and I'm very honored. If you've never seen Brain Transplant live, I can't recommend it enough. Pure, seething concentrated noise in every performance.
I'll bring a more rhythmic and ambient approach with a few surprises. Expect a lot of interesting sounds packed into one evening and the beer will flow like wine. Come with an open mind and if you hate it or love it, then you'll know.
---