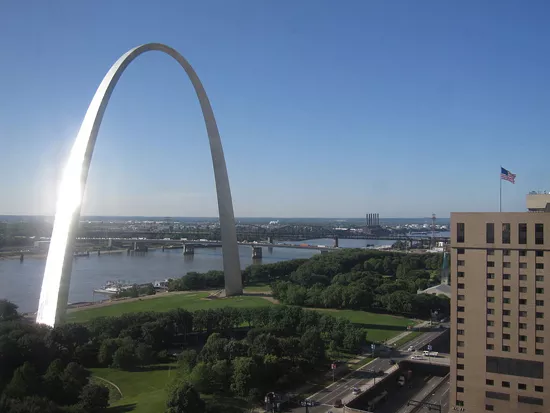 When we started the Fill in the Blank interview series back in June of this year, our mission was to track down local creatives and give them a simple platform to speak. We provided open-ended questions, encouraging local musicians to rant or rave on the subject at hand.
RFT Music would start a sentence and task the interviewee to end it. When presenting the phrase "The St. Louis music scene could use..." we received some heavy responses. While few seemed content with the usual goings-on of St. Louis music, many were vocal about certain changes.
After combing through the answers from six months-worth of interviews, five basic notions were agreed upon: Local Support, Unity, Diversity, Effort and Appreciation Read on, because this advice rings true for many bands, venues, booking agents and music fans alike, regardless of genre or personal preference.
Local Support
The Brothers Lazaroff: The St. Louis music scene could use... "more wide-spread support of original local music. There is a strong strong core of support for local music - between the RFT, KDHX, Arch City Radio Hour, Eleven Magazine, STL Magazine, STL Post and great local blogs like I Went To A Show and Jarred Gastreich's Show Me Shows, there are a lot of great outlets for local bands to spread their music. But until there is more of a "support original local music ethos" in the city and suburbs at large it'll be hard for local bands to maintain momentum and play regularly in St. Louis. Maybe more happy hour and early evening weekday shows would help?
Ultimately, people have to realize that it is worth the energy of getting off the couch for a night and taking in some original music/art. I guess we all fight that inertia though! St. Louis is major music city in respects to our history and talent, but we aren't a music industry town so we have to find a way to create a larger base of concert goers."
Nicholas Horn (guitar) of Brotherfather: The St. Louis music scene could use... "more fans. I don't really know how to make that happen, though. It seems like the bottom line is that St. Louis is a place that's largely dominated by mass culture, and the majority of people aren't interested in hearing much of anything other than what Clear Channel's offering. Luckily, there is a small community of people in town who are very much interested in fostering creative activity, supporting artists in all kinds of different media, and generally making St. Louis a more vibrant, interesting place."
Langen Neubacher of The Defeated County: The St. Louis music scene could use... "more folks that aren't directly involved in the business following the local music here. The St. Louis music scene is all love love love between the musicians and venues and artists involved -- it's beautiful, but I genuinely believe we've got some local talent that could compete with the best of national acts. We need more people outside of our circles to hear us."
Lyndsey Rawley (drums) of the Glass Cavalry: The St. Louis music scene could use... "some more credit! There are tons of bands in the STL music scene that are amazing and people need to realize that and go to see their shows instead of just writing off the local music scene." Unity
Mabel Suen
Animal Teeth at CBGB on Grand.
Austin (vocals) of Animal Teeth: The St. Louis music scene could use... "more unity. It sounds cheesy but you do not see the same people at a punk show that you would see at a noise show. Give or take they differ in sound but one should understand that we are all weirdos and should maybe collaborate on shows."
Jordan Lake (guitar) of Heavy Horse: The St. Louis music scene could use... "more unity. Sometimes, it feels like there are multiple St. Louis scenes. I want more a family-like feel across the board."
Diversity
Mabel Suen
The Funs at Blank Space on Cherokee.
Philip of The Funs: The St. Louis music scene could use... "more diverse shows. I feel like more people would attend if them if they were more interesting. I'm not hating on anything but it seems bleak at the moment. It needs new blood. Suburb kids with a clean slate."
Jessee Rose of The Funs: The St. Louis music scene could use... "more of an open door to outsiders to the scene. Fresh meat. It needs the next generation. And different bands from other cities. I have met countless bands on the road that get excited when they find out I grew up in St. Louis. They say, "Oh cool! We really want to play there but can't get on a show. Can you help us out?" And honestly I can't 'cause there isn't enough support and it's a damn shame because you need those underdog out-of-towners to make it to St. Louis and have a good show in order to breathe life into a scene. You must have diversity or die. What I wish more than anything for St. Louis music is for there to be more shows that aren't hardcore/metal, blues/country, or noise. That is what is dominating the scene and it is stagnant. I want straight rock and roll. Where are the young punks and artists that have something to say? It's also a big goal of mine to get the blood flowing between Chicago and Saint Louis because I divide my time between both cities and I am surprised there isn't more of an exchange between the scenes."
Mr. Ben of Beauty Pageant: The St. Louis music scene could use... "more self-confidence, especially when it comes to weirdness. There's obsession with paying tribute to indigenous folk music from half a century ago, which the RFT oozes orgasmic love for. I'd rather see more creeps lurking in the corner wielding contact mics, prepared to make utterly uncomfortable noises. Because it's okay, goddammit, to make those noises. You can get away with it here! It's cheap and easy! Maybe we could use a more flexible critical standard, or another beer." Effort
Mabel Suen
Pillow Talk at CBGB on Grand.
Jeff Robtoy (vocals) of Pillow Talk: The St. Louis music scene could use... "more bands that tour consistently, put out records, promote themselves and become recognized on a national level. There are so many crummy bands that are popular not because they are interesting or talented, but because they come from money, a cool part of the United States, or are not afraid to promote their product. St. Louis bands could really be big if they tried a little harder (myself included)."
Julio of Kenshiro's: The St. Louis music scene could use... "more drive to get outside. St Louis is great but I feel like it needs a different approach to making it nationally. There's so much fantastic music being made in the city, I wish I could see So Many Dynamos headlining Coachella or something like that. I've gained a lot of respect for the scene because I discovered that I actually enjoy the music quite a bit, so I would like to see those bands propelling themselves into the national territory so that the country starts looking at St Louis and realizing the scene is worth a lot more than what people think."
Appreciation
Mabel Suen
Kevin Harris at Floating Laboratories in South City.
Kevin Harris: " I can really only speak for a very small section of the music community, that of mostly non-traditional music (music that does not seek to utilize formulas developed within the context of historical music traditions). This type of music has had an impact on my life because of its high degree of authenticity.
If music does not reference tradition, it becomes impossible to use popular models of critical examination, such as comparing music to existing forms to arrive at qualitative determinations. This necessitates the need for a unique type of appreciation - an appreciation also absent from the tradition of music appreciation. It forces the audience to be creative and truly question what it means to "like" a particular style or piece of music (mostly what people think they like is really just what they are familiar with.
There have recently been studies on the way long and short term memory interact with one another when listening to music. It turns out that when musical information is stored in short term memory, it is also passing through our long term memory to reference stored musical info. The sets of information are bound together into groupings that produce satisfying feelings when musical information is familiar to us). This process teaches us that sound can be beautiful, challenging, cerebral, emotional, and an entire world of complexity when it is arranged in novel ways, and just as this process shows the importance of approaching music without preconceived notions and expectations, it can also be used to show the importance of approaching all aspects of life with an open mind.
So... what can the non-traditional music scene in St. Louis use? Good critics who understand this music and tell others why it is so appealing. This community needs a voice, representatives to tell the story and inspire people."
Galen McGreehan (drums) of Quaere Verum: The St. Louis music scene could use... "more people that realize how amazing the St. Louis music scene is. There is so much talent in the metal scene right now and people just don't seem to realize it. Everything Went Black. The Lions Daugher. Jack Buck. My Name is a Weapon. Bastard. Nolia. Exempt. Alan Smithee. Inimical Drive. Sine Nomine. Crush it to Death. As Earth Shatters. Final Drive. Blackfast. Casino. Heavy Arms. Icon and Anchor. A Dark Orbit. Every single one of these bands is doing something different. Everyone is forging their own path, these are talented musicians and if you like metal and you want to support local music, go see these bands."
Gabe Karabell and John Birkner of Bad Dates: The St. Louis music scene could use... "'a kick in the pants.' We have a lot of talented people and awesome bands, but that's just one piece of a music scene. A lot of the folks who work behind the scenes -- booking shows, running venues and record stores, writing blogs and zines, releasing records -- go unappreciated and can't sustain the financial costs involved. So they move away or drop out."
Do you know a project or band that should be considered for this series? Drop a line to [email protected].
Previously from our Fill in the Blank series: - The Glass Cavalry - The Blu Skies - Animal Teeth - Popular Mechanics - Brotherfather - Bad Dates - Beauty Pageant - Pillow Talk - The Tennis Lesson - The Funs - Brothers Lazaroff - Quaere Verum - MME - Sarah Bollinger - Little Big Bangs - Everything Went Black - Lions Eat Grass - Kevin Harris - Laika - Heavy Horse - Barely Free Partial Prisoners - The Defeated County - Lizzie Weber - Kenshiro's - B.E.L.L.A. - Superfun Yeah Yeah Rocketship - Humdrum - The Blind Eyes
---