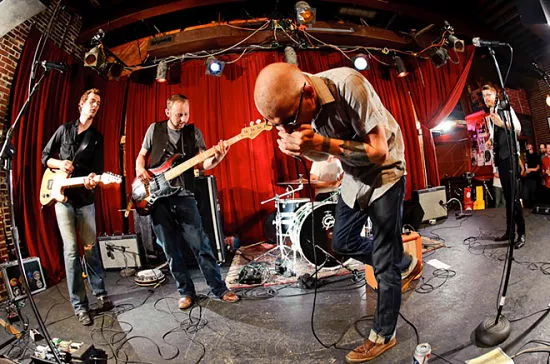 Music makes you feel like a badass, doesn't it? The really good stuff does a bang-up job of providing just the right amount of swagger to fit any young gun's mood. Maybe you feel like humming songs about the end of the world? Maybe you want to plot out the imaginary murder of your lover, who's complaining about the dirty dishes in the sink again?
Don't worry, we're not judging you. In fact, we want to add even more fuel to your fire. Check out these seven St. Louis bands that, through naming convention, will kill you with a variety of weaponry.
See Also: Six St. Louis Bands You Can Eat or Drink
CAVEOFSWORDS
Damn, if only every song created by weaponry-named bands sounded as sexy as "Kill It with Fire" and other CaveofswordS tunes. Equal parts Garbage, Portishead and the Cure, CaveofswordS presents sultry, moody electro-pop that easily would have been at home on the soundtracks for dark '90s films Cruel Intentions or The Crow. That's not to say that the band's tracks sound dated; oh hell no. Rather, CaveofswordS gives a fresh take on gloominess that's perfect for lamenting a love gone wrong or hiding the sliced-up bodies of evil-doers.
https://www.facebook.com/pages/CaveofswordS/177916865583478
KENTUCKY KNIFE FIGHT
Man, do NOT piss off Kentucky Knife Fight, or the band may lyrically shiv you like a prison bitch. A self-affirmed "five-piece punk-blues wrecking crew" and regular winner in the RFT Music awards, KKF growls about about St. Louis' hardships while sounding dirty, raw and oh so alluring. Listen as vocalist Jason Holler delivers words about the downtrodden and the desperate, and you might imagine a movie of murders, drug deals and love gone awry, all enveloped in filmy cigarette smoke that just adds to the tension.
https://www.facebook.com/KentuckyKnifeFight
THORHAMMER
Really? There's a St. Louis band worthy enough to wield Mjolnir, a weapon that can level mountains and summon storms? Loki's not around, so there's no trickery when we say that, yep, ThorHammer brings the lightning. This is heart-thumping, bass-growling stuff, guys. When ThorHammer thrashes, you can feel the music's urgency rampaging through your blood. It's pure metal that nearly matches adamantium in strength, and the band's thunder cannot be denied.
https://www.facebook.com/thorhammerstl
Continue for more St. Louis firepower.
OCKUM'S RAZOR
We don't know if Ockum's Razor should be classified as hard rock, metal-lite, grunge or what, but we do know that the band slices open a vein of good tunes. The group lives up to its obvious Tool and Alice in Chains influences no matter if it's thrashing in your face, getting moody with keyboards or setting off your spider-sense with dangerous-sounding bass. With sleepy ballads and in-your-face rockers, there's no ear that Ockum's Razor will fail to pierce.
https://www.facebook.com/ockumsrazor
THE CHAINSAW GENTLEMEN
We have a feeling that even if the guys in Chainsaw Gentlemen ever get into a murderous rage, they'd kill you honorably. Listening to the band's seven-inch, we often pretend that its members are pirates that would fit right into The Princess Bride. Indeed, it seems that with their gentle mandolins and strong storytelling, Alvan Caby, Tim Rakel and Chad Ross have more in common with the farmboy-turned-buccaneer Westley than they do with the chainsaw-wielding Ash from Army of Darkness. And we're totally ok with that.
https://www.facebook.com/pages/Chainsaw-Gentlemen/152770274885748
MONEY FOR GUNS
You don't need a back-alley deal to enjoy this firepower; Money for Guns blasts you with straight-up rock that's tinged with some mighty sultry vocals. Taking a little from Ryan Adams, the Clash and the Band, Money for Guns switches between laments and rockers with ease. Strumming guitars means strumming our hearts, especially on tunes like "Lucy" and "Osceola." Such a musical weapon can feel weighty at times, but Money for Guns expertly handles the revolver. We're shot through the heart, but in the best way.
https://www.facebook.com/moneyforguns
RFT MUSIC'S GREATEST HITS
The 15 Most Ridiculous Band Promo Photos Ever "Where Did My Dick Go?" The Gathering of the Juggalos' Best Overheard Quotations I Pissed Off Megadeth This Week, My (Former) Favorite Band The Top Ten Ways to Piss Off Your Bartender at a Music Venue
---