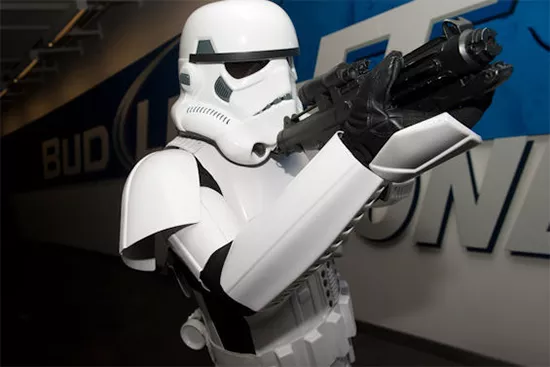 The St. Louis Symphony performs the music of John Williams at Powell Hall this weekend.
With the holidays nigh, it's good to take a look ahead at the potential aftermath. Unwind from the street of Christmas season with some shows this week. Schlafly Beer celebrates its 22nd birthday with a rock show on the big stage upstairs, Jack Buck plays its last show in St. Louis at Apop Records, the St. Louis Symphony geeks out with the music of John Williams all weekend long and much more. Check out some recommendations after the jump, and as usual, stay tuned for some more picks for the weekend come Friday.
Quiet Concert Monday, December 23, 8 p.m. w/ Bhob Rainey, Greg Farough, Mark Sarich @ Lemp Arts Center - $5 By Joseph Hess Hot off the heels of last month's Noisefest, the brains behind the Lemp Neighborhood Arts Center have cooked up a fresh series of shows for the coming year. The new "Quiet Concerts" series expands on the growing trend of minimalism and space in noise music, taking heavy cues from the careers of American composers Morton Feldman and John Cage. This edition features Bhob Rainey, Mark Sarich and Greg Farough, who will challenge spatial sound in near-silence. Expect electro-acoustic explorations with subtle shifts in volume and tone. The venue's space provides an intimate setting with open seating.
DJ Mahf Tuesday, December 24, 10 p.m. @ Pin-Up Bowl - free By Blair Stiles DJ Mahf works from some place in his brain that pumps out enough enthusiasm to make his work look easy. Performing with a chilled zeal, the Indyground DJ interplays dense minutes of thumping samples with crackling movie clips and fine-tuned, one-and-two-handed scratches. He has already banged around Kansas City's spirited Middle of the Map Festival with labelmate Brett Gretzky, crossed the northern American border and cut and pasted for Red Bull's Thre3style competition this year. Whether live or replayed through Indyground's streaming footage, Mahf exudes the enjoyment he feels: In tempo he bobs at the waist, moving faster in the moments when he is inundated with the floor's energy, always looking pleased. It is Mahf's obvious enjoyment of his craft that puts his sets so squarely in the spotlight.
Nappy Holla Daze Wednesday, December 25, 9 p.m. w/ DJ Needles @ Blank Space - $5 By RFT Staff The Hold Steady song "Most People are DJs" has become a fact of life. We live in an age when any iPod- and laptop-toting music hound can be a DJ — which is why watching a real turntablist tear up the decks is a thing of beauty. James Gates, a.k.a. DJ Needles, a.k.a. Nodzilla, has established himself as DJ royalty in St. Louis, playing the best clubs, events and parties, blowing up the independent airwaves weekly on KDHX with the cream of hip-hop and nu-soul. He's got a résumé a mile long, but his skill and seriously prodigious pairing of today's relevant cuts with forgotten grooves speaks for itself. If you haven't heard his name by now, you're just not listening hard enough.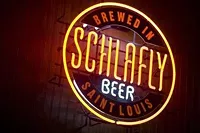 Schlafly Beer's 22nd Birthday Rock Show Thursday, December 26, 9 p.m. w/ Ransom Note, the Union Electric, Tok @ Schlafly Tap Room - free By Christian Schaeffer From this 2013 Ransom Note album review: When Ransom Note made its recorded debut two years ago with It's You!, the quintet's mix of soft-rock smoothness and blue-eyed soul made for some fun, easy listening, but you'd be forgiven for not taking the band as a serious endeavor. After all, what were these local-scene lifers doing trading in their rock and folk and alt-country bona fides for some serious Silk Degrees mojo? Those misgivings disappear on Big Soul, an album that proves that Ransom Note wasn't goofing on its debut. Here, the band has dug deeper and found a way to rock harder while plumbing emotionally blue territories.
Jack Buck's Last St. Louis Show Friday, December 28, 9 p.m. w/ Fake Limbs, Coward, Black Panties @ Apop Records - $5 By Joseph Hess From this 2012 show preview: Jack Buck is a muscular guitar mess, serving up a sweaty blend of angular riffs. The foundation is a meaty rhythm section with fuzzy bass and heavy-hitting down-beats. Fans of Touch and Go Records will feel right at home as Jack Buck invokes the meanest slices of the Jesus Lizard, Killdozer and Shellac. The group pokes around in noise-rock territory while keeping its head above water with classy hooks. Singer Colin Webb screams his guts out so as to compete for space among the intertwined instruments. The syncopated rhythms lend a complex feel to each piece so the songs never tire or wear out.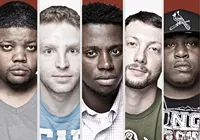 Illphonics Unplugged Friday, December 27, 8 p.m. @ Kranzberg Arts Center - $10 By Tara Mahadevan From "The Best Hip Hop Shows in December 2013": Want to hear hip-hop fusion done right? Local pioneers, Illphonics, are playing their first ever "unplugged" event this month, after the release of their self-titled sophomore album. Though rap and rock can sometimes be hard to blend, the band does it tastefully, coupling the instrumentation of keys, guitar, drums and bass with the rhythmic storytelling of front man and emcee Fallout Morris.
Tilts Saturday, December 28, 9:30 p.m w/ Dibiase, Boreal Hills @ The Firebird - $8 By Rick Giordano The name "Tilts" could easily represent the uphill battle the its members have faced over the last few years. Between head honcho Andrew Elstner touring the world with fuzz-rock heavyweights Torche since 2011 and the other fistful of bands Andy White, Shawn Hart and Ken McCray have dedicated their talents to, there simply shouldn't be time for Tilts. But this classic rock-worshipping labor of love has somehow never been abandoned, always rising to top priority whenever the four can get together. Tilts shows have become somewhat seldom these days and new material even less frequent, but next year will see the release of a new LP titled Cuatro Hombres through the well-respected Robotic Empire label. Expect 2014 to be the year that St. Louis' favorite high-energy riff-rock outfit ceases to be just our little secret.

The Disappeared Saturday, December 28, 9 p.m. w/ The Haddonfields, The Cuban Missiles, Black For a Second @ Lemmons - $5 By Jimmy Eberle From "The Best St. Louis Punk/Hardcore Shows: December 2013": The first of a couple pre-NYE options to spend getting drunk with best of the DIY punk community. If you're compelled to do shots of whiskey and debate the finer points of Lagwagon or the Replacements, this is be the event for you to throw your money at. Plus, the Disappeared has started to play shows again after a bit of a break -- you should also prepare to develop an inferiority complex about whichever given instrument you might dabble in. Also, the suspense builds as to whether Denny from Black for a Second will still have a broken hand to keep him from playing his fancy basslines on this night.
St. Louis Symphony: Music of John Williams Sunday, December 29, 2 p.m. @ Powell Symphony Hall - $30-$65 By Jenn DeRose Holiday trips to the movies have a classy counterpart this year with the return of the movie music of John Williams, performed by the Saint Louis Symphony Orchestra under conductor David Robinson. Exposure to classical music, for many Americans, is limited to the soundtracks of the silver screen. John Williams has contributed as much to the lasting iconic success of these films as the directors and actors; Darth Vader's statesmanlike evil image lacks gravitas without his "Imperial March," yet simply hearing his theme vividly recalls the dread and doom of Vader's imposing stride. The synesthetic nature of Williams' work makes this a rare opportunity to enjoy a live orchestral performance with friends and family, including the kiddos, who might not otherwise be open to the classical experience. This event features arrangements from Star Wars, Close Encounters of the Third Kind, Jurassic Park, Home Alone, Raiders of the Lost Ark, Harry Potter and Saving Private Ryan.
Note: Though we wish we could, we can't feature every great show happening in town in just one measly post. Look for plenty more recommendations this Friday in our weekend shows post, and peruse the St. Louis concert calendar for more ideas any time. Let everyone know what else you're looking forward to seeing this week in the comments below, and submit show info online any time to be considered for inclusion on these lists.
RFT MUSIC'S GREATEST HITS
Remembering STLPunk.com -- How to View the Site Today and Find Your Old Profile Page "Where Did My Dick Go?" The Gathering of the Juggalos' Best Overheard Quotations The Ten Best Dive Bars in St. Louis The 15 Most Ridiculous Band Promo Photos Ever
---