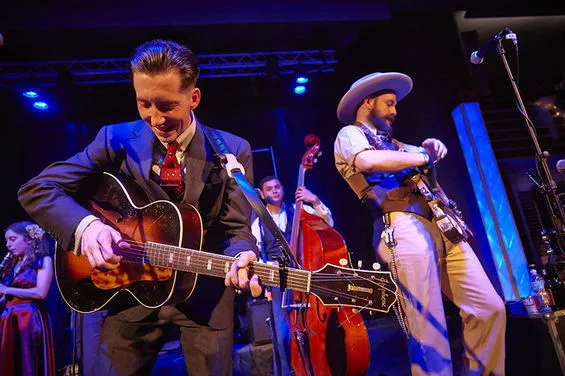 Steve Truesdell
Pokey LaFarge at Casa Loma
Well, 2013 is coming to a close and the year-end lists are pouring in from all corners of the music universe. St. Louis saw more than its fair share of incredible live music over that last 365 days, with stops from the much-hyped (Chance the Rapper, Masked Intruder), the much-adored (Iron Maiden, Method Man) and the long-overdue (Saint Vitus, Nine Inch Nails, Jeff Mangum). Add to those some unforgettable local shows and it quickly becomes undeniable that 2013 was one for the history books. Here we run down our favorites -- click on the headlines to read the original stories we published about the shows.
A list like this is entirely subjective, of course, and we'd love to hear about the notable live music you saw this year -- be sure to post your favorite shows of 2013 in the comments.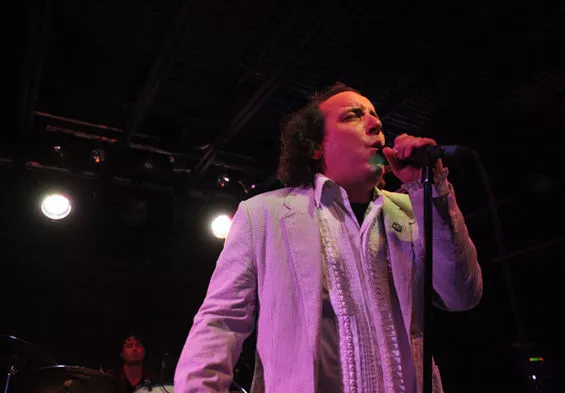 20. Har Mar Superstar Gets Sexy at the Firebird Har Mar shook the Firebird with new songs from recent release Bye Bye 17, while dancing up a storm and performing floor gymnastics, mic in hand.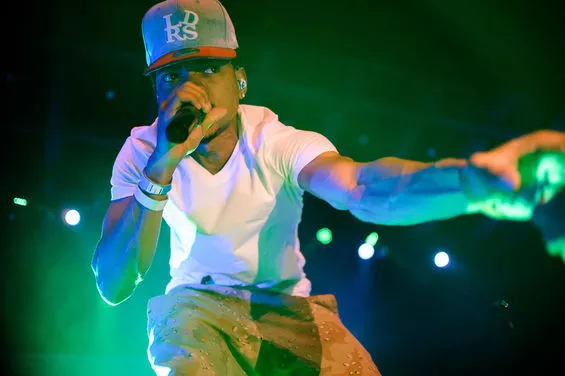 19. Chance the Rapper at the Pageant 12/8/13 Chance came out at 9:30 p.m. to play an hourlong set. His own outfit was simple: a white tee, khakis, black sneakers and snapback. Some emcees don't have a great stage presence or great live rapping skills, but you could immediately tell that Chance is different. He's young, but that just adds to his genuineness and charm. He also danced like a madman throughout his set, exhibiting his true weirdness, which was much appreciated.
18. Masked Intruder Steals Everything From the Parking Lot Around Cicero's Madison, Wisconsin's favorite band of law-breaking pop-punkers played Cicero's in February, encouraging attendees to be careless with their valuables and to wander freely into dark alleys after the show. Officer Bradford, the band's touring parole officer, made sure the band members were following the conditions of their supervised release while a crowd of a hundred or so pogo-ed, slammed and sang along.
17. The Melvins at the Firebird, 7/23/13 After a looped and warped intro of the cough from the beginning of Black Sabbath's "Sweet Leaf," the band opened with all guns blazing with the song "Hag Me" from 1993's Houdini album, a common fan favorite. This is a band that always seems to do whatever it feels like live, incorporating drum jams and noise sections, and sometimes neglecting most of its back catalog in the setlist. Was this about to be the set full of classic songs that most fans have been hoping for?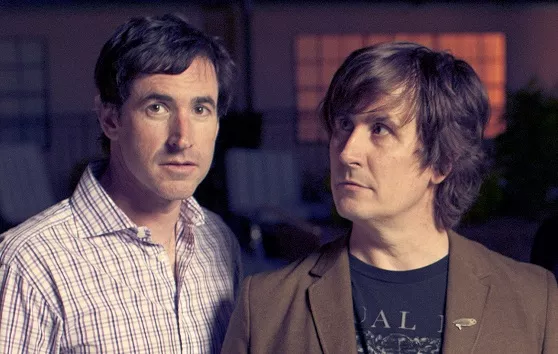 16. The Mountain Goats at the Old Rock House, 6/20/13 At the Old Rock House in June, the Mountain Goats played to a sold-out crowd that not only knew all the songs, but sang along like they were at a Dashboard Confessional (or Jeff Mangum) show.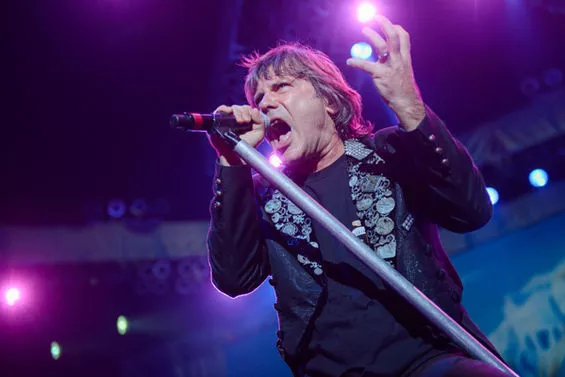 15. Iron Maiden and Megadeth at Verizon Wireless Amphitheater, 9/8/13 The lights went down, a bunch of shit exploded, and then there was Iron Maiden ripping straight into "Moonchild" like a rollercoaster racing straight toward the sky. The energy throughout the amphitheater was incredible. It felt like a wedding party, winning the lottery and meeting Santa Claus for the first time all at once. I don't think there was a blank expression in the house. Singer Bruce Dickinson covered every inch of the stage, running back and forth like a possessed magician with his arms flailing and his tailcoat flapping in the wind. His voice sounded every bit as good as it did on 1985's Live After Death album and his stamina was beyond impressive.
14. Method Man Kicked Me in the Face While Holding My Friend's Hand A healthy-sized crowd (600 at the door, according to the promoter) showed up to the Coliseum Saturday night to see the Wu-Tang Clan's most charismatic member in action. The inimitable Mr. M-E-F performed in his trademark microphone-dominating style, climbing repeatedly off the small stage and into the crowd and interacting enthusiastically with audience members throughout the night. One such interaction hit extra close to home when I caught an accidental shoe to the head, immediately after Meth testily (and wordlessly) insisted that my good friend Adam "the Devastator" Greer hold his hand for a little while.
He's leaving in the morning just as soon as the dark clouds lift: No photo credentials issued on this tour, but last night's main event looked kinda like this dude.
13. Bob Dylan and Dawes at the Peabody Opera House, 04/23/13 For Bob Dylan's visit to St. Louis in April -- his first since October 2010 and the fourteenth stop on his current tour -- the Peabody Opera House stage was backed by a full-height semicircular black curtain with four lighthouse-grade spotlights suspended in front of it that occasionally commenced to glow like so many massive moons orbiting Planet Bob.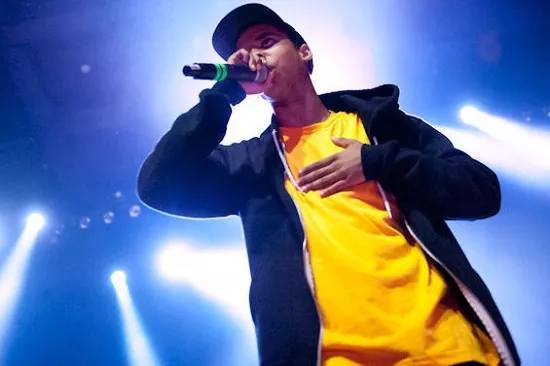 12. Earl Sweatshirt's First Appearance in St. Louis: Review and Photos Odd Future's premiere wordsmith Earl Sweatshirt finally made an appearance in St. Louis in June. The rapper came through the Pageant alongside Mac Miller, Vince Staples, Chance the Rapper and the Internet, as part of Miller's Space Migration Tour.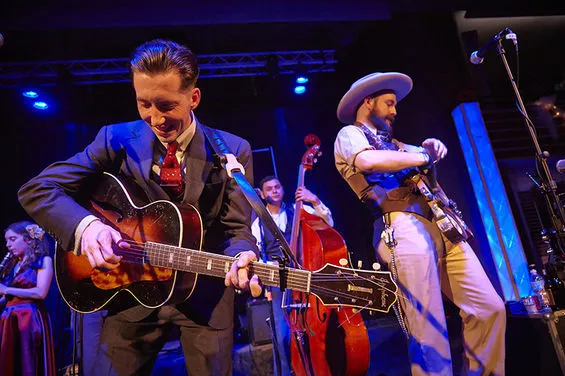 11. Pokey LaFarge at Casa Loma and Third Man Records HQ, 5/31 and 6/1 Outside the Casa Loma Ballroom in early June, storm sirens echoed their eerie warning to the city: "Take shelter immediately," they cautioned. However, roughly one thousand people -- city and county residents alike -- braved sheets of torrential rain and flash-flooded streets to see Pokey LaFarge play on Friday night.
10. Alabama Shakes' Commanding and Powerful LouFest Set Belied Its Youth Just as the sun was starting to set at LouFest in September, and the muggy St. Louis air was starting to thin, a cool breeze of Southern-fried rock n'roll blew in from Athens, Alabama. What started as a slow-burning soul set, eventually swerved into a full-on rock n'roll swamp boogie. Howard cussed, barked, and preached throughout the set as if she were standing at the alter of rock n'roll--and maybe she was. How many other folks her age could carry a band to the level of success she has in such a short time? And how many other bands this young actually deserve it?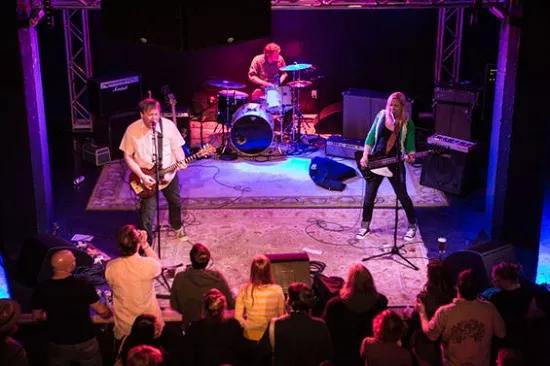 9. Bunnygrunt's Twentieth Anniversary Show: Review and Photos Bunnygrunt rocked Plush for the band's twentieth anniversary in March -- before the skies spat on us -- and the band brought some excellent friends along for the ride.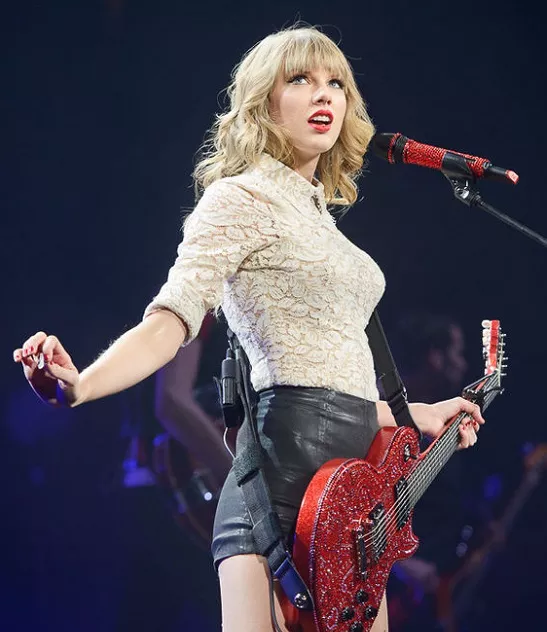 8. Taylor Swift Red Tour at the Scottrade Center 3/18/13 Seated with an acoustic guitar on a small platform near the rear of the arena, Swift described a song request she saw on Facebook from a girl who was "going through a really rough time. I've been through that same thing." Swift shook her head and said, "You know, I think it's really easy not to cheat on someone." After beautifully performing a quiet but powerful "Should've Said No," T.S. smiled at the audience and laughed, "I'm fine. I promise, I'm fine." Most of the females over age 21 nodded knowingly. Some cried.
Timothy Norris
Kendrick Lamar performing live, courtesy of L.A. Weekly.
7. Kendrick Lamar Brings the House Down at the Chaifetz Arena 4/17/13 Compton's new "King of West Coast Hip-Hop" (so dubbed by the likes of Dr. Dre, the Game and Snoop Dogg) made a stop in St. Louis in April to a packed Chaifetz Arena. The prodigious, fan-favorite rapper was welcomed by a rabidly excited crowd, and he performed with the confidence of a veteran, rather than a relative newcomer.
6. Wilco Creates Thunder at LouFest, Dedicates Song to Bob Reuter: Review, Photos and Setlist With the sky growing darker and a continuous sprinkle of rain threatening to derail the LouFest fun, it was the perfect time to go into a moodier-than-usual "I Am Trying to Break Your Heart." The crowd perked up to an ecstatic level and remained there for the rest of the night, with a group of douchebags violently rushing through the audience to the stage and a hippie girl beside me dancing with her hands above her in prayer like that chick from Prince's "7" video. Wilco worshippers roared as strobe lights complimented Glenn Kotche's percussion and Cline's electronic thunder.
5. "I Didn't Get Any Sex" - Things Overheard During the National's Set at LouFest There were so many people saying downright bizarre things around us that we just couldn't concentrate much on the The National's tunes at LouFest. Instead of watching Matt Berninger pace the stage like a frightened animal or getting lost in bassist Scott Devendorf's powerful low tones, we found ourselves writing down the inane crap that the nearby drunk, high and stupid thought important to discuss.
4. Saint Vitus Returns to St. Louis After Nearly Thirty Years: Recap Fuzzy distortion, feedback, and a colorist's wet dream of grey hair dominated the stage as Saint Vitus brought the room back to drunken life. Drums were smashed, guitars screamed exclusively from the neck pick up and vocalist Scott "Wino" Weinrich brought the Sabbath-influenced doom rock as if he were Ozzy's own wide-eyed tweaker nephew. Whiskey bottle in hand, Wino led the crowd through all the classic Saint Vitus tunes including "I Bleed Black" and "War is Our Destiny."
3. Nine Inch Nails Triumphantly Comes Out of Retirement at Chaifetz Arena 10/1/13 Reznor didn't speak much at all during the October show, but he shouted "Yes!" before picking up the guitar next for "Terrible Lie." He can be a difficult person to read, but Reznor's constant bouncing suggested an enthusiasm for his return to touring. Flashing black and white backlights accompanied most of the performance, with the stage going dark and Reznor standing in the spotlight as he sang the quiet, painful bridge: "Don't take it away from me. I need someone to hold on to." The energy went back up for the raging outro as Reznor stomped and panted while screaming: "You fucking promised me!"
2. Jeff Mangum at the Sheldon Concert Hall, 1/16/13: Review and Setlist After a quiet, politely-received set from New York guitar duo Tall Firs, Jeff Mangum took the stage and grabbed one of his four acoustic guitars. Other than his grey-flecked, almost rabbinical beard, he looked basically like the same guy from the late '90s, complete with his standard brown thrift-store sweater and green hat. Opening with "Two-Headed Boy," he spend the next hour performing a selection of Neutral Milk Hotel songs.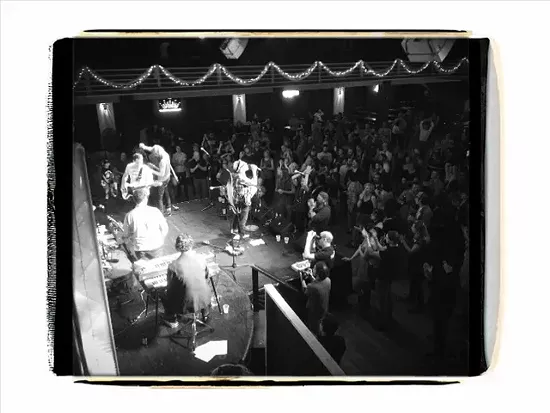 1. Bob Reuter Memorial Show: A Review in Photos When legendary local musician, writer and photographer Bob Reuter died suddenly in August, friends and loved ones were grief-stricken. Reuter played in and documented the South City music and arts scene for decades, leaving behind a vast amount of artistic work and no shortage of fans and admirers. On September 8, his bandmates, collaborators and friends came together at the Casa Loma Ballroom to pay tribute to Reuter's life and work.
RFT MUSIC'S GREATEST HITS
The 15 Most Ridiculous Band Promo Photos Ever "Where Did My Dick Go?" The Gathering of the Juggalos' Best Overheard Quotations I Pissed Off Megadeth This Week, My (Former) Favorite Band The Top Ten Ways to Piss Off Your Bartender at a Music Venue
---