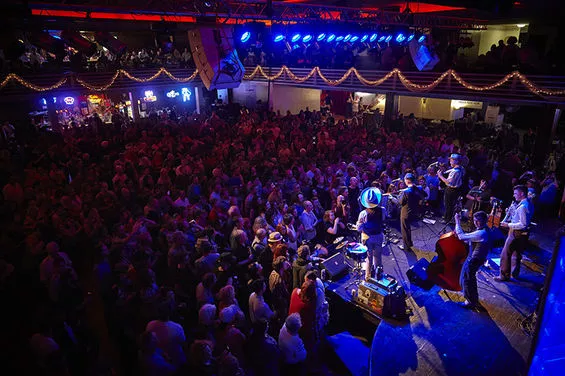 The Casa Loma Ballroom meets its capacity again as Pokey Lafarge returns this weekend.
Get in the holiday spirit by joining in on some festive performances this weekend. The 8th Annual Dan Kelley Christmas Show hits the Warehouse, the Demo holds a toy drive and CoCo Soul performs at the Kranzberg Arts Center. Besides that, Spotlight St. Louis holds its music awards, Pokey Lafarge goes big for its homecoming, Murphy Lee celebrates his birthday and more. Check out our show-going suggestions right after the jump, and let everyone know what else is going on in the comments.
Friday (December 20):
Kastle w/ Druid Cloak, Pleasure, DJ Mellow @ 2720 Cherokee 9 p.m. | $15 LA-based artist Kastle quickly rose to the top of the iTunes Top 10 Best Electronic Songs of 2012 with his track "Stay Forever," then launching a tour through North America, Australia and New Zealand (as well as a successful career). (DH)
Pokey Lafarge w/ The Tillers, The Cactus Blossoms @ Casa Loma Ballroom 8 p.m. | $14-$16 Pokey's back! After appearing on Letterman, putting out a new album and traveling the world, the group pays homage to its roots with another packed show at Casa Loma Ballroom. (MS)
For a couple more picks from our critics, click the links for previews on the following for Friday evening: Big D and the Kids Table, Nakatani Gong Orchestra and the Funky Butt Brasstravaganza.
Saturday (December 21):
33 On the Needle w/ The Bob Band, Fumer @ Schlafly Tap Room 9 p.m. | free This all-local Tap Room line-up features everything from indie garage rock and grunge to country. If you haven't heard the new sound system implemented as part of the Tap Room's recent expansion, now's your chance to check it out via a variety of sounds. (MS)
8th Annual Dan Kelley Christmas Show w/ Hathead Jones, The Psychedelic Psychonauts, Playing Possum, Syna So Pro, Samantha Galloway, Googolplexia @ Jefferson Warehouse 7 p.m. | $8 This charity rock & roll show benefits Otis Woodward's outreach, so bring some donations of coats and blankets to keep the less fortunate warm this winter. Besides a vibrant line-up of local talent, special guest Dr. Dan, whose work went viral all the way to the Today Show will be on hand flipping up his signature "dancakes" in all kinds of shapes. (MS)
The Bump & Hustle w/ DJ Mahf, MAKossa, Nappy DJ Needles, Hal Greens @ Blank Space 9 p.m. | $5 The Bump & Hustle keeps its tradition going strong with funk, soul, reggae, hip-hop, disco, boogie, latin and more. Check out what they're all about here, and don't forget your dancing shoes. (MS)
Murphy Lee Birthday Party w/ Mannie Fresh, Derrty DJ Deja Blu @ Rustic Goat Eatery and Lounge 10 p.m. | $15-$300 Don't be a cheapskate; get the $300 tickets. It's Murph's birthday, ya jerk. He could probably use the money. (Oh yeah, and MANNIE FRESH!) (DH)
Spotlight STL Music Awards w/ Sleepy & the Bedtimes, Tok, Shark Dad @ The Heavy Anchor 9 p.m. | $5 Spotlight STL has been the premiere satirist of RFT Music for years (we don't mind; it's funny) and this is their Music Awards. Go for the music, stay for the inside jokes! (DH)
Toy Drive & Benefit Show for SSM Cardinal Glennon Children's Medical Center w/ Blackwater '64, Bluefish, Arthur and the Librarian, County Graves @ The Demo 7 p.m. | $5 'Tis the season for giving, and with a local lineup this good it couldn't be easier. Catch some great live music and give to some needy kids less fortunate than you are. Bring toys! (DH)
Also on Saturday, catch night two of the Funky Butt Brass Band Brasstravaganza or see Nashville's Gnarwhal at CBGB.
Sunday (December 22):
Christmas with CoCo Soul and the Grand Center Arts Academy Children's Choir @ Kranzberg Arts Center 3 p.m. | $20 Fun for the whole family includes pictures with Santa beforehand. A discounted price of $40 for families of four is also available. Check the Grand Center website for more details. (MS)
Polkadot Cadaver @ The Firebird 7:30 p.m. | $10-$12 Out of the ashes of Dog Fashion Disco comes Polkadot Cadaver, a band best-known for sounding like Dog Fashion Disco. You won't hear any DFD fans complaining, though. (DH)
Also on Sunday night, catch one of several El Monstero performances over the holidays. This particular evening is a special charity event called Shine On, benefiting Crisis Aid.
Note: Though we wish we could, we can't feature every great show happening in town in just one measly post. Peruse the St. Louis concert calendar for more ideas any time. Let everyone know what else you're looking forward to seeing this weekend in the comments below, and submit show info online any time to be considered for inclusion on these lists.
RFT MUSIC'S GREATEST HITS
Remembering STLPunk.com -- How to View the Site Today and Find Your Old Profile Page "Where Did My Dick Go?" The Gathering of the Juggalos' Best Overheard Quotations The Ten Best Dive Bars in St. Louis The 15 Most Ridiculous Band Promo Photos Ever
---