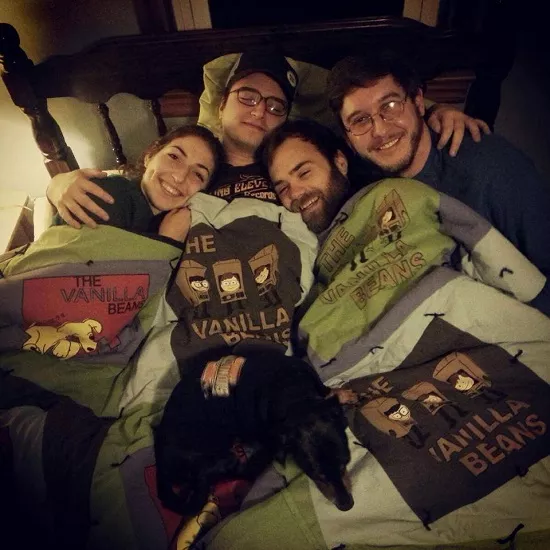 Photo via Facebook
The Vanilla Beans
We at RFT Music are ravenous for local music. "Feed us more!" we say. "Shove it into our earholes!" we say.
Thank goodness St. Louis musicians are complying, both with great tunes and with quality band names; this city has a surprising smorgasbord of acts named after goodies that balance out any meat-and-potatoes meal. Below, chew on these six local acts who spice up our playlists and leave us hungry for more. Taste the rainbow, friends.
THE FEED
When we're talking about food, we obviously need to kick off with the band whose name tells us what to do with all of the musical goodness around. The Feed gives us jangly piano pop-rock that often goes darker with minor chords, eerie guitar effects and just the right amount of chill-your-spine cymbal work. Lyrically, there's some Ludo-esque growl about relationships, and the plunky piano serves as a spoonful of sugar to make the harsh life lessons go down.
https://www.facebook.com/TheFeedband
ACORNS TO OAKS
When you talk to Acorns to Oaks' Chris Ward, you never know what you're going to get; he's like a pop culture montage on speed. But what he serves up through Acorns to Oaks is pretty delectable. Sometimes solo, sometimes joined by local musicians, Ward has everything you need for a multi-course meal at an experimental restaurant of sound: creepy echoes, toe-tappin' guitar-pickin', fresh beats from the world's tiniest drum kit and lyrics that are alternatingly introspective and absurd.
https://www.facebook.com/AcornsToOaksSTL
OLD SALT UNION
Old Salt Union is a band that feasts on variety. With members who trade vocal duties and play multiple instruments, the group easily switches direction during each of its songs. Its members might have bluegrass roots, but OSU also projects plenty of rock, old-school country and jam-band notes, ensuring that every listener has something to devour. All good chefs use a little salt to bring out the flavor of a dish, but "a little" just isn't good enough here. We recommend pouring Old Salt Union liberally onto all of your listening devices.
https://www.facebook.com/OldSaltUnion
Continue to page two for more delicious St. Louis bands.
RUM DRUM RAMBLERS
Time for a drinking break! Plunge a bit of alcoholic punk philosophy into some dirty old blues tunes, let the combination ferment a bit, and you'll come up with the Rum Drum Ramblers. This definitely isn't swill that you'll pour down the drain after one taste. Instead, once you sample the Ramblers' special brand of rum, you'll be plotting ways to kill off your washing machine so that you can buy a multi-functional, sometimes musical washboard. Cheers to that!
https://www.facebook.com/rumdrumramblers
CANDY COATED EVIL
For a band that calls itself "the evil Partridge Family," Candy Coated Evil sure tastes good. This trio combines rockabilly, metal, punk and anthemic dad-rock into a delicious casserole of darkness that brings to mind classic HorrorPops, but with less kitsch. And we love the band's sense of humor -- they sell shirts featuring a top hat-wearing dog in a coffin, for Pete's sake. Why would we ever go back to wholesome snacks after this?
https://www.facebook.com/pages/Candy-Coated-Evil/253428264727417
THE VANILLA BEANS
Ahhhh, the crème brulée at the end of our meal of bands. Despite having a name that conjures up the blandest ice cream flavor out there, the Vanilla Beans are rooted in shockingly vibrant tastes. Pop, electronica and dance all go into the pot, enhanced by some grungy vocals. If Motion City Soundtrack and local dance-pop group Née had a baby, it would be the Vanilla Beans. And that's one baby we'd gladly eat!
https://www.facebook.com/pages/The-Vanilla-Beans/140327709314320
RFT MUSIC'S GREATEST HITS
The 15 Most Ridiculous Band Promo Photos Ever "Where Did My Dick Go?" The Gathering of the Juggalos' Best Overheard Quotations I Pissed Off Megadeth This Week, My (Former) Favorite Band The Top Ten Ways to Piss Off Your Bartender at a Music Venue
---