Jaime Lees
KDHX, Magnolia Avenue, South City
We headed over to the KDHX (88.1 FM) studio yesterday morning to document the last couple of hours of broadcasting at good ol' 3504 Magnolia Avenue.
At noon the beloved station began broadcasting from its new location at the Larry J. Weir Center for Independent Media. Primarily funded by grants and donations, this brand new multi-million dollar broadcasting hub in Grand Center will offer the proper space and amenities to host the ever-growing station.
This is a well-deserved and monumental step up for the entire KDHX community, but we're feeling kind of sentimental. The building on Magnolia wasn't just the base of operations for our award-winning independent station, it also served as the unofficial headquarters of St. Louis music culture.
It was a temporary stop for countless touring bands that stopped in to record a broadcast session. It was a late-night hang out spot for those of us with KDHX disk jockeys as friends. It was a welcoming, coffee-fueled place where many of us involved in local music have spent a decent amount of time. It not only broadcasted music, but also inspired it. It was cramped and dusty. It had squeaky floors and a leaking roof. It was bursting with shelves of albums and mountains of crap and -- most importantly -- it always felt like home.
The photos here capture some of sights during the last few bittersweet broadcasting moments at Magnolia and a bit of the post-noon hustle going down at Weir. Many thanks to the always friendly and accommodating crew at KDHX for letting us get in your way all afternoon. Check back here for more coverage of the big KDHX move in the Riverfront Times soon.
KDHX at Magnolia Avenue:
Jaime Lees
Ed Becker hosting "Songwriters Showcase" -- the last show at Magnolia Ave.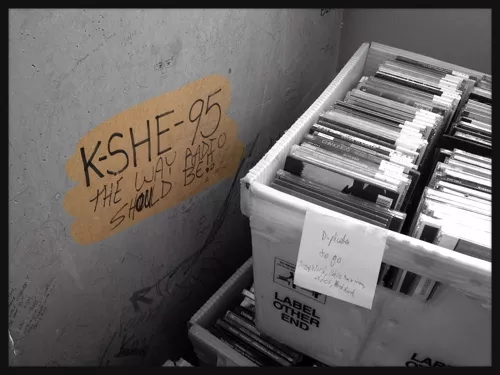 Jaime Lees
Quality graffiti upstairs in the kitchen at Magnolia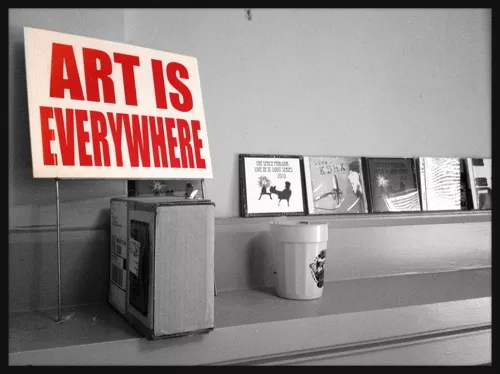 Jaime Lees
Truth.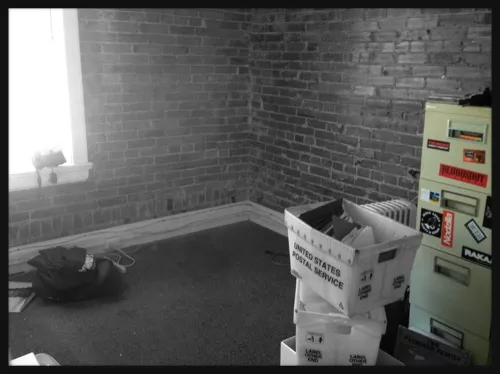 Jaime Lees
An office upstairs mid-move
Jaime Lees
Bette watching over the mailboxes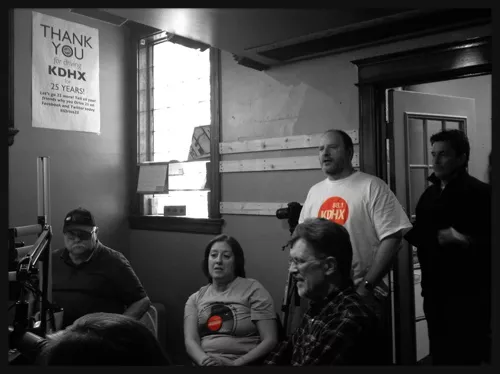 Jaime Lees
Pre-noon party at KDHX
Continue to the next page for more photos of the last day at Magnolia and shots of the new studio in action.
Jaime Lees
Dana Smith's "KDHX Art Attack" painting at the top of the stairs
Jaime Lees
Moving vinyl is the worst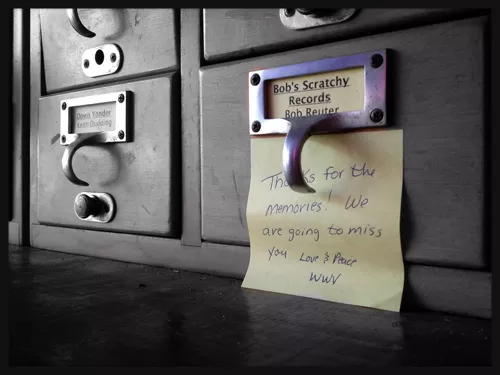 Jaime Lees
Bob Reuter's mailbox
Jaime Lees
Almost finished moving the CDs in the on-air room
Jaime Lees
Our boy Bart
Jaime Lees
The middle hallway of KDHX Magnolia
Jaime Lees
At the on-air desk
Jaime Lees
The old live sound room
Jaime Lees
A collection of picks in the production studio
Jaime Lees
A common scene at KDHX
Jaime Lees
Hugs near noon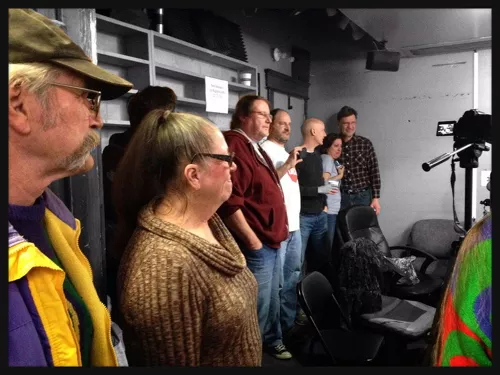 Jaime Lees
Witnessing the last few minutes on air at Magnolia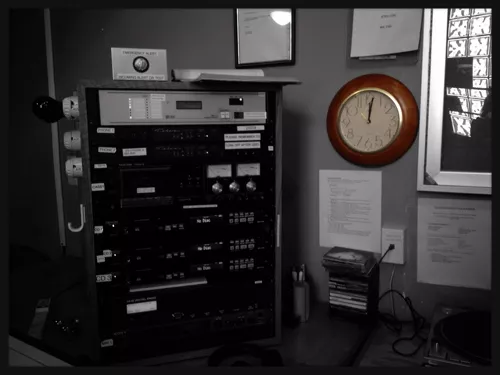 Jaime Lees
Last broadcast complete
Continue to the next page for photos of the new studio in action.
KDHX at the Larry J. Weir Center for Independent Media: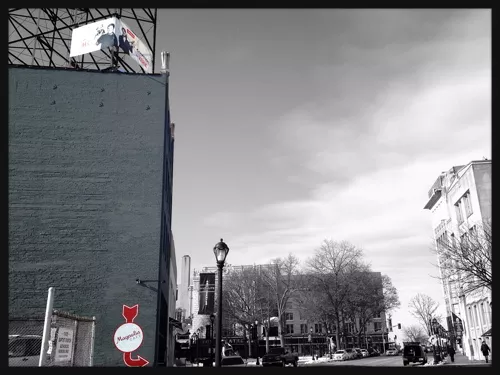 Jaime Lees
The Weir center is right across the street from the Fox Theatre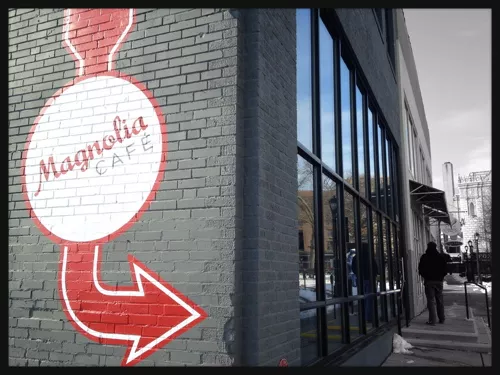 Jaime Lees
The front of LJW at the entrance to the cafe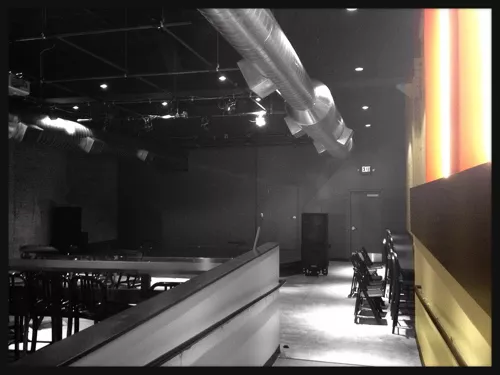 Jaime Lees
The new venue area at LJW
Jaime Lees
The brains upstairs at LJW
Jaime Lees
The hallways are filling with albums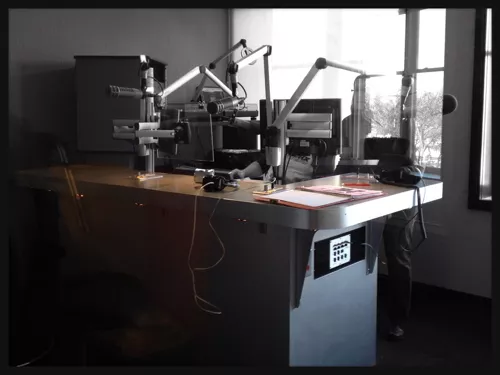 Jaime Lees
On-air room #1 in action
Jaime Lees
On-air room #2 ready to go
Jaime Lees
Organized chaos
Jaime Lees
Equipment in the new live performance room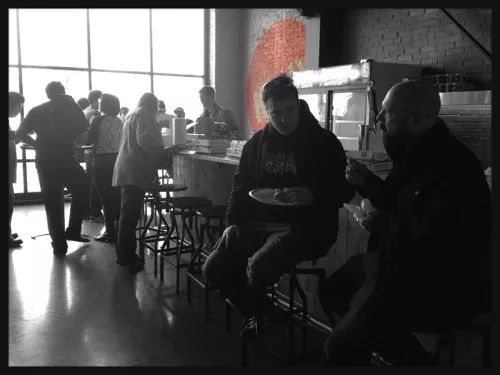 Jaime Lees
Friends gather downstairs in the new building
Jaime Lees
The sun-drenched Magnolia Cafe at LJW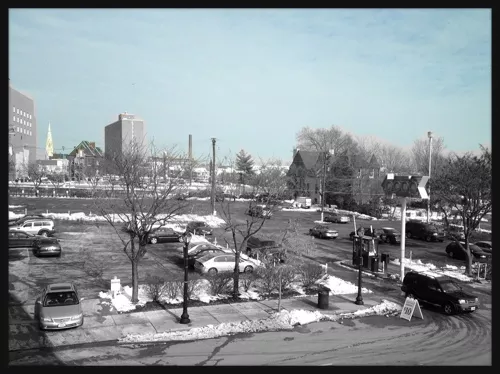 Jaime Lees
The view from upstairs at the new home of KDHX