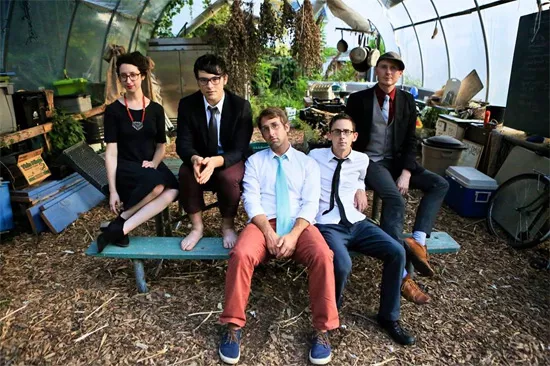 So Many Dynamos - Friday, December 13 @ Off Broadway
Pre-holiday parties are in full swing this weekend, so strap on some bells and show 'em some hell. On the flip side, Friday the 13th shows spook things up a bit. So whether you decide to check out Rough Shop playing its tenth annual holiday gig or get weird with Freezerburn zine and Barely Free as they each roll out new releases on Cherokee Street, treat yourself by getting out tonight. Plenty of recommendations await after the jump. Let everyone know what else is going on in the comments.
Friday (December 13):
The Annual Rough Shop Holiday Party 8 p.m. | $12/$15 @ Focal Point Local modern-folk band Rough Shop performs original as well as traditional holiday songs during this typically sold-out event, featuring special guests including Danielle Aslanian of One Take Band, Merv Schrock of Ransom Note and Steve Carosello of the Love Exports, just to name a few. Proceeds benefit the Focal Point and Tenth Life Cat Rescue. Check out more holiday-themed shows this season here. (MS)
Barely Free Partial Prisoners w/ Life Like, Animal Teeth @ Livery Company 10 p.m. | free Noisy hip-hop group Barely Free releases Three Pounds of Flax EP4 on a mixed bill with local punks. Read more about Barely Free in this Fill in the Blank profile. (MS)
Connor Christian & Southern Gothic w/ Old Capital Square Dance Club, Les Gruff and the Billy Goat @ The Demo 8:30 p.m. | $10-$15 Connor Christian returns again to light up the stage at the Demo. (DH)
Freezerburn 20 Launch Party w/ Dave Stone & Friends, Beauty Pageant @ Foam 8 p.m. | free Freezerburn is a self-described weirdo zine for weirdo people. Tonight, the twentieth edition comes shelf-ready. Creator Mister Ben's experimental noise group Beauty Pageant performs along with a gaggle of the city's best experimental musicians, including reed player Dave Stone. Read more about Beauty Pageant in its recent Fill in the Blank profile. (MS)
Martina McBride @ The Fox Theatre 7:30 p.m. | $40-$95 Martina McBride has been described as "the Celine Dion of country music," which, as I understand it, is interpreted in some circles as a compliment, apparently. (All kidding aside, McBride has some serious chops.) (DH)
Never Shout Never w/ Nick Santino, Front Porch Step @ The Firebird 7 p.m. | $20 Joplin's Never Shout Never just released its fifth album, Sunflower, in July. (DH)
Also on our Friday to-do list: Chrono Man makes a comeback (at Plush this time around), So Many Dynamos takes over Off Broadway, Phoenix plays the Pageant and Filmage STL has its first of two screenings complete with accompanying cover bands at Mad Art Gallery.
Saturday (December 14):
Bonnie "Prince" Billy w/ Bitchin Bajas @ Contemporary Art Museum - St. Louis 8 p.m. | $20-$25 The Luminary brings songwriter Bonnie "Prince" Billy (also known as Will Oldham) to CAM while dealing with delays in construction at its new Cherokee street venue. Chicago psych duo Bitchin Bajas opens. (MS)
Mansions w/ Stonechat @ The Firebird 8 p.m. | $12 Did you hear this year's Doom Loop? Because you need to, right away. Check it out here. (DH)
Peter Noonan @ The Sheldon 7 p.m. | $35 It's been thirteen years since solo pianist Peter Noonan has taken the stage. See him perform originals as well as holiday classics with special cameos including soul singer Coco Soul. (MS)
Wompin 4! @ Old Rock House 9 p.m. | $20-$30 If you missed the first three Wompin!s, don't worry, you won't be lost -- the plot is easy to follow. Bass bass bass, dancing, Day-Glo clothes. Wedge your head inside the speaker and let it turn your brain to soup for maximum effect. (DH)
Still unsure of where to go this weekend? Consider checking out Beyonce at Scottrade or the 12 Bassists of Christmas starring Bruiser Queen, the centerpieces of this week's cover story. Click on the links to learn more. For more holiday fun, head to Powell Hall to see the St. Louis Symphony performing Christmas classics.
Note: Though we wish we could, we can't feature every great show happening in town in just one measly post. Peruse the St. Louis concert calendar for more ideas any time. Let everyone know what else you're looking forward to seeing this weekend in the comments below, and send show tips to clubs@riverfronttimes.com to be considered for inclusion on these lists.
RFT MUSIC'S GREATEST HITS
Remembering STLPunk.com -- How to View the Site Today and Find Your Old Profile Page "Where Did My Dick Go?" The Gathering of the Juggalos' Best Overheard Quotations The Ten Best Dive Bars in St. Louis The 15 Most Ridiculous Band Promo Photos Ever
---