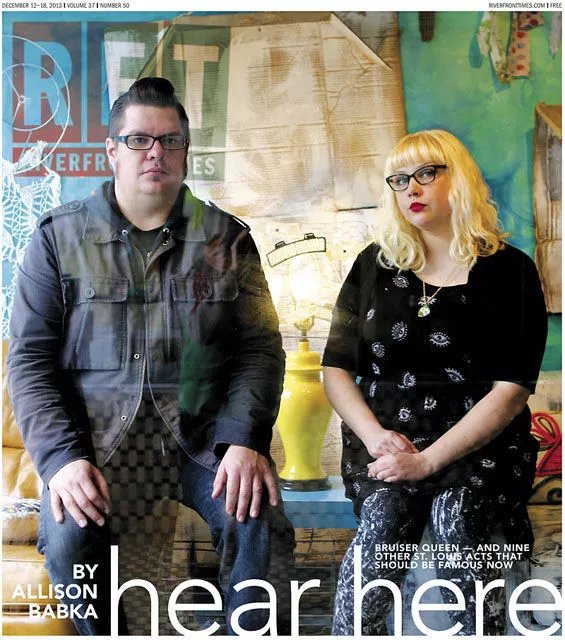 In this week's print edition, we make the case that the St. Louis music scene is more than just alive and kicking -- it's absolutely thriving. Local acts are grinding out shows and creating brilliant tunes that music lovers around the world would dig. For just one timely example, check out "Christmas This Year," a rockin' holiday tune by Bruiser Queen, the duo featured on the cover:
See Also: Ten St. Louis Acts That Deserve To Be Famous Now
In the print article, we describe exactly why the Blind Eyes, Theresa Payne, Scarlet Tanager, the Dive Poets, Doorway, Pretty Little Empire, Tef Poe, Middle Class Fashion, Via Dove and Bruiser Queen all deserve to hit it big. We also chat with the musicians about their favorite gigs, their influences and more, but the bands are so damn interesting that we couldn't fit all the good stuff into print! So below, check out songs by each act and learn more dirty details about the folks who will soon become part of your daily playlists.
Best gig: One that really stands out for me recently is the show we did at the Pageant a couple of months ago with Sleepy Kitty and the Incurables. It was a total crapshoot as to whether or not we could make a local bill at the Pageant actually work, as obviously that is a very hard room to play if you can't get people out in good numbers, but we did. It felt like a real accomplishment to have pulled that off so successfully. -- Matt Picker
What everyone should know about music from St. Louis: It's so damn good. It's diverse, and the playing and songwriting right now is almost untouchable. I can't remember a point in my music "career" (ha) when the bands in this town have been at a higher caliber than they are now. But then there's all these other facets that hold it up and just amplify everything: great venues popping up, good people booking shows, what's happening on Cherokee Street with the DIY print shops and stuff, Bill Streeter shooting all these amazing videos, RFT and Eleven killing it, KDHX getting better and better. It's just a really solid microcosm of awesome stuff happening.
Current favorite local act: Tilts. They're hot for pizza.
Hidden talents: Seth [Porter] does an amazing Randy Newman impersonation. I made up a trick where it looks like I'm stretching my thumb really far, which has really impressed my one year old.
Classic MTV-era music video they'd redo: "Our Lips Are Sealed" by the Go-Go's, primarily just to fulfill my lifelong dream of frolicking in a public fountain.
Best gig: "Definitely the concert I put on for the release my EP The Moment. It was amazing to introduce my new music, and it was one of my best performances!"
What everyone should know about music from St. Louis: Outsiders should know that St. Louis has so much talent with unique styles.
Hidden talents: A dumb talent that I have is the ability to juggle plastic bags.
Guilty pleasure: I rarely dabble in anything I would find embarrassing, but people would be surprised to know how heavily in tune I am with twerk music.
Continue to the next page for more.
The beginning: Our first show together as Scarlet Tanager was in May 2010. I performed solo through college and had formed various backing bands with Michael [Logsdon], Josh [Shepherd] and Dustin [Kent], so it all came together pretty naturally. -- Susan Logsdon
Best gig: Probably would have to be the RFT Showcase on Washington Avenue this year. We had no idea what to expect since it was our first year to be part of it! The place was completely packed and the energy was amazing.
Best part about being based in St. Louis: St. Louis bands feel really genuine. Everyone seems to be rooting for each other.
Hidden talents: I have exceptional handwriting. Michael has indecipherable handwriting.
Classic MTV-era music video they'd redo: Foo Fighters' "Everlong," because who hasn't ever wanted to slap someone with a giant hand and swing around log nunchucks?!
The beginning: Eric [Sargent] met Karl[Eggers] at a Bartender's Ball charity event through a mutual friend. Eric mentioned he had some songs and wanted to start a band. Three weeks later, we were practicing in a basement. -- Jeff York and Eric Sargent
Influences: This band, with all our varying personalities, runs the gamut. Here are some: REM, Slaid Cleaves, John Cougar Mellencamp, The Cure, Slobberbone, Townes Van Zandt, WILCO, Son Volt, Old '97's, Steely Dan, Blind Melon, Led Zeppelin, Ryan Adams, Material Issue, Sade, Sam Cooke, Drive By Truckers, Turnpike Troubadours, and the list could go on forever. And Jeff is somehow into both punk and Def Leppard. -- York and Sargent
Best part about being based in St. Louis: Cheap housing stock and a greater-than-50% likelihood that clubs keep Busch beer in stock. -- Christian Schaeffer
What everyone should know about music from St. Louis: That we're so modest that "Best of" lists rankle our Midwestern sensibilities. -- Schaeffer
All-time favorite local act: Life Without Wayne (Sargent) and Riddle of Steel (York)
Continue to the next page for more.
The beginning: A group of friends and I started Doorway back in 8th Grade at Grant Middle School in Fairview Heights. That's when I came up with Whiteout, that's when L-Gifted came up with his name, and SD was still SD (He wasn't with Doorway yet; he was still with his group Aifam). Doorway has had a lot of members over the years throughout high school and years following. In 2010, Doorway was formed into what it is now. We linked up with RT-FaQ and a few other key players over the years, and now heading into 2014 we've never been stronger.-- Nick Menn
What everyone should know about music from St. Louis: Definitely want to let all the outsiders know that there are artists of all kinds here. Not all of them are going for those "radio songs" and don't all meet the stereotype that we all sound like the rappers that were known on a national level in the past. -- RT-FaQ
All-time favorite local band: Parlor Knights. Over the past three years or so, Doorway and Parlor Knights have thrown some amazing shows together; it takes our music to the next level. They are also dope as their own entity; their music has gotten me through a lot of bullshit and has been faithfully in my rotation when I'm looking to hear something other rap music. -- Menn
Guilty pleasure: Never thought in a million years that I would be singing Miley Cyrus' "Wrecking Ball" at the top of my lungs with my eyes closed so tight that a year pops out, but it happened two days ago. -- RT-FaQ
Classic MTV-era music video they'd redo: I would love to re-create "The Real Slim Shady" video! It is such an iconic song/video from my grade school days, back when I was one of those kids bleaching my hair. -- L-Gifted
Best gig: How about strangest? A few years ago, we got booked to play a 1955 year high school reunion at a West County country club. Our concept for this show was to play our set as softly and as tunefully as possible and to sprinkle in some period-appropriate covers. Since our frame of reference for "1955" begins and ends with Back to the Future, one of those covers was "Earth Angel." The attendees were polite, yet indifferent to a majority of our set. When we started "Earth Angel," though, the entire room got up and started slow dancing. It was such a positive, immediate reaction that we decided to milk that song for all it was worth. Justin [Johnson] kept looking back at us and giving us the "one more time!" signal. All in all, I think we maybe played "Earth Angel" for a solid 18 minutes. After the show, an attendee told us that we sound exactly like The Postal Service, which we don't in the slightest. Later, we all got kicked out of the bar since we weren't country club members. The whole night was extremely David Lynch-ian. -- Wade Durbin
Classic MTV-era music video they'd redo: For shits and giggles, we've messed around with Don Henley's "Boys of Summer," so I guess we'd go with that. Evan [O'Neal] handles lead vocals on that one, and he always substitutes a STL band name for the "deadhead sticker on a Cadillac" line. Any two-syllable band name works. He's done Blind Eyes, Old Lights, Bros Laz (Brothers Lazaroff), etc. It's hard to explain why we think this is so hilarious.
I had to rewatch the video since I didn't really remember it. It's definitely one of the more artsy-fartsy videos of the era: stark black and white photography, abstract images of shirtless male models jumping around, some doofy little kid playing drums. It's hard to picture how PLE would fit in there. One observation I had was that Don Henley wishes he had as good a head of hair as Justin Johnson. -- Durbin
Current favorite local acts: The two local bands I've listened to the most lately are The Reserve and The Defeated County. The Reserve has a great acoustic guitar-driven, earnest sound and Jim Peters is one hell of a guitar player. I've been fortunate enough to get to work on some stuff with him in the last month. I think Langen Neubacher of Defeated County has one of the most unique vocal deliveries and phrasing that I've heard in some time. The new album they've put out has a great dark and drifting sound to it. It's carried me through many long miles on the highway. Of course, as everyone can agree, the Middle Class Fashion's Jungle and Bruiser Queen's Swears are both badass. I've also been enjoying the demos that Shark Dad's been posting to Facebook. -- Justin Johnson
Continue to the next page for more.
The beginning: My first time onstage was via a rap battle hosted by Big Tiger from BET's legendary show Rap City. I was only fifteen years old, and I lost terribly. From there I was a hype man for my mentor Kash and my older brother Black Spade.
Hidden talent: All of my friends know I am the master of impersonations. In the studio I impersonate famous rappers all the time. We all know I can freestyle with ease, so I'll change my voice and freestyle entire songs with multiple people cueing in. I'll start off rapping like Snoop Dogg, and then suddenly I'll change my voice and you'll get eight bars of Drake collaborating with Snoop. By the time we get to the hook, I'm barking like DMX. I do this damn near everyday of my life. I know it's stupid and pointless, but I basically learned how to rap by imitating rappers that didn't suck.
Classic MTV-era music video he'd redo: First choice is Nas and Lauryn Hill's "If I Ruled The World." I would feature my little sister Theresa Payne on the hook to make sure it's a certified banger. I've always liked this song because the lyrics were commercial but deep at the same time. My second choice would be Eminem's "My Name Is." He's one of my favorite rappers: he has the skill set, he speaks his mind to the fullest extent and, much like myself, he doesn't hold back when it comes to confronting touchy subjects or stirring up the pot socially. I also think I'd want to cover Nirvana's "Smells Like Teen Spirit." I'm a huge Kurt Cobain fan; I'm very intrigued by his hatred for fame. This song vocalized the pain of a generation, the turmoil of this band and the irony of being a gifted individual yet also being misunderstood and not quite embraced for the reasons you originally intended to present to the world. The video was dark and edgy. I love this type of energy.
The beginning: Bruiser Queen is a dare that went too far. Here we are, three years later.
Best part about being based in St. Louis: We're lucky to be part of such a thriving community of musicians in St. Louis that work together to put on the best shows possible. Additionally, we have so many venues! Way more than most places, so it becomes perfectly feasible to throw a blowout on a Tuesday night. It's amazing. -- Jason Potter
What everyone should know about music from St. Louis: Everything they thought they knew about St. Louis music is probably outdated and wrong. We're working really hard here, and people are noticing. All the bands we bring to town are so impressed with what we have going on -- whether it's how well the shows are organized and supported, all the great venues and bands, or by the fun spots to visit like the City Museum, Vintage Vinyl, and Cherokee Street with Melt, Mud House, Apop, Livery Co, Firecracker Press, etc.
All-time favorite local act: Bunnygrunt. Hands down. Best songs, best vocals, best people.
Hidden talents: Morgan [Nusbaum] can make dolphin noises, and I have a knack for giving inanimate objects or animals convincing human voices.
Continue to the next page for more.
The beginning: I was in Paper Dolls with Brad [Vaughn] and Tight Pants Syndrome with Brian [McClelland]. I was writing all these songs that weren't really fitting in either band. "Middle Class Fashion" was first the title of a Paper Dolls song, and I originally thought of the new band as a Paper Dolls spin-off, maybe even a hybrid of my two bands. That changed during the process of making Girl Talk. MCF became its own entity. -- Jenn Malzone
Influences: Lately it's been Annie Clark, R. Stevie Moore, the Zombies, Mac Demarco. I'm also constantly being influenced by local songwriters Morgan Nusbaum, Paige Brubeck and Kristin Dennis. -- Malzone
Hidden talent: I can sound exactly like a baby dinosaur. -- Katie Lindhorst
Guilty pleasures: I'm not really embarrassed by it, but I love Miley Cyrus, Britney Spears, stuff on the radio. (Malzone) The dumbest thing I listen to on a daily basis is the Sons of Anarchy theme song. (Vaughn)
Classic MTV-era music video they'd redo: "Love is a Battlefield" by Pat Benatar, because it's fucking awesome. (Vaughn) The grand cinematic ambitions of Duran Duran's "Hungry Like the Wolf," because it is silly and fun and kind of insane. Those dudes were like 60% ambition and 40% cocaine. (McClelland)
Best thing about being based in St. Louis: The historical roots that rock and roll has here (Chuck Berry, Ike &Tina Turner, etc.) -- SO INSPIRING! The cost of living and location are amazing, too. St. Louis is such inspiring place, from the architecture to the people to its history. And the beer -- we have so many great breweries. -- Andy Shadburne
All-time favorite local band: Probably Dear Vincent; they were good friends of ours. Bryan Steel -- what a fine songwriter. Personally, I also really love the Feed. Such a talented and wild band. They were the first band I saw after moving to STL.
Favorite venue to play: Depends on the show, depends on the night. But the answer is both the Firebird and Off Broadway. Both venues and their management have been good to us and have given us lots of opportunities to open for some pretty cool bands.
Classic MTV-era music video they'd redo: Not sure about the other guys, but for me it'd be Men At Work's classic "Down Under." I love Australian pop/rock music, and this song is one of the great hits of the '80s. The video is completely ridiculous. They just look happy to be there making a video. I think we'd probably feel the same way.
RFT MUSIC'S GREATEST HITS
The 15 Most Ridiculous Band Promo Photos Ever "Where Did My Dick Go?" The Gathering of the Juggalos' Best Overheard Quotations I Pissed Off Megadeth This Week, My (Former) Favorite Band The Top Ten Ways to Piss Off Your Bartender at a Music Venue
---