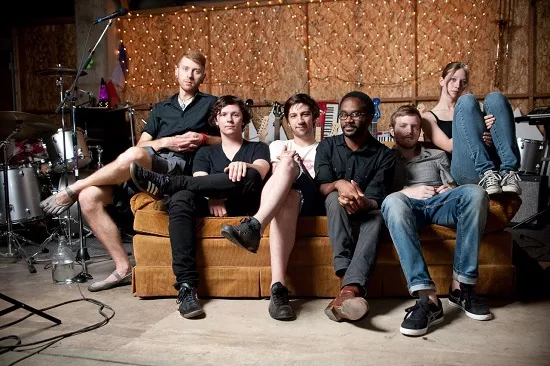 Press photo from 2012. By Jason Stoff.
Union Tree Review
The holidays are usually a time when families reunite to spend time together before eventually heading their separate ways. In a sense, that is what is happening for Jack Buck, and Rev Whiskey Richard and the Buster Hymen Band, both of which are disbanding after final shows this month. And Union Tree Review beat those groups to the punch by playing its final concert in November. All of the splits appear to be fairly amicable, meaning potential reunion shows haven't been ruled out in the distant future, but each of the three acts will be officially inactive by the end of the year.
Folk-rock ensemble Union Tree Review emerged from hibernation earlier this year with a new lineup and a new EP, Enjoy the Weather, in September. The momentum of a fresh start was short-lived, however. Band leader Tawaine Noah told Kevin Johnson of the St. Louis Post-Dispatch that he felt he was working by himself during the making of the EP. "I wrote all those songs by myself and recorded and produced this record by myself," reads one quote. Communication problems and varying levels of enthusiasm eventually caused Noah to pull the plug on Union Tree Review, but not before a final performance which took place on November 12.
Noah says that "everybody was in a good mood" during that set, and I Went To A Show's coverage of the night backs his claim. Jess Luther's photos capture members from various UTR lineups smiling and embracing.
Noah and violist Jennifer Rudisill now play in folk quintet Amen, Lucy, Amen. That band also features Zach Schwartz, who engineered Enjoy the Weather and runs startup label Brave New Records with Noah. Amen, Lucy, Amen is set to release its debut album, Ashore for the End, on January 17. Union Tree Review bassist Stephen Baier is continuing his work with his other band, Dots Not Feathers.
Rev Whiskey Richard and the Buster Hymen Band's intra-band communication is clearer than Union Tree Review's was, but both groups share the same fate. When asked what brought about the demise of the long-running, long-named roots-punk outfit, guitarist Jonathan Coriell answers, "Basically, life, man." Between members having children, going to school and working day jobs, Rev Whiskey Richard and the Buster Hymen Band seems to have reached its logical conclusion. "We're all in our mid-thirties and just working," Coriell says. "Unfortunately, we are just not on the same page of paper right now."
The group is coming full circle by playing its final show at a Stag Nite, the same weekly event where it first performed in 2007. The lineup underwent numerous changes since then, including the departure of founding guitarist Jason Vargas, also known as Buster Hymen. This caused the group to briefly go by the name Rev Whiskey Richard and the Holy Smokes, but both Vargas and the original moniker are back for one last night. Despite the band's long lifespan, the group never put out an official release. Coriell is planning on changing that with a posthumous album. "I do have about twelve to fifteen songs that just need some final lay downs," he says. "I want to get the banjo player [Bobby Carver], who's in Colorado, back in town to play his banjo tracks. We're just missing a few tracks of what I thought made the songs right, and I don't want to release it without those parts."
Although fans such as Stag Nite founder Johnny Vegas hope that the good Reverend won't retire the band for too long, Coriell says not to expect reunion shows anytime soon. "If anything does happen it would be in years to come, you know, us just kind of getting back together just to have a 'hoorah' night," he says. Coriell also is dedicating this final show to former drummer Hugh Abrahms, who passed away. "We wouldn't have been able to do as much as we have done if it wasn't for our original drummer, Hugh," he says. "He'll be in spirit with us at the show. We love that man."
Almost all of the musicians that comprise Rev Whiskey Richard and the Buster Hymen Band have their own separate projects. Drummer Donnie O'Laughlin plays in both alt-county trio Runaway Barge and noisy experimental outfit Pet Rock: the Musical. Joe Commings is a part of the country/folk-leaning Jason Vargas Music Project (guess who else is in that band). Coriell plays blues/rockabilly music solo as Johnny Gun, and is trying to reform a backing band as Johnny Gun and his Empty Shells. ("We always have crazy long names for our bands," says Coriell.) He also helps book bands at Lemmons and has a gestating punk project too new for a name just yet.
Jack Buck, meanwhile, will split after two shows at the end of this month -- one on December 27 at Apop Records, and one December 28 at Mojo's in Columbia, where the band will open for friends and kindred spirits Bald Eagle. Bald Eagle had been billing the concert as Jack Buck's "last show," and Jack Buck leader Daniel Ruder confirmed via e-mail that the show will indeed be the last "for the foreseeable future." Jack Buck's heavy, sinewy brand of atmospheric rock won it the Riverfront Times Music Award for Best Metal Band of 2012, and the group released its seven-inch single SOFT in June. Check back later this month for a feature on the band with more insight on its history and breakup.
RFT MUSIC'S GREATEST HITS
The 15 Most Ridiculous Band Promo Photos Ever "Where Did My Dick Go?" The Gathering of the Juggalos' Best Overheard Quotations I Pissed Off Megadeth This Week, My (Former) Favorite Band The Top Ten Ways to Piss Off Your Bartender at a Music Venue
---