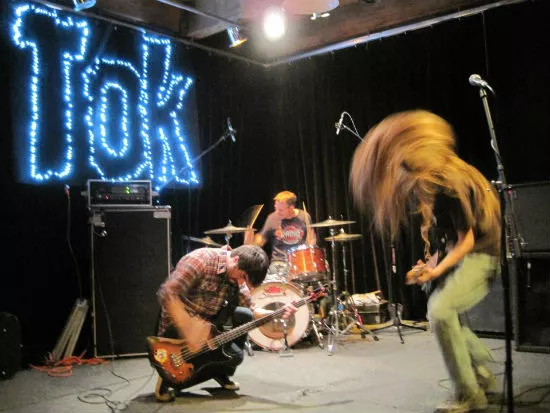 File photo
Tok
We often wonder if every St. Louis musician made some kind of blood oath on December 31, 2012, promising to grind out a gazillion shows and EPs over the next twelve months. Their joy over surviving the Mayan apocalypse is the only way we can explain how 2013 was even more fan-freaking-tastic than usual for local music, with bands, collectives and solo artists all raising the bar in homegrown entertainment.
But we know even more good stuff is coming in 2014, from every type of artist in every genre. In particular, we're keeping an eye on the following eight acts, which have promised us (OK, and you) albums, tour dates and a whole lot more, proving themselves 314 to the core.
Née
Woohoo! Née has been recording new songs, and we can only imagine this means two important things: a forthcoming album and plenty of dance parties! Actually, it's not like the band has stiffed us on the shake-your-ass front. Kristin Dennis and company have played plenty of shows in St. Louis and around the country this year to support the 2012 release of Finches, plus this week Dennis will reprise her role as the Scientist in an encore performance of Charlie Brumley's Chrono Man (Friday, December 13, at Plush). Still, every time Dennis tells Facebook about how often she's been heading into Native Sound Recordings (owned by husband and bandmate David Beeman), we get a little giddy and stare longingly at our glitter makeup. We're ready for some fabulous new electropop, and surely Née won't let us down.
https://www.facebook.com/neemusic
The Lion's Daughter and Indian Blanket
Yes, they're two different bands. Yes, they play wildly contrasting styles of music. Yes, they're an unlikely pair at first glance. But after metal band the Lion's Daughter and folk group Indian Blanket jointly put out A Black Sea last month, we can't help but hope they'll become a permanent supergroup like the Traveling Wilburys, but with more Devil horns and mayhem. Individually, each band has nabbed acclaim within its respective genres. Together, though, their combination of earnest words and emotive howling, plucky strings and growly guitars pushes us into a dark place tinged with hope -- "doom-folk," if you will. And we will. And we want more, dammit.
https://www.facebook.com/thelionsdaughter https://www.facebook.com/indianblanketfolk
Arthur & the Librarian
It's been a while since we've had a full-on Arthur & the Librarian sonic assault. The folk group has played a few shows this year (a toy drive concert happens Saturday, December 21, at the Demo), but it hasn't released an album since 2012's Reverend Whitepigeon Speaks on Love and the End of the World. That's just cruel, which is why we're glad the five-piece has been recording during the past several months and plans to release a new album in 2014. Confession: We've heard portions of the development, and we're excited about where the band's tighter storytelling, stellar arrangements and more mature tones will be taking us. Plus a new album surely means an increase in shows, right? Come on, guys, we're ready to get our sing-song on.
https://www.facebook.com/ArthurAndTheLibrarian
M.M.E.
With in-house songwriting, recording and mastering, M.M.E. could give how-to lessons in DIY. Led by rapper and producer Mvstermind (Muhammad Austin), this crew of versatile hip-hop artists was on fire in 2013, grinding out shows, collaborating with other musicians, releasing joint and individual albums, and tirelessly promoting the heck out of all of it through every social-media channel out there. And they've got even bigger plans for 2014 -- plans that include some major touring. The gifted supergroup successfully tested the touring waters this fall and, with savings and a bit of funds collected from an Indiegogo campaign, is now is planning where else to spread the St. Louis gospel around the country. With talent and chutzpah to spare, 2014 could be the year that M.M.E. become household initials.
https://www.facebook.com/MMETTMLDOM
Continue to page two for more bands to watch in 2014.
Tok
You typically don't expect a lot of full-out dancing at hard-rock shows, but that's exactly what you get when you see Tok. The twist is that the most energetic dancing spectacle happens onstage instead of on the floor. Brothers Bryan and Matt Basler have made a name for themselves by being able to moonwalk while playing guitar, ensuring that we appreciate their swagger and humor just as much as we do their grungy songs. Tok released volumes one and two of Gold Dollar Hen House this year, with the band's website promising a third soon. We'll be grateful for that, but what we're really anticipating is another YouTube installment of Bryan teaching us how to do stuff.
https://www.facebook.com/tokandroll
Magnolia Summer
Chris Grabau and Danny Kathriner have been on a lot of people's minds lately because of Cave States, their new project that launched its debut album The Great Divide this fall. But it's finally time to make some noise about their other band, Magnolia Summer, once again. After 2009's excellent Lines from the Frame, Magnolia Summer performed at the inaugural LouFest and played a BBC2 show during its UK tour before finally putting out a pair of digital EPs in 2011. And then, you know, life and projects and stuff happened. But in just a few short weeks, the eight-piece will treat us to a new album (The MS and Cave States websites suggest January), and we're pretty jazzed. A recurring nominee in various RFT polls, Magnolia Summer's long-awaited record should be just the thing to fight off the winter blues.
https://www.facebook.com/magnoliasummermusic
Bear Hive
We sort of wanted to call upon Scooby-Doo to solve the mystery of when Bear Hive will release its album, but things sound like they're finally moving along for 2014. It's no secret that we're fans of the young trio's work; Bear Hive has been on our "best new band" and "band to watch" lists for a while now. And though we've enjoyed the indie band's Death Cab for Cutie vibe during its live shows this year, we're ready to have new stuff in our earholes all the time. The group has been recording and mixing at Bird Cloud Recording with Ryan Wasoba, so we know the output will be spectacular. But, dammit, that carrot has been dangling for a loooooooong time -- feed us, already!
https://www.facebook.com/BearHive
The Jungle Fire
We'd forgive you for thinking that the Jungle Fire has appeared at most major events thrown in the city this year. After all, the band has come close to maxing out its stamina by performing at 4 Hands Food Truck Feast, Label Day, the Rock N Roll Craft Show after-party and our own big powwows the RFT Music Showcase and the RFT Best of St. Louis party. But our pick for this year's best soul band is just getting warmed up. With a well-received debut EP in 2012 and another stellar three-track collection this year, the Jungle Fire has made good on its promise for funk-soul songs about both St. Louis pride and strife. We're sure that streak will continue in 2014 when this group of passionate, horntastic musicians finally releases the songs they've been hinting at on Facebook. Where there's smoke there's fire, and we can't wait to feel some more heat.
https://www.facebook.com/thejunglefire
RFT MUSIC'S GREATEST HITS
The 15 Most Ridiculous Band Promo Photos Ever "Where Did My Dick Go?" The Gathering of the Juggalos' Best Overheard Quotations I Pissed Off Megadeth This Week, My (Former) Favorite Band The Top Ten Ways to Piss Off Your Bartender at a Music Venue
---