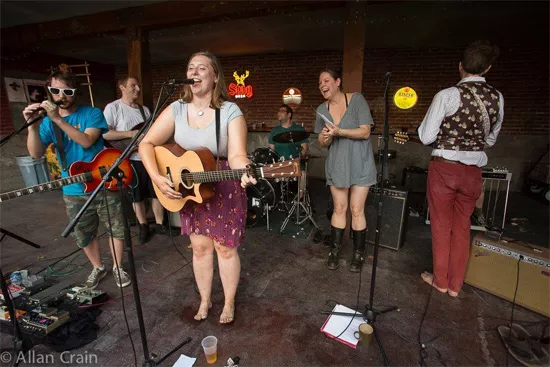 The Defeated County turns one this weekend.
OK, so calling these posts the "ten" best shows in St. Louis each weekend is a bit of a stretch. Admittedly, we like to include as many shows as possible and inevitably end up linking back to all sorts of preview coverage from earlier in the week. Please excuse the following obsessive, excessive hyperlinks, but know that we do it for you. There's way too much going on and it always pains us to play favorites. Remember to suggest shows for our weekly show posts anytime by submitting them online, or simply leave a comment under the post so everyone knows what's going on. This week's recommendations await after the jump.
Friday (December 6):
Bach: Christmas Oratorio @ Powell Symphony Hall 8 p.m. | $39-$109 The St. Louis Symphony kicks off the holiday season with three cantatas from Bach's classic composition. ICYMI, here's a list of the ten best holiday shows to see in St. Louis this season. (MS)
Between the Rivers: Farewell Show w/ The 45, River City Sound, I Have A Bomb, This Is Our Dance @ Pop's Nightclub 7 p.m. | $3-$7 I think it is funny that the final show of a band called "Between the Rivers," which I assume is referring to the Missouri and Mississippi waterways, is actually taking place at Pop's and therefore not between any rivers at all. That's some straight up Alanis Morissette- certified irony right there. In any case, the band is catchy as all hell and this is its final stand. Only $3, too! (DH)
Instant Panorama w/ Marble, Hylidae, Cadmium Feels, DJ Ghost Ice @ Barbarella 10 p.m. | free The late night experimental series, Instant Panorama, returns for round two with a new breed of St. Louis electronic music. DJ Ghost Ice spins between and after sets. (MS)
Philipalooza 2013: A Concert to Fight Lou Gehrig's Disease w/ Street Fighting Band, Aaron Kamm & The One Drops, Funky Butt Brass Band, Speakeasy, Bockman, The Hatrick, Mom's Kitchen, Old Salt Union, The Scandaleros, Lightning Bottle Band, Snarky Gargoyles + many more @ Old Rock House 6 p.m. | $10-$18 This two-day event runs over into Saturday, December 7, featuring more than a dozen acts performing for a good cause -- a portion of the proceeds will benefit the St. Louis regional chapter of the ALS Association as will a silent auction and raffle. Check out the official listing for a rundown of who's playing when. (MS)
Also on Friday, check out the Pat Martino Trio for a second evening of performances, and go see the Defeated County as it celebrates one full year of being a band with a good cause: a special raffle for the evening and portion of CD sales benefit musicians without health insurance as well as Play it Forward STL, an organization that collects and fixes used instruments and donates them to underprivileged children.
Saturday (December 7):
Adam WarRock w/ 3 of 5, Superfun Yeah Yeah Rocketship, Tribe One @ Star Clipper 6:30 p.m. | free Adam WarRock plays self-proclaimed "nerdcore," high energy hip hop with geeked out themes. Check out some tracks on Bandcamp and head to Star Clipper to catch him smack dab in the middle of his comic book store tour. (MS)
Also on Saturday, the Bottle Rockets visit Off Broadway, Band Lotto takes over the Mad Magician, African Alert's 25th Anniversary hits 2720 Cherokee and the Quiet Concert series kicks off at Lemp Arts Center. Click on the links for extensive coverage on each of event.
Sunday (December 8):
Aaron Lee Tasjan w/ Joe Fletcher, La Guerra @ Off Broadway 7:30 p.m. | $10-$13 ALT's latest, The Thinking Man's Filth, opens up with a song called "Junk Food and Drugs." Intrigued, I continued listening (uh, not that I approve of either of those things officially. I am a serious professional, or something). By the time I got to the second song, "Everything That I Have is Broken," I was pretty sure I found a soul mate. Listen for yourself here. (DH)
Benefit for Charles Hunt w/ Ground Floor Band, Kim Massie, Bottoms Up Blues Gang, Roland Johnson, Marty Abdullah, Wendy Gordon, Fred Walker @ BB's Jazz, Blues & Soups 3 p.m. | $10 Several respected St. Louis musicians band together to help a friend, who recently had heart surgery and an extended hospital stay. Gotta love a good cause! (DH)
Chanel West Coast w/ Allen Gates & TrevHype @ Old Rock House 8 p.m. | $15-$40 you may know her from MTV's Rob Dyrdek's Fantasy Factory and Ridiculousness. Or maybe from her mixtape, July's Now You Know. Either way, you'd do well to check out Young Money's latest signee. (DH)
Eat Drink Listen Finale w/ Trio TBD, Downstereo, Holy Sheboygan @ 2720 Cherokee 8 p.m. | $7 The "Eat. Drink. Listen." festival takes place all weekend, featuring collaborations between restaurants and bars with music and video artists. Grab a weekend pass to check out multiple events or head to the finale to see what it's all about. Check out the full schedule of events, featuring everything from brass music at Blank Space to jazz at 4 Hands Brewery, on the official festival website. (MS)
Expire w/ Take Offense, Bent Life, Cross Me, Out of Time @ The Demo 7:30 p.m. | $12 Bridge Nine hardcore! If you know what those words mean, you probably know what this band sounds like. If not, think big, pummeling breakdowns interspersed with fast punk beats and shouted vocals. Lead singer sounds like the guy from Left For Dead too, which is never a bad thing. (DH)
For another great option, consider catching Chance the Rapper at the Pageant.
Note: Though we wish we could, we can't feature every great show happening in town in just one measly post. Peruse the St. Louis concert calendar for more ideas any time. Let everyone know what else you're looking forward to seeing this weekend in the comments below, and send show tips to clubs@riverfronttimes.com to be considered for inclusion on these lists.
RFT MUSIC'S GREATEST HITS
Remembering STLPunk.com -- How to View the Site Today and Find Your Old Profile Page "Where Did My Dick Go?" The Gathering of the Juggalos' Best Overheard Quotations The Ten Best Dive Bars in St. Louis The 15 Most Ridiculous Band Promo Photos Ever
---