Jovan Bibbs' Klass Klowns
For those in search of laughter or curious about the goings-on of the comedy scene in St. Louis, we will be making monthly recommendations for shows in (and near) the city. From sure-thing hilarious to fingers-crossed, "Oh God! I hope this works" affairs, Funny Events is your connection to sketch, standup, improv and everything in between and out of the box.
Class Klowns with Jovan Bibbs at Voce December 15 9 p.m. | $15
Jovan Bibbs had a solid run with the Wednesday night comedy show Laughs at Lola -- by open-mic standards, the room was a sell-out every single week. Not only was Lola packed, but the crowd was present on purpose and wanted you to make them laugh. The glory of Lola has since passed, but Jovan is still producing topnotch entertainment, especially for Klass Klowns.
This month Jovan is celebrating his birthday at Voce with Nell Taylor, Carmen Barton and headliner LaVar Walker, who as a combined force have toured extensively across the United States and can be tied to Martin Lawrence's First Amendment, Shaq's All-Star Comedy Jam and Kevin Hart's Plastic Cup Boys.
Voce is a prime spot for a comedy show; there's not a bad seat in the house, and even those who like to stick close to the bar won't miss a beat. As for the host himself, Jovan Bibbs will be breaking out of St. Louis any day now. And that's not say he hasn't already; we're lucky to have him stick around as long as he has. In his first year of comedy he landed himself on BET's Comic View in New Orleans and has only grown in popularity since. And the comics can expect a similar reception as the aforementioned Lola crowd: individuals who want to be entertained and dare you to try.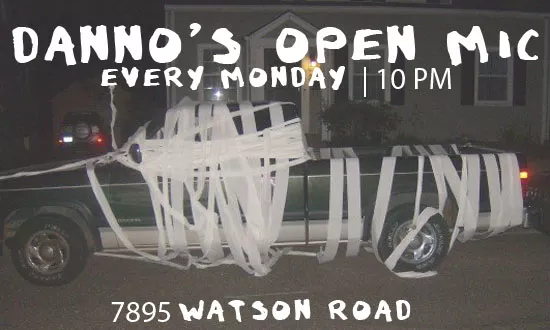 Danno's Open Mic at Danno's American Pub Every Monday 10 p.m. | Free
Open mics are band practice for comics. Keeping a regular and recurring crowd at band practice is a difficult task, but the combined efforts of host Sam McNett and the comic-friendly bar staff at Danno's have honed in on the secret.
Every Monday a hodge-podge of locals and passersby will take to the stage with their five minutes of jokes, stories and puns, or at the very least their attempts at any of the above. The crowd is well-receiving, patient (most of the time) and enthusiastic about keeping tabs on their favorites of the night. Imagine sitting in on band practice, seeing the struggle to find the perfect riff and then catching it live for the first time and sharing in the experience of finely nailing it. That's a comedy open mic in all of its glory. You'd have to be a repeat customer, but hey, the show is never going to be the same.
Jeremy Essig at the Funny Bone December 25-30 Showtimes Vary | $13 to $15
If you've kept up with the past year's Funny Events then it's no secret Jeremy Essig has made the cut on more than one occasion. He's made his way east and is now a New Yorker, but wouldn't you know it: He's home for the holidays and has an entire week at the Westport Funny Bone. It's a trend that will likely continue; he'll go away and then he'll come back and then he'll go away again because wouldn't you know it, Essig appeals to laugh-savvy audiences across the East as well as the Midwest.
He's as much a social critic as he is one of himself -- the finger-pointing is free of the patronizing entitlement so many comics claim just because they're the one with the microphone.
As an added bonus, Essig is teaming up with Chris Ward for the...
Loser Holiday Spectacular December 23 at Heavy Anchor 9PM | $5
Loser: A Live Action Game Show has been running since May of this year and is branded as a hodge-podge of all the best game-show challenges with inspiration from "Don't Forget the Lyrics, Pictionary and Nick Arcade. There's trivia, there's head-to-head NES competitions and there's finally a reason to be proud of the pop-culture knowledge that typically receives an eye roll in response.
If you've completed (or are capable of completing) any of the following are tasks, then Loser is the show for you. A) Had a bowl of Froot Loops for breakfast after 1 p.m. B) Yelled at the fool who just overbid on the Showcase Showdown. C) Played Excitebike. D) Discussed an issue of any comic book, ever. E) Could identify between a photograph of RATT, Poison and Twisted Sister.
Essig and Ward took November off to plan an even more Loser-fied and holiday-themed version of the show, so this month's installment will likely take the cake and pave the road for even more shows to come. If you are interested in being a contestant for the holiday or future show e-mail Chris and Jeremy at losergameshow@gmail.com.
St. Louis Up Late at 3003 Locust Every Saturday 10p.m. | $15
St. Louis Up Late is a celebration of the local talent thriving in St. Louis. The live production capitalizes on the basic talk show elements -- interviews with strong personalities and live music -- but then infuses them with sketch comedy and even encourages audience interaction.
The show is hosted by Eric Christensen, a member of Ted Dangerous, one of the resident improv groups working out of the Improv Shop. He's also one of the producers and driving force behind the St. Louis Compass Improv Comedy Festival, which took place just a little over a month ago. You can rest assured this is no "shot in Mom's basement with my Flip Cam and a novel idea" kind of production. Plus, in addition to Christensen there's a barrage of standup, sketch and improve comics who have teamed up to contribute to both the writing and production elements of the show.
The lines have been wrapping around the corner of Locust Street, and the show is picking up steam as it heads into December. These kinds of shows don't come together and succeed by the means of just one man alone, and it's a positive step forward in the St. Louis comedy scene to see it team up with the rock & rollers, politicians and all-around movers and shakers. But most importantly, it's dependable entertainment.
RFT MUSIC'S GREATEST HITS
The 15 Most Ridiculous Band Promo Photos Ever "Where Did My Dick Go?" The Gathering of the Juggalos' Best Overheard Quotations I Pissed Off Megadeth This Week, My (Former) Favorite Band The Top Ten Ways to Piss Off Your Bartender at a Music Venue
---