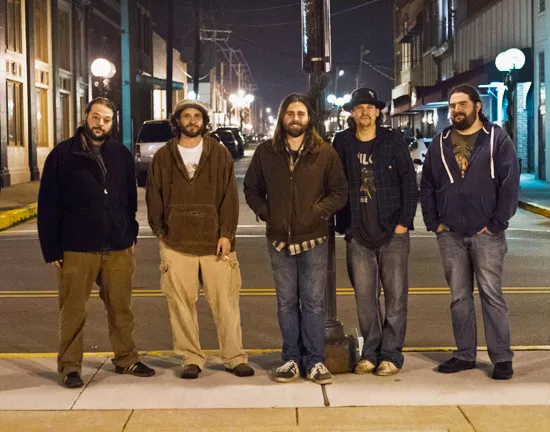 Andrew Hargis
The Blu Skies.
In this weekly column, RFT Music gets to know local creatives, musicians and their missions. Get a slice of the local scene, complete with a snippet of sound and info about upcoming releases and shows. Stick around to see what St. Louis artists have to say whenever they Fill in in the Blank.
Songwriter Matt McGibany played music for nearly twenty years before deciding to showcase his own original songs. Influenced by personal favorites including Wilco, My Morning Jacket and Pink Floyd, he set out to piece together his band, the Blu Skies, in April 2011.
"It was a matter of getting up the guts to do it," he says.
McGibany, who hails from Alton, Illinois, teaches at the Folk School of St. Louis and also performs in traditional country group the Five and Dimers, named the best traditional country band in the Best of St. Louis 2012.
The current configuration for the Blu Skies features McGibany (guitar, lead vocals), Phillip Waits (guitar harmonica, steel guitar, vocals), Michael Hickey (keyboard, vocals), Jerrod Gordon (bass) and Dave Clark on (drums, percussion). Together, the five-piece plays rock and roll with a folk-tinged, psychedelic jam-band lean.
"There are a lot of facets," he says. "It's kind of a full bag of tricks.... There's a lot of strong guitar work and three-part harmonies. It's very layered and at times kind of atmospheric as well."
McGibany says his muse hits hard while coping with traumatic situations; his songs can sometimes take more of a melancholy tone. He cites classic poets and '60s beatnick writers as inspiration, including William S. Burroughs and Lawrence Ferlinghetti.
The Blu Skies released its debut CD, Ghost of Design, recorded at Red Pill Studio, this past June. Have a listen below.
Frontman Matt McGibany kindly shot RFT Music a message and requested to fill in the blanks. See what he had to say on the next page.
Courtesy of Matt McGibany
What I like most about St. Louis... Matt McGibany: Is that we have KDHX. Not every city is as fortunate to have such a supportive and diverse resource for musicians and music lovers.
I make music... To express myself. It's part of who I am and helps me find meaning.
I'm most inspired by... The moments in life that are so poignant that you carry the emotion with you for life.
The St. Louis music scene could use... Some industry attention.
The best post-show food in St. Louis is... Breakfast at Benton Park Cafe.
Five current artists worth listening to are... Wilco/Jeff Tweedy, Neko Case, My Morning Jacket/Jim James, Fleet Foxes, the Trophy Mules (they're locals).
The most difficult lesson I've learned while playing music is... Accepting that things don't always turn out the way I've planned. There are hang-ups with finances, equipment issues and band member turnover, but none of that matters in the end. If I am being creative, expressing myself and sharing honestly with the listener, then I consider that success.
For more info on the Blu Skies, check out its website, Facebook and Reverbnation.
The Blu Skies Thursday, December 26, 7:30 p.m. w/ Cree Rider Family Band, Great Isaac, Bottoms Up Blues Gang @ Plush - $7
Previously from our Fill in the Blank series: - Animal Teeth - Popular Mechanics - Brotherfather - Bad Dates - Beauty Pageant - Little Big Bangs - Everything Went Black - Lions Eat Grass - Kevin Harris - Laika - Heavy Horse - Barely Free Partial Prisoners - The Defeated County - Lizzie Weber - Kenshiro's - B.E.L.L.A. - Superfun Yeah Yeah Rocketship - Humdrum - The Blind Eyes
Follow RFT Music on Twitter or Facebook. But go with Twitter. Facebook blows.