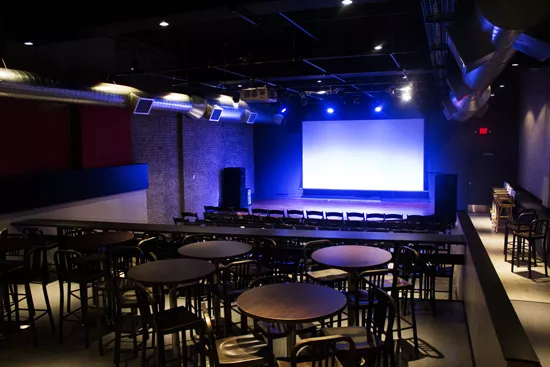 Photos by Mabel Suen
The Stage at KDHX, a 140-seat capacity listening room that will feature concerts and film screenings.
On December 15, local community radio station KDHX officially makes its long-anticipated move from its Magnolia Avenue studios to the Larry J. Weir Center of Independent Music in Grand Center. The $3.25 million project features a cafe, listening room, brand new state-of-the-art studios and two floors of offices for staff and volunteers.
See also: KDHX: Not Playing the Hits for 25 Years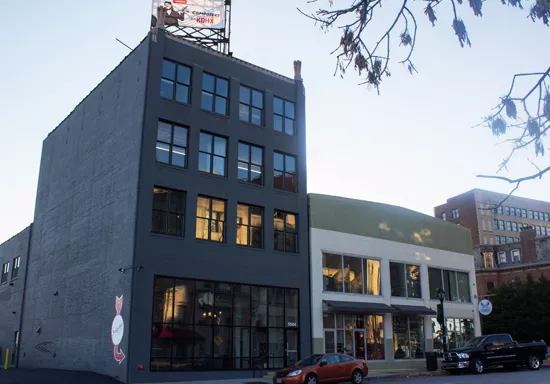 The Larry J. Weir Center for Independent Media.
Located a few doors down from Jazz at the Bistro on Washington Avenue.
In October of 2012, RFT Music toured the Grand Center building before renovations began. Last weekend, we returned to the space to get a preview of the dramatic changes, including the completion of its in-house listening room, the Stage at KDHX. Listeners can now submit their nominations for the first song to be played on air at the Weir Center. Check out some photos of the new digs and stay tuned for an extensive report.
See also: KDHX Launches Kickstarter for New Venue Space, "The Stage at KDHX"
Click ahead to get a preview of KDHX's new home.
The first floor features Magnolia Cafe, a public cafe run by Urban Canvas Event Spaces.
The Stage at KDHX has completely uninterrupted sight lines. It will serve as a community gathering place and is also available to rent.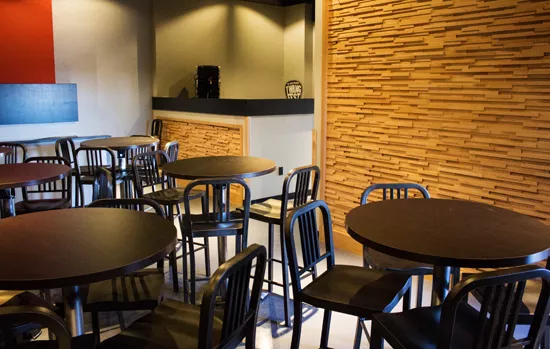 In addition to its aesthetic appeal, the wood paneling also serves as a sound diffuser.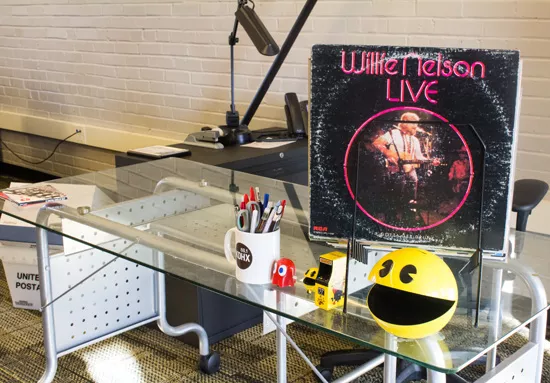 Executive director Beverly Hacker in her new office.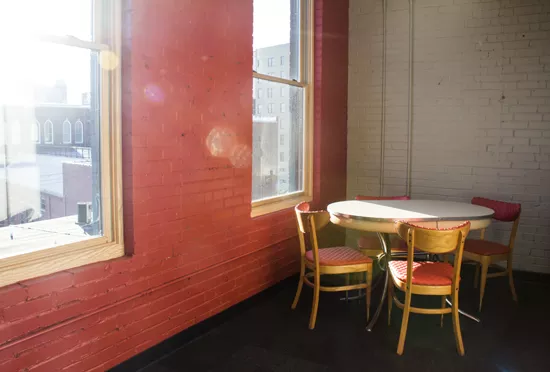 A corner of the offices outfitted with vintage furniture.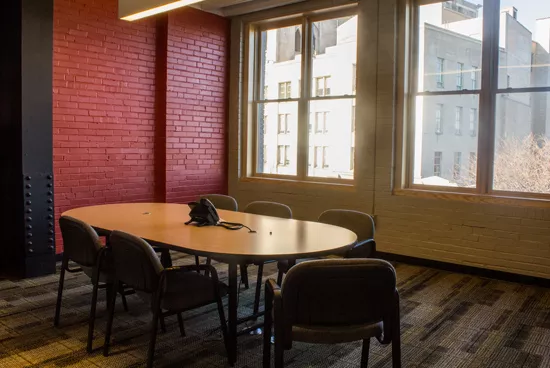 The conference room where volunteers and staff will convene.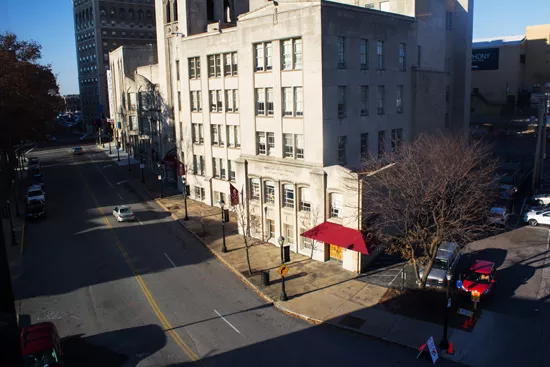 View of Washington Avenue from the window.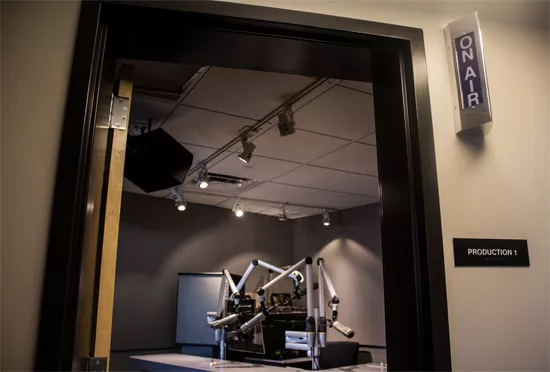 The Weir Center features several state-of-the-art audio and video production rooms.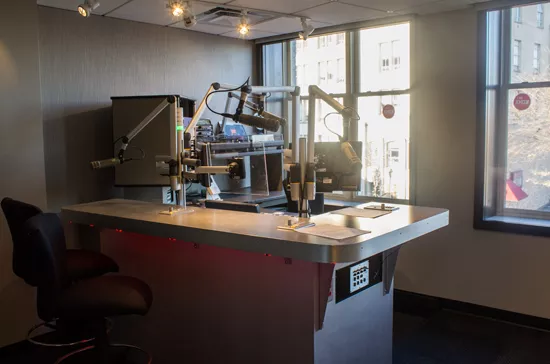 The new air room where DJs will conduct their shows.
Air Room 2 is a mirror image of Air Room 1 and will someday act as the base for additional programming on KDHX's HD channel.
A close-up of the mixing board.
The live performance studio was designed specifically for efficient, high quality audio and video recording.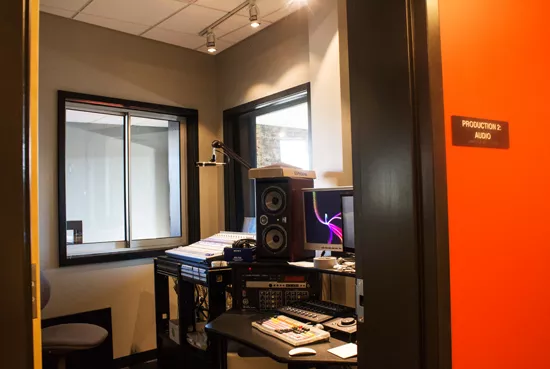 The live performance studio has separate audio and video production rooms.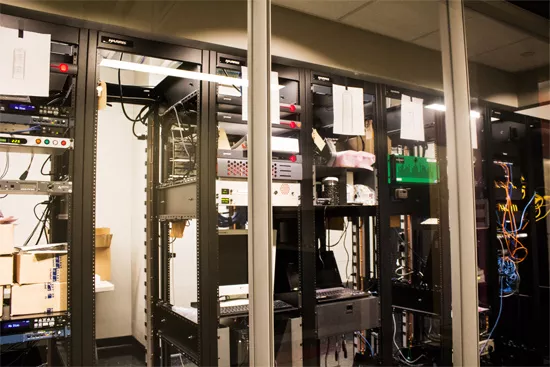 KDHX's equipment rack room looks like a high-tech set from Star Trek.
The Weir Center has gone a long way from conception...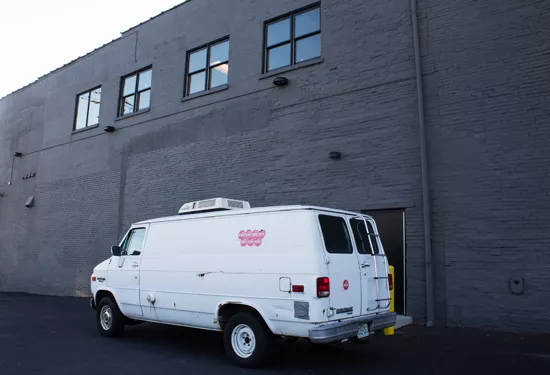 On December 15, KDHX will officially call the Weir Center its new home.