Before last night, Goblin never performed in St. Louis. Until 2013, the Italian prog-giants spent 30+ years touring Europe and scoring horror movie soundtracks without ever stepping foot in the United States. Its first tour, earlier this fall, brought the band to sold-out venues in several major cities, but St. Louis was sadly skipped over. By all accounts, any diehard fan was to travel to Chicago to get their fix, because who the hell knows when (or if) Goblin will return?
See also: Goblin Attack: Italian Prog-Rock kings of the horror movie soundtrack Goblin finally hit the USA
Joshua Loyal, the brains behind 2720 Cherokee Street, tossed out a teaser through social media in early July asking bluntly,"Who is ready for GOBLIN to come to STL?" Of course, we at RFT Music plastered those words all across the Internet in hopes that maybe enough people would speak up. The odd cross-section of horror nerds and metal buffs apparently screamed loud enough, because Loyal made good on his word.
Furthermore, Goblin's first tour in the U.S. did so well that it was essentially extended. Smaller cities like St. Louis and Milwaukee weren't left waiting until 2014. The diehards who caught Goblin in Chicago back in October couldn't snidely brag anymore. Last night, fans flocked to 2720 and quickly crowded the stage.
Pittsburgh's Zombi played first, starting with a heavy wash of thick keys before setting up a complex build of sounds behind tight rhythm. The Pittsburgh two-piece makes use of electronic loops generated from multiple synthesizers. Once the foundation is laid, live drums kick in with sharp beats, staying glued to circular melodies.
Jon Gitchoff
Zombi
Certain songs toned down the use of keys with the inclusion of a punchy, gnawing bass. The opposing texture provided depth, and allowed for the band to continue a consistent feed of songs without exhausting the ear with familiar sounds. Zombi sounds like something a modern serial-killer might actually toss on his iPod while sharpening knives for a human filet.
The influence of Goblin on Zombi is evident. The careful progression within songs is soundtrack-esque and the melodies themselves certainly recall the key-based harmonies in many Goblin tracks. DJ MAKossa took the rein between bands. The choice of cuts showed a love for psychedelics, but was especially fitting leading into the main event.
Continue to page two for more of our review.
Jon Gitchoff
Goblin
Goblin conducted its live set with a steady progression. Kicking off the set with several instrumental tunes, the group introduced vocals for the first time nearly twenty minutes in. The segue from wiry prog-rock to its famous soundtrack songs was made with a note, "We're going to switch to something more soundtrack related. Something with zombies." Cue excessive applause.
The venue only hit half capacity, but you wouldn't know that standing close to the stage. Fans crammed themselves as close to the low stage as possible, making for a warm, musty atmosphere. The crowd was mostly stiff, likely hypnotized by the video projections and interpretive dancer, both of which seemed to take turns in an engaging stage show. I did see a strange dancer in the crowd near the back, who appeared to have standing seizures accompanied by lazy swaying.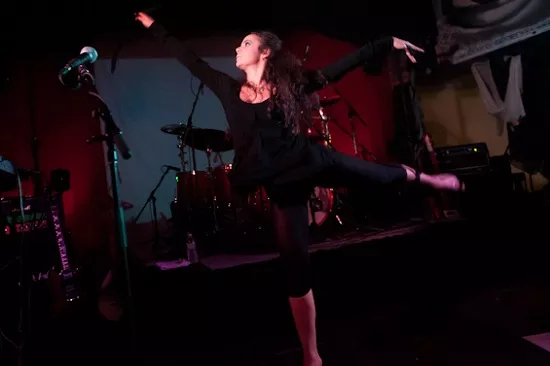 The sound-tech at 2720 laid the bass on thick. While this worked for DJ MAKossa and mostly for Zombi, Goblin seemed to lose subtle sounds under the heavy weight of the house PA. I tried to move between each song, but couldn't find an optimal place to stand. The sound was most crisp by the actual soundboard, but the bass was gut wrenching at times. This isn't necessarily a bad thing, if you like getting your jaw shaken by bass for two hours.
While the bravado behind the drum solo can feel contrived, the members of Goblin tore through their theme "Goblin" with a percussive onslaught and ventured seamlessly back into the final chorus. After an encore and gracious words to St. Louis, Goblin left. Without getting into detail, I was at the show earlier this year in Chicago. Although the set-list was slightly different, St. Louis got the better performance.
Leaving the venue meant venturing into a world of fog that wasn't present before the show. As we left the venue, one person was overheard to say, "Goblin came to town and turned St. Louis into a zombie movie." What more could one possibly hope for?
RFT MUSIC'S GREATEST HITS
The 15 Most Ridiculous Band Promo Photos Ever "Where Did My Dick Go?" The Gathering of the Juggalos' Best Overheard Quotations I Pissed Off Megadeth This Week, My (Former) Favorite Band The Top Ten Ways to Piss Off Your Bartender at a Music Venue
---