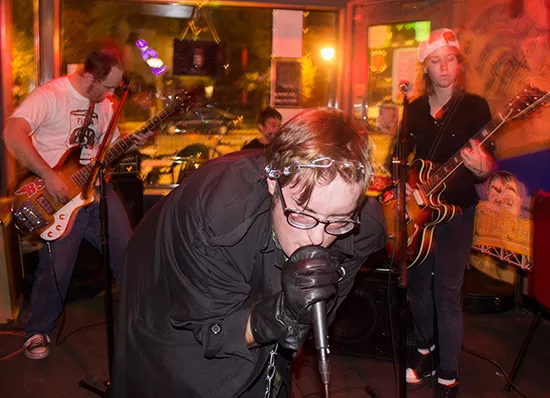 Mabel Suen
Animal Teeth at CBGB.
In this weekly column, RFT Music gets to know local creatives, musicians and their missions. Get a slice of the local scene, complete with a snippet of sound and info about upcoming releases and shows. Stick around to see what St. Louis artists have to say whenever they Fill in in the Blank.
What is C.H.U.D.? According to this campy sci-fi/horror trailer from the '80s, it's the governmental acronym for "Cannibalistic Humanoid Underground Dwellers." So, why the self-described label C.H.U.D. punk, Animal Teeth?
"I used to play in the sewers a lot as a kid," says frontman Austin, who puts together Acid Kat Zine, a xeroxed periodical he created in 2011 to take with him to the South by Southwest music festival. Acid Kat is a trash can filled with filth, rock and roll and punk subculture, he says. It's a burn-out zine, that like Animal Teeth, satirically pokes fun at itself.
The young members of Animal Teeth all hail from the suburbs -- Florissant and St. Charles -- where they say kids these days are more prone to starting garage rock bands than punk bands. Since its first show at Apop Records in January of this year, the group has played house shows in their neighborhoods and frequents south city spots, managing to have a fair share of fun even though half its members are still underage.
Animal Teeth channels late '70s and early 80's L.A. punk, citing influences including the Germs, Circle Jerks, Big Boys and the Screamers. In darkened bars, the group trudges through crunchy power chords, funky bass lines and straightforward drumbeats. Austin sidles around in a black trench coat, chugging chocolate milk, swinging metal chains and spitting a sermon of flippant lyrics like some kind of punk rock preacher.
"My dad described our music pretty good," says bassist Tony. "We were practicing and he was on the toilet. He was like 'man, this sounds like what I'm smelling.'"
Austin says that Lumpy of the RFT's best new band of 2013, Lumpy and the Dumpers, calls Animal Teeth deliberately anti-punk, which might not be all that far off. What does the blanket term mean to them?
"Punk isn't this trenchcoat, it's not buttons. It's just doing what you want to do. My mom's punk. She does whatever she wants," says Austin. He who works with Beauty Pageant and Freezerburn's Mister Ben on fests like the Acid Kat Fall Freak Out to glue otherwise segregated punk and noise scenes together.
"We're on a big mission to join a bunch of scenes, bring them together -- punk with noise kids and rock and rollers. We just want to mix it up," says Austin. "We're all weirdo misfits and we share the same likes. There's a lot of snootiness going around. We want to smear that over and start a new scene."
Animal Teeth recently recruited new member Jonathan Booker to take current guitarist Taylor's place when she leaves the country to pursue studies next semester. The group will tour with Champaign's Kowabunga! Kid in February. You can pick up Animal Teeth's demo tape, out on Lumpy Records, here. Check out its latest recording, Bug Man, below.
We asked Austin of Animal Teeth to fill in the blanks ahead of the Acid Kat Fall Freak Out tonight. See what he had to say on the next page.
Mabel Suen
Animal Teeth is Tony, Taylor, Austin, and Devon.
What I like most about St. Louis is... Austin of Animal Teeth: St. Louis is a really weird city. There is something different about it that you would not find in lets say, New York or Chicago. Us freaks feed on whatever that is.
I make music because... I write a load of lyrics and happen to have friends who can shape music around the lyrics. It is also a great way to get away with acting stupid.
I've learned the most from... just going to shows. Going to see bands play is a lot like going to school. You get to see what does and does not work. Once you get a hang of it, you can start a band yourself. A key dude to learn from is Martin of Lumpy and the Dumpers, he is the Prince of DIY ;)
Paige Smyth
Animal Teeth with Milena Kanak of Willis as Devo.
The St. Louis music scene could use... more unity. It sounds cheesy but you do not see the same people at a punk show that you would see at a noise show. Give or take they differ in sound but one should understand that we are all weirdos and should maybe collaborate on shows.
My first band was... called the Voice Inside Your Head. It was a very "lo-fi" theater punky band I guess. This was around 2006 'til like 2009?
My dream line up for a show is... Big Boys/Hank Wood and the Hammerheads/the Gimzos/Animal Teeth.
Five current artists worth listening to are... local: Lumpy and the Dumpers, Dad Jr, Bad Dates, Willis, Voight Kampff; national: Lazy, Hank Wood and the Hammerheads, Ex-Cult, Anasazi, Nobunny.
Acid Kat Fall Freak Out Friday, November 22, 6 p.m. w/ Animal Teeth, Babe Maggots, Shit/Storm, Snooty and the Ratfinks, Zoned Out, Corrigan Brothers, Tubby Tom, Beauty Pageant, Nightmare Boyzzz, Dad Jr., Pet Rock the Musical @ Livery Company - free
Dad Jr. Tape Release Show Saturday, November 30, 8 p.m. w/ Animal Teeth, White Fire, Boreal Hills @ Livery Company
Check out Animal Teeth on Facebook and Bandcamp. For more in Acid Kat Zine, check out its website, Facebook and Tumblr.
Previously from our Fill in the Blank series: - Popular Mechanics - Brotherfather - Bad Dates - Beauty Pageant - Little Big Bangs - Everything Went Black - Lions Eat Grass - Kevin Harris - Laika - Heavy Horse - Barely Free Partial Prisoners - The Defeated County - Lizzie Weber - Kenshiro's - B.E.L.L.A. - Superfun Yeah Yeah Rocketship - Humdrum - The Blind Eyes
Follow RFT Music on Twitter or Facebook. But go with Twitter. Facebook blows.