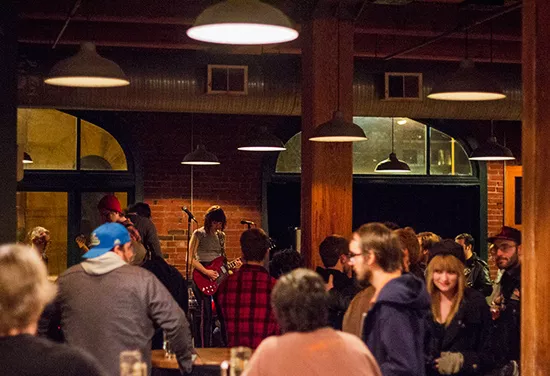 Mabel Suen
The view from here to the performance area contained a wall mid-way prior to renovations.
Since 2006, the Schlafly Tap Room (2100 Locust Street; 314-241-2337) has maintained a steady calendar of diverse, free concerts under the direction of in-house bartender, promoter and self-proclaimed "minister of culture" Brett Underwood. The majority of concerts have long taken place in the previously named Eliot Room, which recently got a makeover that includes a new stage and an ongoing list of acoustic improvements.
See also: SKiN GRAFT Homecoming at the Schlafly Tap Room
The Tap Room's music programming largely represents an undercurrent of music -- it includes local and touring acts from multiple ends of the spectrum, from folk and indie to rock and experimental. Some of Underwood's most memorable bookings there include the late Bob Reuter's last show with his group Alley Ghost this past July, the Conformists' 15th anniversary show and Chicago's progressive rock group Cheer-Accident, scheduled to return to the Tap Room in January.
Mabel Suen
In the past, audience members have typically crowded around bands performing directly on the Tap Room's floor. Here, vocalist Mike Benker performs his final show with the Conformists in 2011.
"I love the touring bands and the reason it works out -- when it does -- is due to the wealth of musicians and people we have in this city," says Underwood, an avid music fan. He expounds a long list of his past and present favorite billings, some of which can be recounted in this 2011 interview.
See also: Interview with Schlafly's Dan Kopman and Brett Underwood
Other local notables mentioned include Popular Mechanics, improvisation sessions with musicians including Dave Stone and Eric Hall, SKiN GRAFT Records' homecoming, Yowie, Britches, Bad Dates, Bunnygrunt, the Pat Sajak Assassins, Ring Cicada, the various projects of musician Tim Rakel, and Tower Groove Records bands such as Demonlover and Bug Chaser.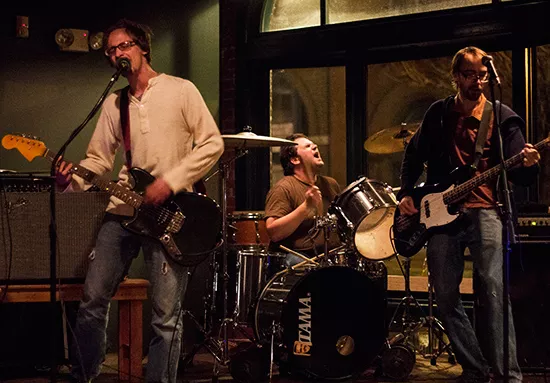 Local band Shut-In was the first to perform on the new stage riser last week.
Prior to renovations, a wall separated bands from a small seating area, a pool table and darts. Last week, the divider came down, expanding the space and its functions. The area totals about 1,800 square feet.
The room now contains a 160-square-foot corner stage that is 15 inches high, with a house PA, a simple lighting system and acoustic improvements on the way. During the day, the room now provides additional seating for patrons, allowing the north bar to be operative seven days a week and opening up more shifts for service staff.
"To me, the best thing about the room is the view from outside now," says general manager Andy White. "You can stand on the corner of 21st and Locust and can look into this big, open beautiful bar room. The sight lines are just amazing."
With the Eliot Room no longer hosting private parties, Underwood now has more freedom over the space's calendar to book concerts every weekend without scheduling conflicts. Look forward to more of the same off-kilter programming to come.
Click through to see the Tap Room's upcoming concert calendar.
Thursday, November 21: THOLLEM MCDONAS KISSER ERIC HALL, DAVE STONE, etc.
Friday, November 22: CHARFLIES THE TROPHY MULES
Saturday, November 23: THE BARN MICE FRED FRICTION THE HOBOSEXUALS
Wednesday, November 27: Tower Groove Records Split 7 release with HUMDRUM ACCELERANDO
Friday, November 29: RILEY JAMES BUBBAHONEY JENNY AND THE LATE NIGHT
Saturday, November 30: PAYPHONES ELBOW THROUGH HAMMER PAT SAJAK ASSASSINS
Friday, December 6: WICKED WALLS THE ADORING HEIRS DIBIASE
Saturday, December 7: FINAL VEIL RAW EARTH
Friday, December 13: KADU FLYER TONE RODENT VIOLATIONS
Saturday, December 14: GOOD NEWS BAD NEWS ACORNS TO OAKS ANDY HYLAND
Friday, December 20: THIS CITY OF TAKERS ADMIRAL OF THE RED THE VANILLA BEANS
Saturday, December 21: 33 ON THE NEEDLE SOMA THE BOB BAND
Thursday, December 26: SCHLAFLY BEER'S 22ND BIRTHDAY RANSOM NOTE THE UNION ELECTRIC TOK
Friday, December 27: THE SKEKSES MAGIC CITY HEROES OF THE KINGDOM
Saturday, December 28: PHALANGE ANDY ORTMANN RAGLANI WHAT WE WON'T SEE
Saturday, January 11: CHEER-ACCIDENT YOWIE THE CONFORMISTS
Keep track of Schlafly Tap Room's shows via its official website and follow Schlafly Tap Room on Facebook.