Screencap from an official Filmage teaser video.
In late October, St. Louis declared its love for pop-punk by selling out a 335-seat screening of Filmage: the Story of Descendents/ALL in only three days. To meet the demand for the chance to see the feature-length documentary, Mad Art Gallery (2727 South 12th Street; 314-771-8230) hosts a second screening on Saturday, December 14, thanks to the help of local music fans and pro-bono promoters Mike Herzberg and Phil Nadeau.
"We wanted to make sure we got to see the film, and it turns out it's going to be a hell of a party," says Herzberg, who booked a fair share of shows while growing up in the St. Louis area. This event is the first one he's set up since 1989.
For the uninitiated, the Descendents and ALL formed in California in the late '70s and '80s, respectively, and many credit them as the most influential bands in their genre. ALL consists of three out of the four members of the Descendents.
Descendents at Mississippi Nights
"When I was thirteen or fourteen and first getting into punk rock, I latched onto them," says Herzberg. "I'd heard them on their original label, SST's sampler. There's something that was different about their early stuff -- it wasn't as abrasive as most of the hardcore that was out there.... It was great musicianship and good, clean fun."
Filmage lacks a public-release date as of yet but has recently screened in cities around the world including Göteborg, Sweden, and Barcelona, Spain. This year, the documentary was an official selection for numerous festivals, including the Nevada City Film Festival and the Melbourne International Film Festival. It features interviews with the bands along with big names, including Dave Grohl of the Foo Fighters and Mike Watt of the Minutemen.
Herzberg enlisted veteran Illinois-side punk-rock band Dead Planet to perform a cover set of Descendents songs after the Friday night movie screening. Joining them are members of St. Louis groups the Humanoids and Times Beach, performing ALL covers in a group dubbed Coverage. Coverage will play a tribute set after the Saturday screening, as well as local band Better Days.
Filmage teaser
Mad Art Gallery, which Herzberg deems the ideal venue for the event, hosts the two evenings of screenings with additional sponsorship from local businesses such as the Silver Ballroom, Vintage Vinyl, Trader Bob's, Fubar, the Royale and Ragtime Tattoo. Herzberg hopes to book more combination film and concert events there in the future.
"I tend to think grandiosely," says Herzberg. "I'm looking forward to seeing fans across generations coming together to enjoy a good time, good music and a great movie."
Purchase tickets to Filmage STL II online via Brown Paper Tickets for ten bucks a pop. Follow Filmage STL on Facebook and learn more about the film itself via the official Filmage website. A flyer for the show's below: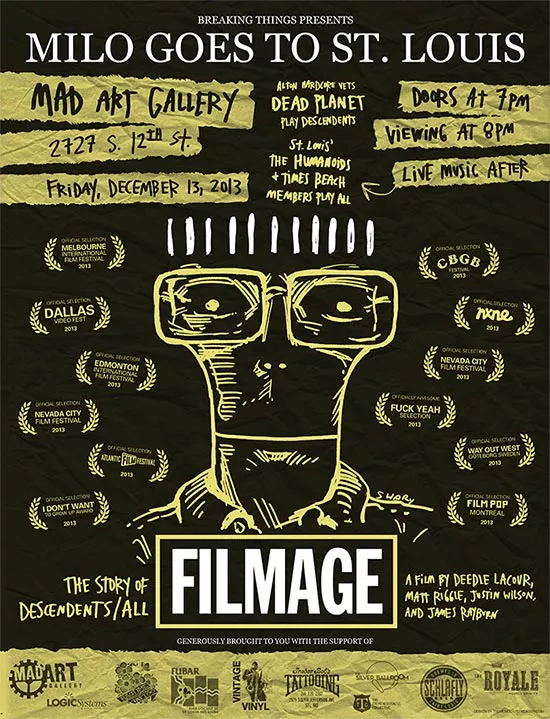 See also: The Collector: St. Louis artist Bill Keaggy takes the ordinary and makes it extraordinary
RFT MUSIC'S GREATEST HITS
The 15 Most Ridiculous Band Promo Photos Ever "Where Did My Dick Go?" The Gathering of the Juggalos' Best Overheard Quotations I Pissed Off Megadeth This Week, My (Former) Favorite Band The Top Ten Ways to Piss Off Your Bartender at a Music Venue
---