Fame is a funny thing. Some folks stumble into it by having their soundbites about burglary AutoTuned for 120 million YouTube viewers. Others make headlines by being a teenager with giant boobs who marries a guy nearly 40 years her senior.
But what about the people with actual talent whose fate hasn't been tied to random idiocy? Aren't they the ones who truly deserve nationwide notoriety? Hell, yes! The more we can put skilled entertainers on the radio, TV and Interwebz, the faster we can all stop pretending that Kim Kardashian ever tried to sing. So check out these ten St. Louis bands (in no particular order) that have the talent, stage presence, songbooks and grace to be household names now. Listen up, America!
THE BLIND EYES
We have a feeling that the guys in the Blind Eyes were birthed on stages instead of in delivery rooms. How else can you explain the easy "Psh, whatever. We're just dudes" attitude they seem to effortlessly display while performing? Sorry, but you're not "just dudes" when you've been mesmerizing audiences so completely since 2009. Few other bands work together as flawlessly or have the solid song catalog that the Blind Eyes does. Oh, we're not saying they're perfect -- every band has growing pains, after all -- but damn if Seth Porter, Kevin Schneider, Matt Picker and Andy White don't make an Elvis Costello brand of pop music that deserves a following just as sizable as Miley's, Britney's or Ke$ha's.
https://www.facebook.com/theblindeyes http://blindeyesstl.blogspot.com
THERESA PAYNE
Don't like gospel? Don't like soul? Don't like rock? Don't like jazz? We probably can't be friends, then. But maybe Theresa Payne will change your mind, as she combines all of these elements into fiery songs of earnest emotion while throwing in a bit of funk for good measure. Surrounded by talented family and friends, her energetic live shows recall what the Ike & Tina Turner Revue might have been with a healthy dose of love, positivity and support. Trust us: A spirit of some kind will move you while you're listening to Payne's sweet, sweet voice. It's been written that some people sing for their very souls, but we have a feeling that Payne is singing for ours as well.
https://www.facebook.com/mstheresapayne http://www.theresapayne.com
SCARLET TANAGER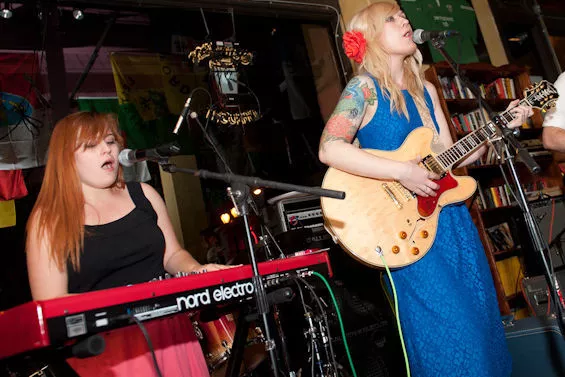 Put simply, Scarlet Tanager's songs are tailor-made for soundtracks. Just imagine "The Birds of the Dawn" accompanying a marriage proposal in a romantic comedy starring Emma Stone, or "Knives and Swords" backing a scene where Notting Hill-era Hugh Grant spends a bus ride regretting his stupidity. Brilliant songwriting, layered vocals and whimsical sounds all heighten storytelling, and it happens for Scarlet Tanager on its album American Songbird as well as onstage. The band already has tasted fame, with "Tumbleweed" appearing in a Nickelodeon commercial and "Zipcode" turning in MTV's The Real World. Let's hope the trend continues.
https://www.facebook.com/scarlettanagermusic http://www.scarlettanagermusic.com
THE DIVE POETS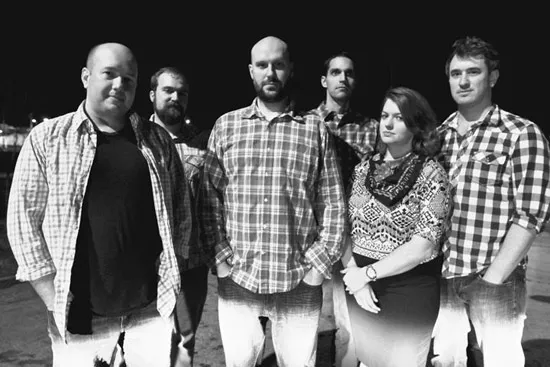 To classify the Dive Poets simply as a country band is to dismiss the other genre influences that surely seeped into the band members' brains while recording. Listen to this year's full-length album Married to Your Ghost or the band's previous singles and EPs, and it's easy to hear all kinds of interesting notes -- this is music that's equally at home both in your daddy's pick-up truck and at Julia Roberts' wedding reception in Steel Magnolias. The group has so much cross-appeal that we're confused as to why an Old 97's-like popularity explosion hasn't happened yet.
https://www.facebook.com/thedivepoets http://www.thedivepoets.com
Continue for more awesome St. Louis bands that deserve to hit it big!
DOORWAY
Rappers sometimes are known for waging lyrical (or worse) war on each other. Not so with Doorway: These guys have made it clear that collaboration and positivity are the keys to good tunes. A collective of individually talented artists, Doorway takes advantage of its killer songwriting chops to explore relationships, social issues, cautionary tales and more with hooks that are a little bit throwback, a little bit street and a whole lot of jam. Throw in partnerships with local titans Rockwell Knuckles and Tef Poe (see next page), and Doorway has a deep, versatile song list that suits its energetic live shows well.
https://www.facebook.com/pages/Doorway http://www.doorway.us
PRETTY LITTLE EMPIRE
How has Pretty Little Empire escaped soundtracking a cell-phone service commercial thus far? Beats us, but we can't help but feel that it's inevitable. Those harmonious vocals. Those plucky guitars. That urgent bass. Those snappy drums. That damn emotional songwriting that makes you want to scream your love for someone -- anyone! Hell, we'll even consider chatting to a Cubs fan on OkCupid if Justin Johnson sings his permission. With more songs than ever before -- and more live shows on the docket -- this might be the year that those advertising geniuses on the coast finally take note of Pretty Little Empire's versatility and persuasiveness.
https://www.facebook.com/PrettyLittleEmpire http://www.PrettyLittleEmpire.com
TEF POE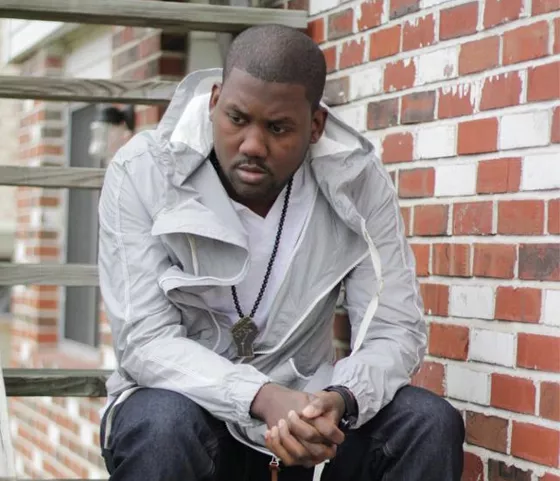 We debated including Tef Poe (an RFT Music columnist) on this list, because he's already had quite a bit of success. But despite a long winning streak on BET's 106 & Park Freestyle Friday and inclusion in national magazine features galore, this larger-than-life rapper deserves to be...well, even larger. He's a shit-stirrer in the best way, calling out those who divide St. Louis' hip-hop community rather than strengthen it, and he's shared a stage with some of the industry's biggest names, including Talib Kweli, Lupe Fiasco and the one and only Rakim. But what there's no denying that Tef Poe's two biggest draws are his lyrics and his intensity. Hit up one of his shows and be prepared for thoughtful, passionate verses accompanied by nonstop action and fierce conviction.
https://www.facebook.com/TefPoe http://www.tefpoe.com
Continue for more awesome St. Louis bands that deserve to hit it big! BRUISER QUEEN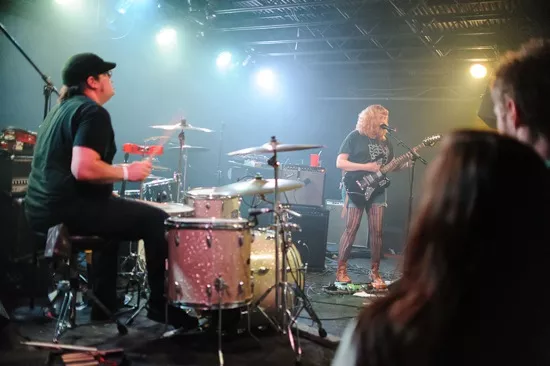 Unless your band's name is the Black Keys, the White Stripes or Matt and Kim, two-piece acts don't get a lot of love. But we're dying for Bruiser Queen to give a giant "Screw you" to that unofficial "rule." Loud and brash, messy and fierce, Morgan Nusbaum and Jason Potter's guitar-and-drums duo should be giving "How to Rock the Fuck Out" seminars to every lame-ass band played on the Point (105.7 FM) by now. These two absolutely own a stage, howling out tunes that are a little bit punk, a little bit rock and a whole lot of fun. What's it going to take to make the rest of the country love the new In Your Room EP as hard as we do? We don't know, but it needs to happen. Like, now.
https://www.facebook.com/bruiserqueen http://bruiserqueenmusic.blogspot.com
MIDDLE CLASS FASHION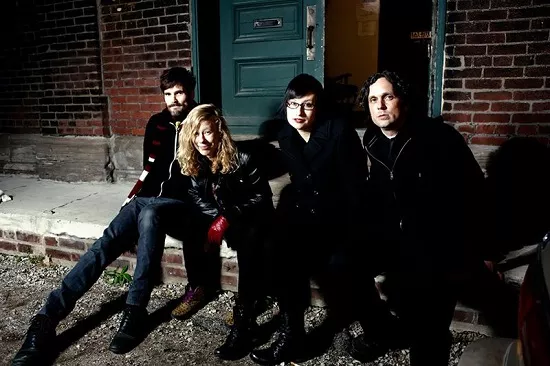 Jenn Malzone probably is tired of being compared to piano-playing troubadour Ben Folds, but if it gets people outside of St. Louis to give Middle Class Fashion a chance, we're willing to risk her wrath. Listen to "Come Around Anytime" from this year's Jungle, for example, and you can't help but recall a bit of "Army" from the late '90s. But, believe it or not, Middle Class Fashion sounds fuller than Ben Folds Five did, with guitars, bass, keys and drums that build up in a way that's even more delicious than seven-layer taco dip. And MCF absolutely bursts with flavor onstage, sweeter than a chocolate-covered cherry and more exciting than those weird hamburger doughnuts the Strange Donuts guys have come up with. We're not sure where we're going with this Ben Folds/foodie tale, but we do know this: Our ears sure do find Middle Class Fashion tasty.
https://www.facebook.com/middleclassfashion http://www.middleclassfashion.com
VIA DOVE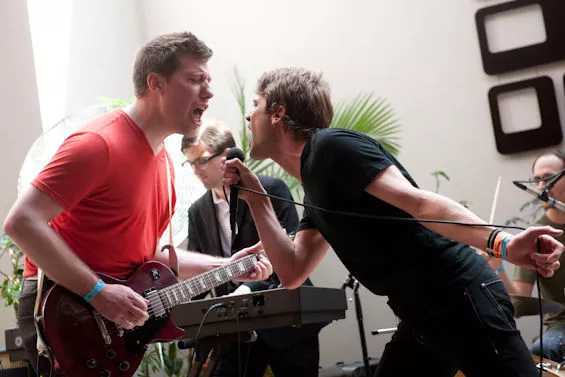 Equal parts Rolling Stones, Soundgarden and U2, Via Dove pushes sweaty, carnal rock & roll that occasionally veers into pure rapture. Ballads or rockers, Via Dove's songs have a fiery heartbeat -- a steady hum that reminds you that these tunes are about living. How much ass-shakin' tambourine can you handle? By golly, your answer had better be "Plenty." The recorded songs are great, but the live shows are where it's at, when vocalist Andy Shadburne evokes the late Michael Hutchence's smolder and has eye sex with seemingly every audience member in attendance. With so many genres and subgenres of music these days, straight-up rock sometimes is overlooked. Via Dove is the band that shoves it back into your face and makes you wonder how you went without it for so long.
https://www.facebook.com/viadove http://www.viadove.com
RFT MUSIC'S GREATEST HITS
The 15 Most Ridiculous Band Promo Photos Ever "Where Did My Dick Go?" The Gathering of the Juggalos' Best Overheard Quotations I Pissed Off Megadeth This Week, My (Former) Favorite Band The Top Ten Ways to Piss Off Your Bartender at a Music Venue
---