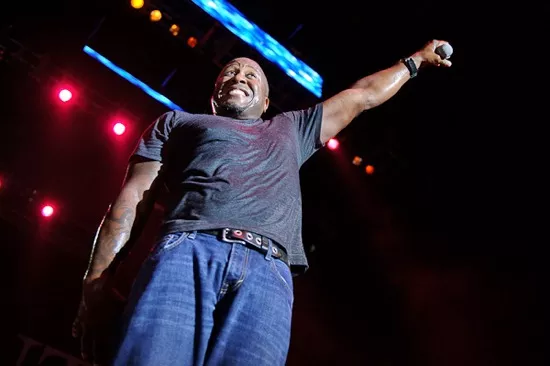 The Urge CD Release - Friday, November 22 @ the Pageant.
This week, big names like Justin Timberlake and Elton John visit town. In addition, hometown heroes the Urge and Jonathan Toth from Hoth release CDs. For info on these shows and more, including Beers & Cheers and Iris Dement, keep reading after the jump!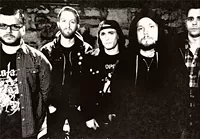 Everything Went Black Monday, November 18, 8 p.m. w/ H2O, Dogfight, Perfect People @ Fubar - $15 By Mabel Suen From "Everything Went Black Releases EP": Everything Went Black casts a stark, moody intensity that's impossible to shake and merciless to the core. Guitars lurch forward with commanding heavy metal influence, entangled with gritty hardcore demeanor. Meanwhile, militant, deliberate drumming hits like a machine gun full of blanks to the chest. When faced with Hoffman's aggressive, stark vocals, one can't help but feel affected. "I write a lot about failure, overcoming situations, religion, anxiety, living and dying. I write stories. I don't believe anyone could sit down and make sense out of any of it. I write for relief. It's not anything that anyone could relate to. It is mostly subliminal," says Hoffman, citing musical influences like Black Flag, Entombed and Neurosis.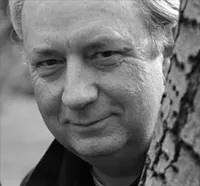 Michael Nesmith Tuesday, November 19, 8:30 p.m. @ Old Rock House - $40-$50 By Roy Kasten Michael Nesmith has always been so much more than a Monkee. The Houston, Texas native soaked up the blues, country, rockabilly, swing and pop of his home state and began writing songs and working as a session musician (at Stax-Volt, no less) long before he was packaged as a teen-idol parody. Nesmith went on to make influential country-rock long after the Monkees ran its course, and his work with the National Band set the stage for the likes of Poco and the Nitty Gritty Dirt Band. He's insanely prolific, a touch erratic, and beholden to no one and nothing but his tuneful muse, comedic timing and storytelling skills. This year Papa Nez embarked on his first solo tour in two decades, so don't expect a set of Monkees songs. His solo art rightly has top billing.
Justin Timberlake Tuesday, November 19, 7 p.m. @ Scottrade Center - $48-$178 By Jaime Lees Audiences were first introduced to Justin Timberlake as part of the carefully crafted '90s boy band, 'N Sync. Back then he was just that cheesy singer with the blond curls and questionable fashion choices, but in more recent years Timberlake has grown into a suave solo performer with slick suits and charisma to spare. Timberlake is currently touring on the success of his recently released two-part double album, The 20/20 Experience. The releases could have been distilled to deliver a bigger pop punch, but Timberlake's various explorations dazzle more than they disappoint. Instead of continuing to rely on the predictable formula of his constant collaborator, producer Timbaland, the new albums also reflect more classic influences, clearly drawing inspiration from the sounds of gospel, Motown and Stax Records. This tour set-up finds a Sinatra-esque Timberlake fronting a Vegas show-styled stage, complete with deco design and a big band behind him including multiple brass performers. Expect Michael Jackson meets the Rat Pack.
Leon Russell Wednesday, November 20, 8 p.m. w/ Alex Dezen @ Old Rock House - $30/$35 By Christian Schaeffer It's a given that Leon Russell earned his place in the pantheon of great American songwriters with "A Song for You," a top-shelf standard that cuts across genres. But Russell's contributions to the canon go beyond that tune and the equally deathless "This Masquerade." He was a first-call pianist with the Wrecking Crew in the 1960s, a sought-after arranger and borderless collaborator, though his place in the firmament didn't soften his outsider's edge. With a glare as impervious as his white hair and matching Stetson, Russell still cuts an impressive figure on stage and on record. He's collaborated most recently with Elton John on 2010's The Union, and this intimate show is a rare close-up with a pop iconoclast. Alex Dezen, best known as singer and guitarist of the Damnwells, will open the show.
Jonathan Toth From Hoth CD Release Thursday, November 21, 9 p.m. @ The Gramophone -$10 By Tara Mahadevan Conspiracy Theory is St. Louis-bred Jonathan Toth from Hoth's second solo album, following 2012's Book of Toth. Toth has been active in St. Louis for over a decade now, having released over twenty albums in that time. Though self-professed as "emo-rap," Toth releases conscious rap at its best -- the new release is a commentary on government debt, race, Karl Rove and the NSA, following the same political thread as his 2012 album. The release date for his latest album is even the same week as the 50th anniversary of JFK's death. Can't you already feel the conspiracy?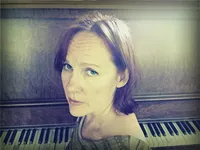 Iris Dement Friday, November 22, 8 p.m. @ The Gramophone - $30-$35 By Roy Kasten Iris Dement is in a long, as in "immeasurable," line of country singers and songwriters who channel the hard, beautiful and deeply personal facts of rural, small-town American life into an original language that burns through tradition. And she sings those stories with an ineffable Arkansas twang that breaks your heart in ways you never knew it could be broken. Last year's Sing the Delta is a masterpiece of country soul; no matter how lush or bluesy the arrangements, the music is defined by her churchly piano chords and her spiritual defiance. There simply is no more honest voice in contemporary music than Iris Dement. It's been a decade since Dement last played the Sheldon Concert Hall. If ever a singer deserved an acoustically perfect venue it's Iris.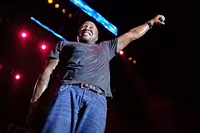 The Urge CD Release Friday, November 22, 8 p.m. w/ Unifyah, Clockwork @ The Pageant - $25-$35 By Bob McMahon From this 2011 show review: "We have an announcement: The Urge is back!" While it was nice of singer Steve Ewing to mention this midway through his band's first set in six years, it was also totally unnecessary. From the moment Bill Reiter and Matt Kwiatkowski blasted the staccato intro of "Violent Opposition" out of their horns, it was obvious that the Urge was back and sharp as ever. The local funk/ska/metal heroes powered through a crowd-pleasing eleven song performance that, aside from two barely noticeable slipups, showed no sign of the sextet's layoff.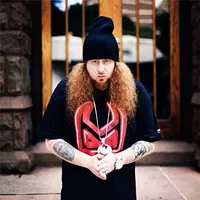 Rittz Saturday, November 23, 6 p.m. w/ Snow the Product, Jerron Benton, METROPOLITIX, PWIN, Step or Get Left, 12-6 Movement, Truth Serum, Wally Kuhlenburg, Skiddalz, Cash Reap, Luey Converse, CMP, Uno Joven, Pytch Wyte @ The Mad Magician $15-$20 By Tara Mahadevan From "The Best St. Louis Hip-Hop Shows: November 2013": Rittz broke through the rap scene on Yelawolf's 2010 track, "Box Chevy pt. 3", his quick cadence and catchy bars hard to miss. His raps resonate with much of Atlanta's booming bass rap, influenced largely by Outkast and Goodie Mob. He dropped his first album, The Life and Times of Jonny Valiant, on Tech N9ne's label, Strange Music, so you know Rittz is probably into some kooky things.
Beers and Cheers Saturday, November 23, 7:30 p.m. w/ Andrew Frank, Kenny Kinds, Erik Anker, A.J. Finney, Meowsers, Bruiser Queen @ Regional Arts Commission - $10-$25 By Kelsey McClure From "The Best St. Louis Comedy Shows: November 2013": In support of the National Children's Cancer Society, Beers and Cheers will pair a local craft brew with a similarly local and crafty comic. Andrew Frank, Kenny Kinds and Erik Anker will get you laughing with your drafts, followed by rock & rollers Bruiser Queen. Recently added to the bill is Gabe Kea, the host of Cincinnati's Go Bananas. He comes through St. Louis a handful of times a year and every time he does the crowd wants to know when he's coming back.
Elton John Sunday, November 24, 8 p.m. @ Chaifetz Arena - $39-$149 By Jaime Lees Elton John has been a musical superstar for almost 45 years now, but it is in his live show that he shines the brightest. An entertainer through and through, John always manages to deliver a high-energy show, even while still chained to his piano. And the Grammy-winning entertainer is nothing if not prolific; he's had more than fifty songs in the Top 40. With hits like "Bennie and the Jets," "Goodbye Yellow Brick Road," "Tiny Dancer" and "Rocket Man," he and his longtime writing partner, Bernie Taupin, have penned some of the most beloved and enduring songs in the history of popular music. Though he's 66 years old, the icon still tours at full power, bringing along a full band on this tour (which includes backup singers and strings) and playing for nearly three hours.
Note: Though we wish we could, we can't feature every great show happening in town in just one measly post. Look for plenty more recommendations this Friday in our weekend shows post, and peruse the St. Louis concert calendar for more ideas any time. Let everyone know what else you're looking forward to seeing this week in the comments below, and send show tips any time to clubs@riverfronttimes.com to be considered for inclusion on these lists.
RFT MUSIC'S GREATEST HITS
Remembering STLPunk.com -- How to View the Site Today and Find Your Old Profile Page "Where Did My Dick Go?" The Gathering of the Juggalos' Best Overheard Quotations The Ten Best Dive Bars in St. Louis The 15 Most Ridiculous Band Promo Photos Ever
---