Photo by Blair Stiles
Beeman in the control room at Native Sound.
It takes twenty stomps to ascend the white staircase to David Beeman's Native Sound Studio. Only after one navigates a bar in the midst of construction are the stairs visible. Two confused yet affable builders stare. The bespectacled one nods and says, "You just go up those stairs. Don't turn right. Don't. You have to turn left." The cryptic nature of his instructions is suspicious. The building looks like it has been gutted, everything painted in a pure, unicorn white that blinds when paired with light bulbs and lamps hung in a haphazard fashion. It feels an altogether foreign reality.
Upstairs, someone is punishing a drum kit. A tall man with a wad of brown hair emerges, appearing dazed as he creeps about looking for something. David Beeman turns around and jostles his shoulders like a spooked deer. "Hey! You're here! I thought I heard somebody." We go through a door that seems to have suddenly appeared. It leads us into a warm control room decked with secondhand couches upholstered with faded patterns. A coffee table holds snacks of varying nutritional value and a bookcase keeps Shel Silverstein out of harm's way. Beeman opens a refrigerator and says, "Do you want a beer? I also have trail mix. I call it GORP. Good ol' raisins and peanuts." Native Sound's owner/engineer/producer is just getting started.
"I mean it was a fucking disaster," Beeman cracks open a beer and elaborates about the space in which Native Sound is located. Before the eight and a half months of rehab, Native Sound's second home looked like the victim of a natural disaster. But Beeman got a good deal on the space. He had outgrown Native Sound's first home -- which is located a skeet three blocks away -- and was looking to isolate the studio from sounds beyond the control room. "I need absolute silence and the ability to be as loud as I want."
Photo courtesy of David Beeman
Native Sound space prior to renovation
Beeman gives a tour of the multi-room space, every inch blanketed by handsome panels of shellacked wood, and points to a private vocal booth. "My friend Steve Higdon helped design this studio. He is a fucking badass engineer and he does acoustic design. He designed that vocal booth from a mathematical equation. None of the dimensions have a common denominator."
Back at the soundboard, Beeman sits and swivels the seat of his chair. "Acoustics is just math. It's called the Golden Ratio. If I take all the equipment out there and you just sing or clap it sounds like you're in a cathedral. The frequencies...nothing builds up from bass to the highest frequencies there are."
Continue to page two for more.
Photo by Blair Stiles
Beeman walking through Native Sound's live room
Beeman's knowledge of production and engineering began at an internship in a place west of here. "My cousin -- this was in Southern California when I was 18; I'm 32 now -- knew the guys who opened this incredible studio in Irvine, California. It was called Sonikwire Studios." Still in operation, Sonikwire is no longer the home of Beeman's teachers. A quick Google will take you to a website where pictures of the studio mirror Native Sound's rustic aesthetics. "It was all analog, and they had Pro Tools and shit like that. At that studio I met Eli Thompson and Richard Swift. Those guys taught me to record." The Swift Beeman speaks of is presently a member of the Shins and produced Damien Jurado's Saint Bartlett and The Mynabyrds' What We Lose in the Fire We Gain in the Flood. Thompson now owns and operates Elliot Smith's old recording studio.
"I was the last of my immediate family to move out here. I was kind of a nutcase when I was young. I couldn't keep a job. I just needed to get the hell out of California, really. I just needed to get to a more peaceful, slower paced existence. I took the train and brought all my instruments to St. Louis." Beeman's migration was not without pitfalls, "When I moved out here I didn't know anyone. I always played drums in bands. I bought an eight-track and started writing songs instead of playing drums." Beeman's songwriting, on permanent display with his work in Old Lights and Nee, is informed by his production skills, "I like to record songs by myself. I like to record all the parts. If I didn't record, honestly, I probably wouldn't write songs. I just love getting cool sounds and being able to manipulate things. I care about lyrical writing and melodies very intensely, but the studio is fucking awesome. It's just a wonderland. You can do whatever you want."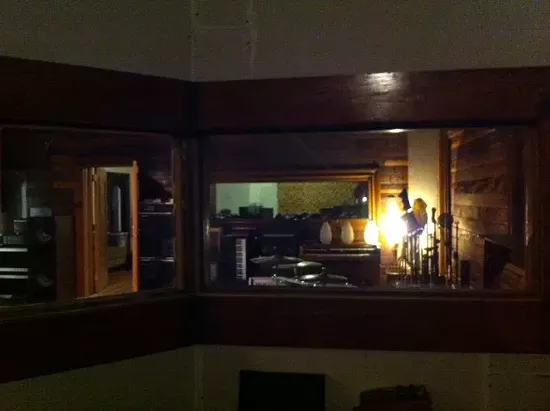 Photo by Blair Stiles
View from Native Sound's isolated vocal booth
Beeman shifts the conversation from his music to producing records for other musicians. "The longer I've been here the more impressed I grow by this scene. What's cool about having an artistic place is that I get to record with a lot of different musicians from around town." Beeman does not outsource musicians, but uses St. Louis musicians in all the records he produces, "I can call super badass guitar players and keys players and bass players and drummers. Seven or eight guys I use." Excitedly, he rattles off familiar and foreign names, "Curt Brewer from Kentucky Knife Fight on guitar. Kevin Bachman on bass quite a bit. There is an incredible keys player named Nathan Jacko who plays with Kentucky Knife Fight. Caleb Kirby is a young drummer who plays with Tommy Halloran. Dave Anderson from Tenement Ruth."
Beeman's enthusiasm grows as he lists the artists who record at Native Sound's new headquarters, "Tommy Halloran was just in here. He is playing with the best band he has ever had. We made a proper record, tracked it live." Later Beeman will play songs off Halloran's record. The mixes are clean yet absent of soul-snatching polish. Halloran's voice bears a firm, yet malleable sound as his jazz band carries his voice behind him. The sound creates visions of bridesmaids who trail the bride, carrying the dress' train so it does not scrape the ground. "I'm doing Jeremy Joyce's record. He helped me with the construction in a trade for studio time. David Vandervelde. Tonight we're finishing the Bo and the Locomotive mixes -- Bo [Bulawsky] is coming in later."
Continue to page three for more.
Photo by Blair Stiles
Native Sound's control room
The conversation veers toward Beeman's ethics as he assembles his computer. It is a medley of Dell and Apple computer parts linked together by eight or nine wires. "Every single record is different, and as an engineer and producer you have to have an insanely open mind to everything. I love that Tommy [Halloran] recorded live. It was a whole new set of challenges." Beeman cues up a track off Bo and the Locomotive's upcoming release. "An engineer should capture a band as they are. Being a producer for music can range from simply getting the band together to being the final decision maker of what's played on the record." He skips out the room to turn off the radio, which has hummed KDHX for the past hour and half. "I'll do any of those things if it makes sense for me to do it." The sound of wood being hit by boots shakes the hallway. "But sometimes, if the band wants to be challenged, if they don't feel like they are capable of progressing on its own...then I'll challenge them. I'll challenge everything if they want me to -- the arrangement of songs, chords, lyrics...everything. But always keeping and considering what they are. I don't want to make someone something they are not. That is not producing. That's bullying them into some version of myself."
Beeman's wife and Nee bandmate, Kristin Dennis, walks in and inquires about Chronoman rehearsal. After her is Bo Bulawksy with a wide notebook in hand. Dennis, moments later, blows out the door with the weightlessness of a snow flurry. Bulawsky falls backward into the couch and flattens his body against the back. Sprawled out, he watches Beeman stretch out and see me to the door. Beeman's speech switches from tussled waves of oral histories to honed sentences. The vibe is heavy as the two prepare for the long night of work ahead.
RFT MUSIC'S GREATEST HITS
The 15 Most Ridiculous Band Promo Photos Ever "Where Did My Dick Go?" The Gathering of the Juggalos' Best Overheard Quotations I Pissed Off Megadeth This Week, My (Former) Favorite Band The Top Ten Ways to Piss Off Your Bartender at a Music Venue
---