Pink - Monday, November 11 @ Scottrade Center
This week, Pink, Pure Bathing Culture, Little Howlin' Wolf and more makes stops in town. Besides that, check out Foxing's album release and the New Music Circle's next event featuring Olivia Block, Sandra Gibson and Luis Recorder. Read about these shows and more in this week's recommendations.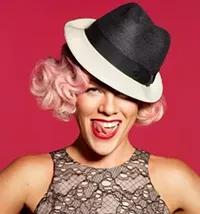 Pink Monday, November 11, 7:30 p.m. @ Scottrade Center - $36.50-$96.50 By Allison Babka Pink is so ubiquitous that it's easy to forget exactly how many hit singles she's had in her thirteen years of solo work. In just about every clothing shop, dentist's office and fast-food joint, you're bound to hear "Get the Party Started," "So What," "Glitter in the Air" and a host of other chart-toppers — she's had nineteen top-20 hits on the Billboard Hot 100. But what you won't experience while you're running errands is the magnificent energy and theatrics that Pink brings to a real venue. Her powerful voice doesn't waver even a bit as she leads dance troupes in frenzied moves or twirls elegantly on a trapeze. Pink's "Cirque du Soleil"-type spectacle ensures that even the most jaded pop-haters will find plenty of sights to savor. This year, Billboard named the songstress "Woman of the Year," due the success of her latest album, The Truth About Love — no small feat, considering how many badass ladies there are out there.
Pure Bathing Culture Tuesday, November 12, 8 p.m. @ Old Rock House - $8/$10 By Christian Schaeffer Perhaps it was their pedigree from playing with Vetiver that allowed Sarah Versprille and Daniel Hindman to name their new project so clumsily. In any case, Pure Bathing Culture traded in folksy prettiness for '80s-indebted mood-pop. On this year's Moon Tides, expertly deployed chorus pedals make the guitars weep with precision while canned rhythms and plucky synths complete the tableau. Maybe indie-dom will tire of the hazy, reverb-drenched fetishism of the past few years, but Versprille's trilling vocals play nicely with the sympathetic production. Pure Bathing Culture played to a sold-out crowd earlier this summer, opening for Father John Misty at the Firebird.
Dysrhythmia Tuesday, November 12, 7 p.m. w/ Zevious, The Gorge, Vanguard Party @ The Fubar - $10-$12 By Rick Giordano From "The Best St. Louis Metal Shows in November 2013": Do you love heavy music, have a terrible caffeine addiction and a slight case of A.D.D.? Then, boy, have we got the show for you. Philadelphia's Dysrhythmia has been boggling minds for some fifteen years now with its complex, dizzying progressive instrumentals. The band has been pushing limits and bending musical rules with releases on Relapse Records throughout its career, before a recent move to Profound Lore with last year's highly acclaimed Tests of Submission album. How the trio finds time to tour is a mystery, considering two-thirds of it are also full-time members of Gorguts (who just released one of the most impressive albums of the year). Dysrhythmia's influence in modern metal runs deep, as is evident in opening bands Zevious, the Vanguard Party and St. Louis' absolute tightest metal band, the Gorge. A night of complex rhythms, lighting-fast scales and all-around inventive musicianship is to be expected, along with the occasional bone-shaking groove.
Chuck Berry Wednesday, November 13, 9 p.m. @ Blueberry Hill - $35 By Jaime Lees From "Why You Should Go See Chuck Berry As Soon As Humanly Possible": Yes, he's older now. No, he can't duck walk for miles at a time. Sure, sometimes he loses his place when playing his songs. But give the dude a break- he's 85 years old! It's endearing when he sometimes forgets a line. And chances are that Berry at his worst is still better than you at your best, so put down the Haterade.... People from all over the world save up for years, spend their life savings or dip into their retirement funds just for the opportunity to travel to the States once to see Chuck Berry play. Each show is full of international travelers and usually more than one celebrity attendee.
Little Howlin' Wolf Thursday, November 14, 9 p.m. w/ N Colyar P, N.N.N. Cook @ Foam - $5 By Joseph Hess From "The Best St. Louis Noise/Experimental Shows: November 2013": No no no, this isn't the Howlin' Wolf you know, this is Little Howlin' Wolf. Completely different. If you are, in fact, educated on the differences between the little and regular howlin' wolves, then Little's inclusion on this list might make a little more sense. Little Howlin' Wolf churns out quality blues, and does so with a penchant for comedy and free-improvisation. By experimenting with abstract sounds to augment a beloved genre, the man blows apart expectations of what blues should be. Chicago's N Colyar P eschews the blues and travels a little further "out there" than Little Howlin' Wolf, bringing a feedback-driven jam to the lineup. N.N.N. Cook will open the night with his subtle soundscapes. Actually, with an artist like N.N.N. Cook, one can't be too sure what will be brought to the table. This artist often emits sound with an awfully sharp focus on dynamics.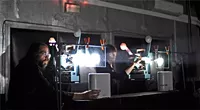 Olivia Block, Sandra Gibson and Luis Recorder Friday, November 15, 8 p.m. @ Contemporary Art Museum - $10-$20 By Joseph Hess New Music Circle brought Olivia Block to St. Louis in May 2012, upon which she performed a quadrophonic (that's right, four speakers) piece. This time Block returns with two experimental filmmakers in tow. Sandra Gibson and Luis Recoder are a film duo who use projectors to supply light and manipulate shown images with glass, lenses and fog. The two use, in unison, separate devices to produce a vision that warps and evolves in real-time; Block will generate a live sound art collage from electronics and field recordings in response to Gibson and Recoder's abstract visuals. "Sensory overload" hardly describes the experience. This performance comes from both NMC and the St. Louis International Film Festival, a collaboration which should, literally, open eyes and ears.
Foxing Album Release Friday, November 15, 9 p.m. w/ Bear Hive, Parisian, Dots Not Feathers @ The Firebird - $5 By Cassie Kohler From "Foxing's Debut LP, The Albatross, Tackles the Darkness": Voted 2012's Best New Band by you fine folks, Foxing is quickly making a name for itself both locally and nationally. The five-piece was signed by the Count Your Lucky Stars label this spring while on tour and is set to drop its first full-length album.... The Albatross contains heavy swelling movements reminiscent of the ocean, perfect for conveying the aimed emotions of isolation and alienation. It seeks to capture a snapshot in time when multiple members of the band were undergoing a type of disconnect. "It's that alienation of coming home when you realize that the world goes on without you; not everyone is sitting around waiting for you to come back. You come home and you feel really disconnected from everything around you," says Coll.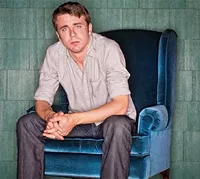 Joe Pug w/ Sera, Cahoone, Derrick Streibig @ The Firebird - $12-$17 By Roy Kasten From this 2012 show preview: Joe Pug is not a hipster with a banjo, a smarty pants with a computer, a naïf with a fake British accent singing in a fake forest. What he is is a serious songwriter, in the line of Guthrie, Dylan and Van Zandt. His best songs are American jeremiads, composed with images both fiery and fragile, calling down simple truths on his country and himself. On the 2012 release, the Great Despiser, he tests those songs against different sounds -- E Street swagger, feedback stutter, waltzing country -- and searches for "a narrative that was ours." Song by exceptional song, he's finding it.
Googolplexia Saturday, November 16, 8 p.m. w/ B&E @ Way Out Club - $5-$7 By Joseph Hess From this 2011 profile: Severson spits lyrics of whimsy out from behind his thick-rimmed glasses and unkempt hair. He deals with stiff showgoers by relentlessly working the crowd: The audience is often called upon to join in, and Severson transforms them into his personal backup chorus. Participation is usually not optional, as Severson's songs are infectious and reek of catchy pop sensibility. Googolplexia is a singular entity of quirky cover tunes and simple but memorable melodies. Expect references to Star Trek, McDonald's commercials of the '80s and other playful nostalgia.
Samothrace Sunday, November 17, 7:30 p.m. @ Fubar - $10-$12 By Rick Giordano From "The Best St. Louis Metal Shows in November 2013": "Funeral doom." It's possibly the most intriguing two-word phrase I've heard since "Cheesecake Factory." That scene in Terminator 3 when Arnie carries a coffin on his shoulder and shoots everything in sight may come to mind when the phrase is heard, but that's a little too cheery an image for what this style of metal actually sounds like. If you can't handle slow songs, you're out. If you need to understand any lyrics, see you later. If you've ever played "The Thing That Should Not Be" by Metallica on the wrong RPM and disliked it, well this is not the genre for you. Seattle, Washington's Samothrace is funeral doom to its molten core, crafting unbelievably heavy tunes that can shatter and uplift with their sheer epic size. With only two full-length releases under its belt since forming in 2006, the band seems to have a less-is-more approach, with St. Louis lucky enough to be one of the few stops on a six-city tour. With the average band's set under the 60-minute mark, I just can't wait to hear which two songs Samothrace will have time to play.
Note: Though we wish we could, we can't feature every great show happening in town in just one measly post. Look for plenty more recommendations this Friday in our weekend shows post, and peruse the St. Louis concert calendar for more ideas any time. Let everyone know what else you're looking forward to seeing this week in the comments below, and send show tips any time to clubs@riverfronttimes.com to be considered for inclusion on these lists.
RFT MUSIC'S GREATEST HITS
Remembering STLPunk.com -- How to View the Site Today and Find Your Old Profile Page "Where Did My Dick Go?" The Gathering of the Juggalos' Best Overheard Quotations The Ten Best Dive Bars in St. Louis The 15 Most Ridiculous Band Promo Photos Ever
---