Getting your celebrity gossip from TMZ is soooooo 2009, dude. Each Thursday in "Twitter Litter," RFT Music rounds up the week's best meltdowns, ego battles and WTFness from rockers, rappers and DJs who aren't afraid of a little hashtag action. This is the final installment of "Twitter Litter," so it's time to take out the trash one last time.
Like a random person said that one time, "all good things must come to an end." "Twitter Litter" as a regular RFT Music feature is ending, but has it been a good thing? Honestly, we're not sure -- our brains are too warped from following more than 200 crazy-ass musicians and digesting their bad jokes, ridiculous selfies and promo-whore tendencies to be too introspective about it. While we'll continue to bring you news of celebs' stupidity, we sort of need a break from diving into the cray-cray all the time.
But, damn, Miley Cyrus (@mileycyrus), we're gonna miss you.
Ms. Bangerz, Ms. Smiley Miley, Ms. Masturbate-With-A-Foam-Finger-While-Robin-Thicke-Pretends-To-Do-You-In-The-Butt-And-Bears-Watch has been a Twitter goldmine for us. When we first started "Twitter Litter" back in July we had assumed Ke$ha (@keshasuxx) would provide us with the most insane material. She's definitely been a contender, what with her haunted vagina and penis envy and all, but Miley? Miley is a WTF machine. So in this, the final edition of "Twitter Litter," we celebrate the girl who went from a Disney role model to a nasty tongue-wagger who's about to take her twerking ways on tour like a wrecking ball.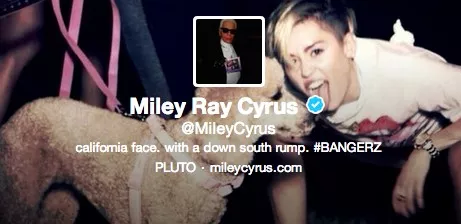 Finally, Miley, please randomly reference "Here Comes Honey Boo Boo" while modeling your Lil' Kim hair:
Thanks for everything, Miley.
Remember how Nicki Minaj (@nickiminaj) designed skanky clothes for Kmart, but the St. Louis stores didn't want to give them to us? Minaj is rubbing salt into the wound with a new behind-the-scenes video about her fashion empire commercial:
Sigh. Thanks for nothing, Nicki.
Tom Morello (@tmorello) regularly invites his Twitter followers to ask him stuff. Today, he reminds us why we like him so much: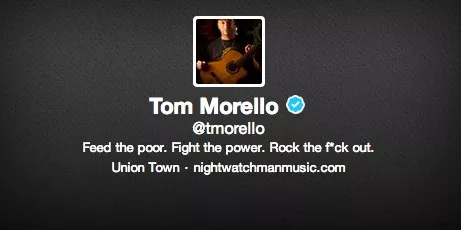 And we totally did not see this one coming:
Tom Morello: forever in our hearts.
The guys in They Might Be Giants (@tmbg) are finding the silver lining in Blockbuster Video's death: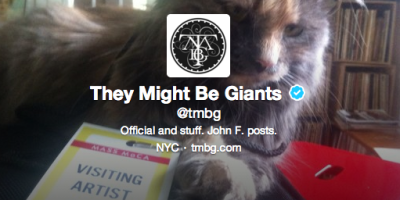 Oh, Blockbuster. You inspire this Highlander II quote: "Ashes to ashes, dust to dust. If you don't take it out and use it, it's going to rust."
Finally, we appropriately end "Twitter Litter" with our St. Louis homie Murphy Lee (@murphylee). Over the past few months, our hometown hero has shared his STL spirit through Cardinals attire, music videos and inspirational horoscope readings. Today, he expresses the down-home values that make Midwesterners the envy of those on the coasts:
And we couldn't end "Twitter Litter" without being serenaded by Murph one final time. Here's one of our favorites:
Way to represent St. Louis, Murph. You've got #TheGreatestLoveOfAll.
RFT MUSIC'S GREATEST HITS
The 15 Most Ridiculous Band Promo Photos Ever "Where Did My Dick Go?" The Gathering of the Juggalos' Best Overheard Quotations I Pissed Off Megadeth This Week, My (Former) Favorite Band The Top Ten Ways to Piss Off Your Bartender at a Music Venue
---