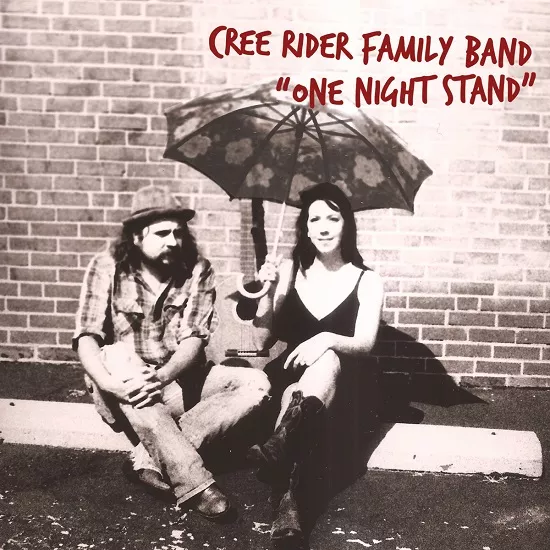 Cree Rider Family Band One Night Stand crfb.bandcamp.com
The "family" in Cree Rider Family Band is a relatively small affair -- the singer and guitarist is joined by his fiance Cheryl Wilson on harmony vocals, and handful of friends round out his studio and live band. On the debut One Night Stand, that familial feeling comes through the warmth of his voice and the bucolic breeziness of many of these tunes.
He name-checks Merle Haggard and Johnny Paycheck on the fine "Break Free of These Bars," but Rider is too soft-spoken and mild-mannered to be considered outlaw country, and he loves honky-tonk conventions too much for an alt-country tag. He wears a gentle twang in his voice but thankfully lets his clear but gentle delivery ring out.
Rider and Wilson pair off for a shimmering duet on the low-key "One Night Stand," and the song's contours are limned by producer Tony Esterly's deft pedal steel lines and Dave Grelle's chiming Fender Rhodes. Here, the production rises out of the train-beat rhythms and boom-chicka-boom strums that make some of these tunes hard to separate from each other.
If this type of outsider country music has one flaw, it's the over-reliance on drinking as an allegory (or even worse, drinking as plot fodder). It's as if whiskey, PBR and songs thereof proffer immediate cred or authenticity. Rider is due credit for working well within the trope; "Straight from the Bottle" has a catchy, simple, sing-along vibe that wouldn't feel out of place on modern country radio.
Continue to page two for more of our review.
The record, and these bottle-based themes, culminates with "Drunken Lullaby." It's a loping waltz with eerie, piercing instrumentation, and what sounds like organ, theremin and synth blasts providing a disquieting backdrop. But Rider's performance doesn't quite sell the desperation and desolation that comes at the end of another bender. Townes Van Zandt may be the drunken angel on Rider's shoulder here, but there's a gap between the singer and the song. Rider, Wilson and the rest of the Family work better in the melding of classic country signifiers and a modern lyrical sensibility that stretches the borders of the form.
Cree Rider Family Band Record Release 8 p.m. Tuesday, November 12. The Gramophone, 4243 Manchester Avenue. Free. 314-531-5700.
Want your CD to be considered for a review in this space? Send music c/o Riverfront Times, Attn: Homespun, 6358 Delmar Boulevard, Suite 200, St. Louis, Missouri, 63130. Email music@riverfronttimes.com for more information.
RFT MUSIC'S GREATEST HITS
The 15 Most Ridiculous Band Promo Photos Ever "Where Did My Dick Go?" The Gathering of the Juggalos' Best Overheard Quotations I Pissed Off Megadeth This Week, My (Former) Favorite Band The Top Ten Ways to Piss Off Your Bartender at a Music Venue
---