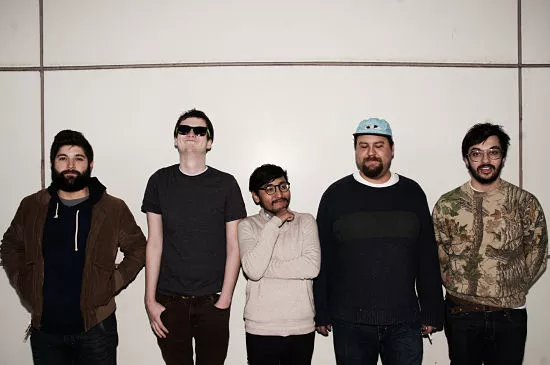 Voted 2012's Best New Band by you fine folks, Foxing is quickly making a name for itself both locally and nationally. The five-piece was signed by the Count Your Lucky Stars label this spring while on tour and is set to drop its first full-length album, The Albatross, on November 12. The release party is November 15 at the Firebird (2706 Olive Street; 314-535-0353), sponsored by Empire Pizza and 4 Hands Brewery. The show is $5 and features Dots Not Feathers, Bear Hive and Parisian.
See Also: Foxing Returns From Tour, Signs Deal With Count Your Lucky Stars
The Albatross contains heavy swelling movements reminiscent of the ocean, perfect for conveying the aimed emotions of isolation and alienation. It seeks to capture a snapshot in time when multiple members of the band were undergoing a type of disconnect. Bassist Josh Coll and vocalist Connor Murphy were living in different cities. "It's that alienation of coming home when you realize that the world goes on without you; not everyone is sitting around waiting for you to come back. You come home and you feel really disconnected from everything around you," says Coll.
It's not just the somber lyrics that relay these feelings, but also the songwriting style and track arrangements. "There isn't a lot of verse-chorus. The linear songwriting aspect gives a storyteller format. We aren't going to keep repeating the same thing over and over," says Murphy.
It wasn't until final production that Foxing realized the story that was unfolding and the importance of track order. "The way it's set up, it makes a lot more sense to us, but at first we didn't realize how connected these songs were in different ways," says drummer John Hellwig.
"Yeah, we put a lot of thought into it, but really, it all just started to fall in place," adds Murphy.
Foxing went through five guitarists before finding Eric Hudson, who had previously played with Murphy in Torch Light Red. Hudson was given the task of learning old songs and writing new parts just three weeks before the band departed on tour. While the music wasn't necessarily relying on what Hudson produced, he found a way to make his parts integral to the music.
"The song was going to exist regardless of what I put into it," says Hudson. "Already seeing the vision for the song allowed me to make the songs better. I got to put my personal handprint on the songs and enhance them, rather than create from scratch."
Continue to page two for more.
Murphy attempts to use his vocals as an instrument. It's the first time he has felt a vulnerability onstage. "I don't know what to do when there is an instrumental part where I am not playing trumpet. It's like that 'what do I do with my hands' feeling."
The singular Ryan Wasoba produced the album, and every other release the band has to date. There's a long-standing relationship between the former So Many Dynamos member and Foxing. They refer to him as their spiritual adviser and camp counselor. "I remember recording with [Wasoba] when I was like fifteen and being completely starstruck," says Hudson.
Foxing doesn't have leader or a one-man creative dictator. The band works together on every level -- when writing melodies, everyone finds a small riff to play with and lyrically, Murphy and Coll bounce drafts back and forth like editors in a publishing house.
"Everyone is very conscious of the ensemble and not the individual part. We are very musically reliant on one another. There are times when you feel your part is insignificant, but if you take that part away from practice, it's very noticeable. Everything feeds off of one another, and it's what creates our cohesiveness," says Hudson.
Playing sad music presents difficulties, the band says. The cathartic aspect of songwriting sometimes backfires when its members are forced to revisit feelings and moments in time they are trying to overcome. "There are certain songs that I don't want to have to think about anymore, because of the subject matter," says Murphy.
"It's sacrificing to your own well-being sometimes," adds Coll. "It's like if you were doing things that were self-destructive and then you have to get up onstage and tell people over and over how self-destructive you were."
It's easy to want to group Foxing in with emo bands of the early 2000s, but take a step back before making that leap. Hellwig calls them "older-brother music." Coll has no problem with the "emo" title, citing the multiple genre movements that have occurred, and Murphy prefers to the term "post-emo indie rock" or even just indie rock.
Whatever your choice, there is no doubt that Foxing recalls those feelings of insecurity, loneliness and sadness that engulf all our lives at certain times. Yet as a band it seems that it's able to overcome these emotions by collectively tackling the darkness that resides within each one of us.
RFT MUSIC'S GREATEST HITS
The 15 Most Ridiculous Band Promo Photos Ever "Where Did My Dick Go?" The Gathering of the Juggalos' Best Overheard Quotations I Pissed Off Megadeth This Week, My (Former) Favorite Band The Top Ten Ways to Piss Off Your Bartender at a Music Venue
---