Mabel Suen
Beauty Pageant
St. Louis has such a rich history of experimental music, dating back to late '60s with the Black Artists Group (BAG) and early '70s with the Human Arts Ensemble. Through the '90s, the St. Louis-based SkiNGRAFT Records became a premier label for experimental punk and noise-rock. The fact that the New Music Circle, an organization that exclusively curates free-jazz, improv and exploratory music, is now in its 55th year is a testament to the survival of the genre in our city.
See also: 2013 RFT Music Award Experimental Category Winner: Ou Où
Fast-forward to 2013, and St. Louis becomes a treasure trove of experimental music, albeit under a more punk-rock-inspired vibe. The catchall term is now noise -- a name most commonly used to describe music that really fits nowhere else. The following groups and solo artists loosely fit together under the guise of experimental music.
These thirteen names play a vital role in St. Louis music by providing real alternatives to the musical norm. Presented to you in alphabetical order, this list is just a starting point, so read on and explore to find more noise on your own.
Beauty Pageant serves up an atonal racket through scattered percussion and warped guitars. The band's influence reaches far beyond its sound, as each member plays a pivotal role in local arts. Guitarist Mister Ben is responsible for the long-standing comic zine Freezerburn and the sordid concert series simply titled NOiSE. Vocalist Blyre Cpanx is deeply involved in St. Louis burlesque, and drummer Wiggpaw also heads Skarekrau Radio, our city's bustling no-wave cult.
Beauty Pageant's core lineup also includes area artist David Burnett, but the band's extended family features about a dozen area musicians. While bringing a mostly punk-rock approach to the genre, Beauty Pageant opts to throw down with little to no practice or preparation. Beauty Pageant shows are consistently strong and especially dependable in the seedy underbelly of the St. Louis music scene.
See also: Beauty Pageant Issues a Noisy "Earbortion"
Read on for twelve more Noise/Experimental Artists.
Another amorphous collective of sound, art and noise, Brain Transplant tends to explore the harsher side of things. In the late '90s and early '00s, founding member Chris Smentowski was responsible for bringing some of America's most prominent noise acts to St. Louis. His influence not only helped inspire other local promoters to book experimental shows of their own, but his work in Brain Transplant has no doubt inspired many to follow the path of noise. Many people in this city discovered the genre because of Brain Transplant.
The seminal Dave Stone frequently lends his squealing saxophone to the group. Core member Ajay Khanna even writes programs that users can install on tablets, computers and smartphones and use to make a little noise of their own. These apps and other media, including live video and audio, can be found through the band's website. Brain Transplant is certainly the most influential noise band in St. Louis, and definitely one of the best.
See also: Best Noise Band - 2003 Brain Transplant
Mabel Suen
Britches
Known mostly for its industrial blend of post-rock amid dark and daunting texture, Britches often revels in the ambient space between songs. At any given show, the band could decide to pitch a tent and play atonal noise for twenty minutes, secluded from its audience. But that's part of the deal with Britches, and it's part of the fun. Britches is schizophrenic and pulls no punches in doing the exact opposite of what's expected.
Guitarist Marty Reuter plays his pedals more often than his instrument. Drummer Andrew Carter makes use of subtle electronics while bassist Bryant Hoban screams through a telephone microphone. The rhythms are heavy but roomy, allowing for Reuter's whitewashed guitar sound to come through, punctuated by thick bass chords. Since 2009 Britches has toured several times through the Midwest and East Coast. To date, Britches has released two compact discs and one cassette, the latter of which randomly plays in reverse on some cars' tape decks.
See also: Homespun: Britches
Mabel Suen
Catholic Guilt
Founding members Sean Burk and Joe Stein couldn't decide on a name for their project, so they wrestled it out at a party. Catholic Guilt is a safety net of its members' ideas, warped into a somewhat palatable form for the outside world. Burk and his crew might take more influence from punk rock than most bands that identify as "noise," but Catholic Guilt earns its distinction with an honest, anything-goes approach.
Catholic Guilt isn't easy to pin down. At the most recent RFT Music Showcase, the group drove barflies and bouncers alike to step outside and complain out loud. At a recent show on Cherokee Street, Catholic Guilt took to an outside stage with a set of snotty punk-rock songs -- a far cry from its typical noise set. With core members who play in Bug Chaser, Shaved Women and Maximum Effort, among many other local mainstays, Catholic Guilt bridges the gap between scenes and cliques in St. Louis by simply existing.
See also: An Evening with Catholic Guilt and its Moonshine-Infused Paint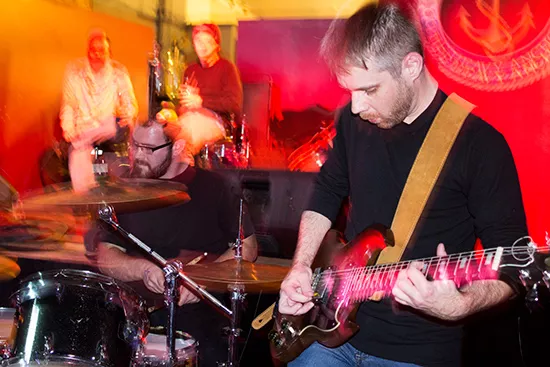 Mabel Suen
The Conformists
The members of the Conformists do whatever they want. Having recorded two studio albums with Steve Albini, the Conformists toured America and Europe and blessed St. Louis with its off-the-wall approach to post-rock for more than fifteen years. Its most recent record, None Hundred, offers considerable depth beyond the first listen. An unholy blend of math rock and early sightings of metal, the Conformists offers a dark set of songs rife with musical nooks and crannies.
The band is also known for being pranksters. For an unsuspecting crowd on April Fool's Day, the Conformists opted to trade in its carefully sorted songs to play the entire first Minor Threat LP. The typical live show, though, is no joke.
See also: - In the Studio: Post-Everything Stalwarts The Conformists Make Another Record with Steve Albini - Best Noise Band - 2006 The Conformists - Homespun: The Conformists
Mabel Suen
Darin Gray with Chris Corsano.
Darin Gray
Bassist Darin Gray might be the most prolific experimental musician out of St. Louis. Some 32 years after his first performance in the area, he shows no signs of stopping, and RFT Music couldn't be prouder to call him one our city's own. Despite the racket Gray has generated in countless ensembles and bands including Grand Ulena, Dazzling Killmen, You Fantastic!, On Fillmore and Chikamorachi over the years, he says he's actually a pretty shy guy.
Gray spends the majority of his time bumping between what he calls the "triangle of his work:" Chicago, Bloomington, Indiana (where labels Family Vineyard and Dead Oceans are based), and his home base in Edwardsville, Illinois. Early this year Gray completed a solo-improvisation tour and is currently traveling with NPR's Radiolab Live along with Glenn Kotche of Wilco. -Mabel Suen
See also: A Conversation with Experimental Bassist Darin Gray: Playing Art Hill, Radiolab Live and More
Mabel Suen
Eric Hall
You could probably fill your iPod with nothing but solo releases from Eric Hall and still run out of room before you got to his collaborative work with other musicians. Last year he was put in charge of curating a massive installment of musical pairings at Laumeier Sculpture Park -- and he actually pulled it off. That alone demands attention, but it wasn't enough for Eric Hall. He is constantly working on his craft -- not so much for the fans as for his own sanity. It is pure, and it is good, but Hall's fans already know that. This is brilliant music for eager ears. -Kenny Snarzyk
See also: Eric Hall Releases 22 And A Half Hours Of Music, Recorded Between 2005 and 2010
Mabel Suen
Ghost Ice
Ghost Ice
You might know Jeremy Kannapell from his stunning poster art for Apop Records. He has worked on album covers for local hardcore heroes Shaved Women and modular madman Raglani. But aside from making a very real impact on local music through his visual work, Kannapell moonlights as our city's most revered (and humble) noise act: Ghost Ice.
For approximately one decade, Kannapell has approached noise from both the academic and punk perspectives to create Ghost Ice, an ever-morphing glut of singular sounds. You won't find a Soundcloud or similar streaming site for Ghost Ice, nor will a quick Google search net you a website or blog. Kannapell prefers to keep Ghost Ice an experience rather than a commodity. There are no goods to buy from Ghost Ice, only live performance. Viewing Ghost Ice via online video would be selling Kannapell short -- because the sets are based on free-improv, they happen only once. Seeking a video would be setting up expectations for something which begs to be free of preconceptions.
RFT readers voted Ghost Ice as Best Noise Band in the 2013 RFT Music Awards. We here at RFT Music touted Ghost Ice as our pick for this city's Best Noise Band back in 2012. Set aside the fact that you can't sample Ghost Ice from your desk chair and go see the man perform instead -- there's a reason why nobody in town can get enough.
See also: Best Noise Band - 2012 Ghost Ice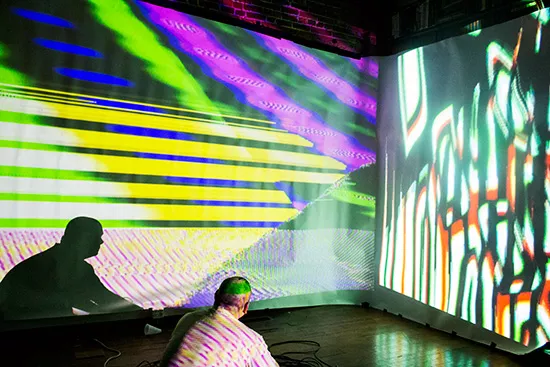 Mabel Suen
Kevin Harris
Kevin Harris
Most people are either left-brain or right-brain dominant -- not both. Kevin Harris, an electrical engineer by day and an experimental artist by night, somehow manages to harness the powers of each lobe in unison, merging the lines of logic and calculation with emotion and creativity in his music and visual art.
Harris grew up in Oklahoma, getting his first introduction to the world of musical texture and intricacy by frequently riding the bus to the symphony. He later went on to earn an undergraduate degree in music. In St. Louis, he performed in groups such as Airport Elementary School, Bird Leg and Half Gay. These days, he frequently collaborates with fellow musicians, performs in a duo called Lobster with Cook and curates sound art for Contemporary Art Museum St. Louis.
Harris specializes in live analog audio synthesis for his solo performances to envelop participants in complex environments of video and electronically generated sound via elaborate boutique synth patches. Typically atonal and arhythmic, sounds generated through modular synthesizers rise and fall like dancing machine ghosts, lost in time and space. Listen for unique timbres in his frequency modulations, generated from authentic noises that can sound deceptively organic. The resulting experience feels otherworldly, in that it's possible to find a different, warped dimension lurking somewhere closely behind the limitations of our physical means. -Mabel Suen
See also: Experimental Artist Kevin Harris Releases a Split Tape with Nathan Cook
Mabel Suen
The Night Grinder
The Night Grinder's aural poetry is always improvised and never ill-prepared. Brad Schumacher moves mics with a subtle hand, wielding succinct sounds. Where cables dangle down like puppet strings, connecting mics to processors, Schumacher brings the Night Grinder to life. Often working with feedback, he builds powered drone through exploring a room's space. The stage's floor and walls are vital to audio experimentation, and Schumacher is an expert navigator.
A recent showing had malleable beats behind discernible bass notes, lending a '70s Kraut-rock-inspired bend. Early works offered careful audio captures of broken glass and crushed miscellany, a striking contrast to digitized fare. Schumacher combines academic and punk approaches, crafting distinct noise that could only be known as the Night Grinder.
See also: Best Noise Band - 2013 The Night Grinder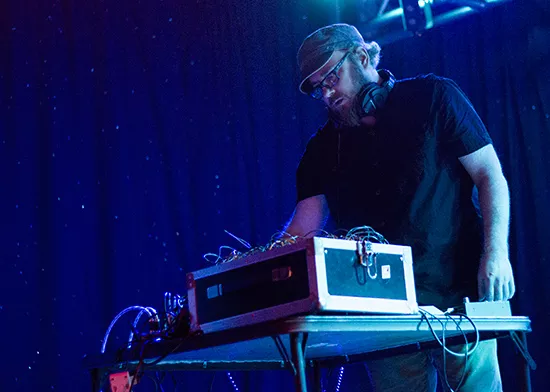 Mabel Suen
Raglani
Joseph Raglani's expertise as a sound manipulator is only matched by his ability to find himself in great company. When he gravitated toward the ambient side of the electronic spectrum, he released music on Kranky Records, the Chicago label that notably launched the career of Godspeed You! Black Emperor. On his newest album, Real Colors of the Physical World, Raglani stepped away from the soundscapes of an observant tourist and built his own universe of glitches and bleeps. Fittingly, Real Colors also found a new home on elite Austrian label Mego, putting Raglani in a league with laptop pioneers Christian Fennesz and Jim O'Rourke. -Ryan Wasoba
No-wave tends to work as anti-music, a reaction to pop music slathered in classy hooks. The wondrous prog of yore dared not mix with the rough edges of hairy music from the outer crust. Skarekrau Radio is a cult under the pretenses of fantastical rock and experimental sludge. Calling on the shrieking feminine voices of the New York underground, this Midwestern troupe is as whimsical as it is appalling, with soundscapes balancing the inane and bizarre.
See also: Sexual Poo Worship and the Death of Kuu: Let's Talk About the New Skarekrau Radio Album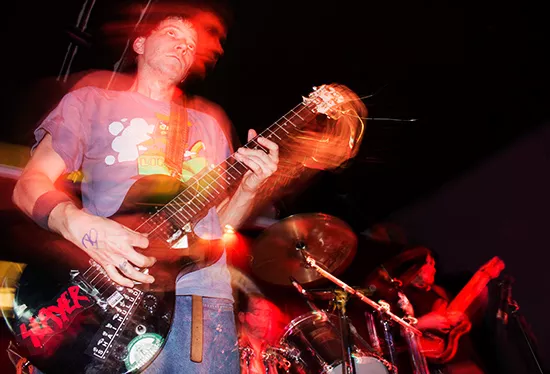 The elusive, brain-bending Yowie hides away in St. Louis to build on singular forms of progressive music. Yowie plays a dense foreign language through two guitars which communicate in an angry, six-string banter through strictly scattered drums. This power trio speaks in alien code with founding member Defenestrator playing the part of percussive conductor. Each song comes densely packed with rare repetitions: A series of guitar riffs pass like clever one-liners with unbridled speed. The shred level of death metal blends with poly-rhythmic jazz in an oppressive mix of experimental rock. Yowie's tenure includes a recent European tour and two full-length albums through the prolific SKiN GRAFT Records.
See also: Rock Mandala: Yowie works through the pain
RFT MUSIC'S GREATEST HITS
The 15 Most Ridiculous Band Promo Photos Ever "Where Did My Dick Go?" The Gathering of the Juggalos' Best Overheard Quotations I Pissed Off Megadeth This Week, My (Former) Favorite Band The Top Ten Ways to Piss Off Your Bartender at a Music Venue
---