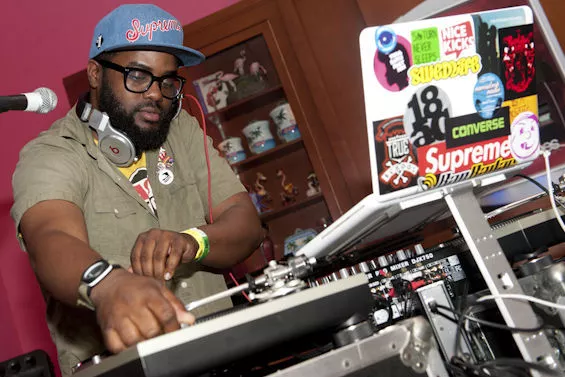 Jon Gitchoff
DJ Needles in 2012. He performs on Friday as part of KDHX's Art Attack.
This weekend is still pretty Halloween-y, so don't put that costume away just yet. This weekend, check out some spooky sounds from the Rats and People Motion Picture Orchestra, or see some touring acts. Flux Pavilion, Okkervil River and Living Colour are all in town. Keep on reading to get the details on these shows. Alternatively, get ready for the madness that is KDHX's annual Art Attack (crazy hilarious promo video right after the jump).
Friday (November 1):
Art Attack w/ Nappy DJ Needles @ Plush 7:30 p.m. | $15 Everyone's favorite local community radio station hosts its annual Art Attack -- here's a great KDHX Art Attack flyer -- fundraising event, which pits local artists' canvases up against each other in a overtly destructive battle-auction setting. If that sounds wacky, it's because it totally is. DJ Needles spins at the after party, free with admission. (MS)
Flux Pavilion w/ Skism, Roksonix @ The Pageant 8 p.m. | $27.50/$32.50 Flux Pavillion is that guy that does EDM songs for car commercials and stuff right? Oh, he performs live too? Neat! (DH)
Rats and People Motion Picture Orchestra @ The Heavy Anchor 9 p.m. | $10 The uber-talented R&P MPO performs its original score to Häxan Witchcraft through the Ages aka this scary-as-hell-sounding Swedish/Danish silent horror film. If you're still feelin' freaky from Halloween, check it out! (MS)
Also on Friday, check out P.O.E. Fest and Noisefest, the latter which continues throughout the weekend. Read our feature about the tenth anniversary of Noisefest here.
Saturday (November 2):
Dem Scientist/Wolf Luv Tape Release w/ Animal Teeth, Shit/Storm @ Cafe Ventana 8:30 p.m. | $5 Cafe punk rock should be a thing, and this show looks to be the catalyst to make it real. STL's Devo-punk influenced outfit Dem Scientist puts out a split tape with Wolf Luv of Champaign. Click the links to hear some tracks. (MS)
Ezra Furman @ Foam 8 p.m. | $5 Ezra Furman plays indie rock with tinges of folk. Check out some of its recordings on its Bandcamp page. Furman also plays at Euclid Records at 4 p.m.
Five Eight w/ Last to Show First to Go @ Plush 8 p.m. | $15 Five Eight has been rocking Athens, Georgia since 1989, with nine records under its belt. The band has shared the stage with Cheap Trick, the Ramones and Cracker, and even an early tour with R.E.M. (DH)
Living Colour @ Blueberry Hill 9 p.m. | $32.50 New York's Living Colour celebrates the 20th anniversary of its debut album, Vivid, by performing it in its entirety. (MS)
Shlohmo + XXYYXX w/ Pleasure, Billy Brown @ 2720 Cherokee 8 p.m. | $15/$20 XXYYXX, in addition do being an unpronounceable series of letters, is also a pretty hot-shit seventeen-year-old DJ who has already worked with the likes of Usher. When I was seventeen I was getting kicked out of school and arguing with my parents about whether I could have a mohawk. To each his own, I guess. (DH)
This evening's notable shows also include Bug Chaser's album release and The Body. Click on the links to learn more more.
Sunday (November 3):
Community Women Against Hardship 25th Anniversary w/ Oleta Adams @ The Sheldon 5 p.m. | $30-$100 Soul singer, preacher's daughter, former Tears for Fears-er Oleta Adams comes to town in support of a good cause! (DH)
Okkervil River w/ Will Johnson @ Off Broadway 8 p.m. | $15-$20 Austin's venerable Okkervil River particularly shines in a live setting -- especially if you haven't seen the group before, so don't be shy about coming down to Off Broadway. (DH)
Deer Tick is also in town on Sunday evening.
Note: Though we wish we could, we can't feature every great show happening in town in just one measly post. Peruse the St. Louis concert calendar for more ideas any time. Let everyone know what else you're looking forward to seeing this weekend in the comments below, and send show tips to clubs@riverfronttimes.com to be considered for inclusion on these lists.
RFT MUSIC'S GREATEST HITS
Remembering STLPunk.com -- How to View the Site Today and Find Your Old Profile Page "Where Did My Dick Go?" The Gathering of the Juggalos' Best Overheard Quotations The Ten Best Dive Bars in St. Louis The 15 Most Ridiculous Band Promo Photos Ever
---