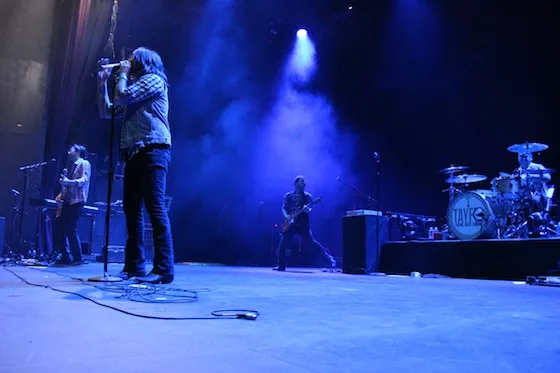 Katrina Nattress
TBS in 2012, with Lazzara. The long hair that both he and Chamberlain have made it hard to tell the difference, though.
By Julia Burch
When Taking Back Sunday announced a week ago that frontman Adam Lazzara would be leaving the tour due to the early birth of his son, ticket-holders for the upcoming Halloween show in St Louis were left expecting a refund. However, last week the band made an announcement on its webpage stating that Lazzara would be replaced by former Underoath singer, Spencer Chamberlain. Upon hearing this, I braced myself to write a terrible review of one of my favorite bands. I was absolutely ready to hate this show, especially since St. Louis was snubbed during the Tell All Your Friends tour in 2011.
See Also: Interview: Taking Back Sunday to Perform with Guest Singer for Thursday's Show at the Pageant
Taking Back Sunday without Adam Lazarra just seems like a bad idea, like seeing The Foo Fighters without Dave Grohl, or Weezer without Rivers Cuomo, or U2 without... well, just seeing U2, in general. I went in skeptically, completely prepared to write a smear campaign against Christian metal-core (yep, that's a real thing) singer Spencer Chamberlain.
After reminding myself that the RFT was paying for the ticket, I headed out to the Pageant expecting a night of pure disappointment. Upon entering, the place looked more like a Halloween party than a concert venue. It makes one proud to see how much St Louis stepped it up, costume-wise. Everyone from Robin Thicke at the VMAs (or possibly Beetlejuice, the gold necklace threw me off) to Lloyd and Harry from Dumb and Dumber showed up. There was even a woman in a frock covered in very large pigeons -- I have no idea who she was supposed to be, but I was waiting for an impromptu rendition of "Feed The Birds" that would never come down the pike. The band came out onstage dressed as the Avengers, with Chamberlain dressed as Thor, and kicked off the set with "You Know How I Do" from 2002's Tell All Your Friends record.
The most enraging part of this show happened about halfway through the first song: It sounded good.
Really good. I'm sure every single fan who had googled Ticketmaster's return policy after Lazzara dropped had the same brief sense of outrage. Taking Back Sunday isn't supposed to be good without its singer. It felt like a betrayal. However, it couldn't be denied that the original lineup was as tight as you could hope for, and the vocals actually sounded like they should.
The crowd was "old" for an emo band, with most attendees in their late twenties and thirties. It seems like although the fans dropped the black eyeliner and gained 30 pounds, their loyalty didn't waiver in the past twelve years. There was less mosh and more nosh, as most of the crowd sat at tables eating peanuts rather than stage-diving, but that could've also been to avoid the blinding, seizure-inducing strobe light show running during the entire set.
Chamberlain certainly pulled off the Lazzara look, with long hair in his face, and when he was announced by backup vocalist John Nolan, Chamberlain was met with a polite, semi-puzzled round of applause. There was a general air of confusion; about half of the crowd didn't seem to have realized that a guest singer was on stage.
Chamberlain managed a decent approximation of Lazarra's stage presence as well, without overdoing it (if he had done the mic swing, I might have strangled him with the cord). He had plenty of energy and shared the mic with the crowd throughout the set. His vocals were right on target, but he wasn't trying too hard to emulate Lazarra's unique sound. He also played well to the crowd, as he praising St Louis and pointing out various costumes. The ICP costumes, he said, were "scary to see at a Taking Back Sunday show."
After Spencer sang "A Decade Under the Influence" from the album Where You Want To Be, he jumped off the stage. At that point, Joe Boynton of opening band Transit, came onstage as the guest-guest vocalist and did a nice job covering "Number 5 With A Bullet." Guitarist John Nolan then masterfully sang the next three songs, including a cover of his old band, Straylight Run's "Existentialism on Prom Night." During "Timberwolves at New Jersey" it was hard not to wish Chamberlain was back onstage for the layered vocals that help make the band sound so distinctive.
Continue to page two for more.
This is what Underoath sounds like. So you can understand the early skepticism.
Chamberlain popped out of the mosh pit (to great applause) at the end of "Timberwolves" and sang for the rest of the set. He then covered staples like "Bonus Mosh Pt 2" and "You're So Last Summer" in a way that didn't piss off even the most hardcore fans.
After a very brief recess, during which the band didn't really bother pretending that they hadn't planned an encore, the members came back out and gave the fans two more favorites, beginning with "Cute Without the E." Chamberlain joked that the last song would be an Underoath song, since he was doing so many TBS songs, but quickly retracted when the crowd started looking mutinous. They wrapped up the encore with 2006's hit single "MakeDamnSure."
Following the set, we waited around near the backstage area until we were able to speak to some of the band members.
Joe Boynton of Transit explained his guest-guest status as serving to help take some of the pressure off of Chamberlain. He said the tour was currently "as good as it can be, a great time," other than having to drop two dates after Lazarra abruptly left. After TBS bassist Eddie Reyes blew us off with extreme prejudice, we were able to find a more fan-friendly band member to speak to. Guitarist John Nolan spoke to us after changing out of his Iron Man costume (which he selected due to his "shitty Tony Stark beard," he explained).
He told us that the band had no idea how fans would react to Chamberlain filling in, and that they weren't completely confident that the tour would be able to continue, but that fans have had no complaints. "Spencer stepped up, he learned twelve or thirteen songs by heart in two days", he said. Nolan also told us that he took over some of the songs solo and added the Straylight Run cover to help Chamberlain get through a full set.
All in all, Taking Back Sunderoath did Lazzara proud. TBS will never be complete without Lazzara's stage antics and melefluent voice, but Chamberlain gave a surpringly good showing.
Continue to page three for notes and the setlist.
Critic's Notebook:
Free Advice: If you're going to stagedive and get kicked out, don't do it until the last song, you idiot.
Dumbest Thing Overheard: "That guy performed way better than their old singer."
Best Costume: Peggy Bundy
Worst Costume: Snooki (but this may have just been a poor choice of hair and clothing
Set List: You Know How I Do Liar (It Takes One to Know One) Faith (When I Let You Down) Where You Want To Be Error: Operator What's It Feel Like To Be A Ghost A Decade Under The Influence Number 5 With A Bullet Existentialism On Prom Night Straylight Run Cover OneEighty by Summer Timberwolves at New Jersey Bonus Mosh Pt 2 You're So Last Summer Best Places To Be A Mom encore: Cute Without the E (Cut from the Team) MakeDamnSure
RFT MUSIC'S GREATEST HITS
The 15 Most Ridiculous Band Promo Photos Ever "Where Did My Dick Go?" The Gathering of the Juggalos' Best Overheard Quotations I Pissed Off Megadeth This Week, My (Former) Favorite Band The Top Ten Ways to Piss Off Your Bartender at a Music Venue
---