The Fluff of Murder at Noisefest X Sunday, November 3 Lemp Neighborhood Arts Center 7 p.m. | $7 | All Ages
As local musician Derek Yeager learned, putting one's wrist through the rigors of technical metal does little to ease the pain of carpal tunnel syndrome. Yeager released his first record with the St. Louis group Sine Nomine over ten years ago. But after a decade of touring, recording, splitting and reforming, Yeager's ready to focus on a softer, albeit just as heady, side of music with the Fluff of Murder. Following a three-song EP released early last month, Yeager will debut the Fluff of Murder in a live setting this Sunday at the closing night of Noisefest X at the Lemp Neighborhood Arts Center (3301 Lemp Avenue).
Yeager 's new focus could be written off as an ambient side project, but plenty of depth is present for those who choose to dabble. Much like Sine Nomine before it, the Fluff of Murder's sound contains several, multi-genre layers. There's a reason why this new work sounds so polished out of the gate -- Yeager 's tenure in electronic music dates back to the early aughts with project called Sundowning. While putting his own wrists and vocal chords through hell with Sine Nomine, Yeager had a not-so-secret alter-ego in electronic music.
Live performance has been a long time coming for the Fluff of Murder. Yeager 's carpal tunnel syndrome impairs the use of the wrist -- a detriment to the technical shredding Sine Nomine so demands. When faced with the question of what to do next, Yeager knew the time was ripe for change, and he moved on to prepare a live show.
The first concert couldn't be more fitting. This weekend, Yeager will join 30 other performers at Noisefest X, a festival revered for its approach to experimental music. Yeager met with us to discuss his projects, old and new, and to tell us a little more about his first show on Sunday night.
RFT Music: Your band Sine Nomine has been known to experiment with sounds generally heard in the metal and hardcore genres. How did working in Sine Nomine help you transition from guitar-driven songs to electronic music?
Derek Yeager: I was creating electronic music a bit before the band was formed, so there was no real transition. Peabody was the name of my first electronic project, and it was basically a small collection of techno tracks I produced. I wasn't really vibing with that being the direction I wanted to take my electronic music, so I changed the name and the approach in 2001 to Sundowning. That was the beginning of my experimenting more deeply with sounds electronically. As not to lead anyone astray, the experimental sounds were embedded within relatively traditional electronic styles early on. I didn't start to make genuinely experimental tracks until 2004 with the release of Ojo. That release will stand out as the stranger and possibly, while relative, less palatable of Sundowning albums. There are ten other Sundowning releases to date, but that music is not the concern of this particular interview, so that's just a little back-story on how I got started with this.
What inspired the project the Fluff of Murder?
Yeager: I have always been a fan of extremely down-tempo, reflective music that pushes you to go further introspectively. It is a fucked-up crazy world, all the while beautiful, and the only thing that I have control over is myself and my actions. When I start to feel at a loss with myself is usually when I start to write this particular way. It is a medicine for me that often puts many things that are out of my control back into a healthy perspective. This is my coping mechanism with our messes. This is my sit with the water.
Continue to page two for more of our interview.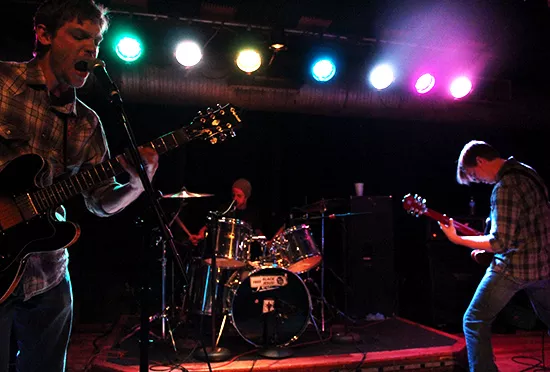 Mabel Suen
Sine Nomine at the album release show for Golobulus in October 2011.
Your first performance will be this Sunday at the closing ceremony of Noisefest X at the Lemp Neighborhood Arts Center. Having never performed as the Fluff of Murder before, how did you end up on a three-day festival that is known as a meeting ground for experimental artists?
Yeager: I had sent Mark Sarich a link to check out the music, thinking he may have interest in it, as he enjoyed my work in Sine Nomine. Just a friendly gesture that turned into an invite to perform. He felt it would sit nice with the performers on Sunday's bill. I accepted and will be taking the Fluff on its maiden voyage.
What expectations, if any, do you have for this weekend's Noisefest X?
Yeager: I unfortunately will not be able to attend the first two days, but I suspect that the whole event will be great. Many folks look forward to this each year, and though I have never been a part of the festivities, I look forward to getting my feet wet. I presume that what I will be doing will differ a bit from the majority of acts, if not all. It may not really even be considered "noise," but I think all terminology is relative. If we are cool with 25 minutes of layers and ambience then we're good.
Post-Noisefest X, where do you see the Fluff of Murder going? What plans do you have for future releases or shows?
Yeager: Back to writing. I have acquired a fair amount of new hardware and software that I will be diving further into, all the while expounding on the assets that are familiar. So many things to discover still. Another EP or two is very likely in 2014 and doing some shows to perform them is always nice.
Catch The Fluff of Murder this Sunday, November 3, at the Lemp Neighborhood Arts Center.
RFT MUSIC'S GREATEST HITS
The 15 Most Ridiculous Band Promo Photos Ever "Where Did My Dick Go?" The Gathering of the Juggalos' Best Overheard Quotations I Pissed Off Megadeth This Week, My (Former) Favorite Band The Top Ten Ways to Piss Off Your Bartender at a Music Venue
---