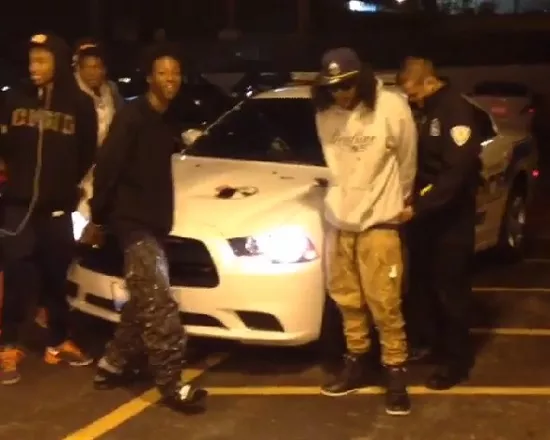 Screenshot from Instagram video on the scene.
Joey Bada$$ and Ab-Soul, two of the rappers hitting St. Louis tonight as part of the Smokers Club tour, were handcuffed and detained by police last night while walking through their hotel's parking lot to the tour bus. Early reports suggested the two had been arrested (presumably for marijuana), but new details emerged today that they were merely briefly detained.
"The show is still on tonight in St. Louis," rapper Statik Selektah said today in a statement to HipHopDX. "That was some typical police bullshit."
See also: The Thirteen Best St. Louis Rappers in 2013
"No one is in jail," Selektah continues. "The cops were profiling because Joey and Ab were walking through the hotel parking lot to the bus. I was inside the hotel working when it happened, but by the time I came out, the cops were gone and the hotel security told me how it was bullshit."
A brief video was made of the arrest by Instagram user d0eburger. In it, a clearly amused Joey Bada$$ laughs at the cops, asking, "Have you figured out why I'm in these handcuffs? Have you figured it out? Yo, they don't know why I'm in these handcuffs."
The Smokers Club tour kicked off on October 17 in Providence, Rhode Island, and will conclude November 30 in Philadelphia, Pennsylvania. Tonight's show at the Pageant will go on as planned (watch for RFT Music's review of the concert tomorrow).
Check out the video of the incident below.
Update: The Instagram video has been removed, but it's resurfaced on YouTube:
RFT MUSIC'S GREATEST HITS
The 15 Most Ridiculous Band Promo Photos Ever "Where Did My Dick Go?" The Gathering of the Juggalos' Best Overheard Quotations I Pissed Off Megadeth This Week, My (Former) Favorite Band The Top Ten Ways to Piss Off Your Bartender at a Music Venue
---