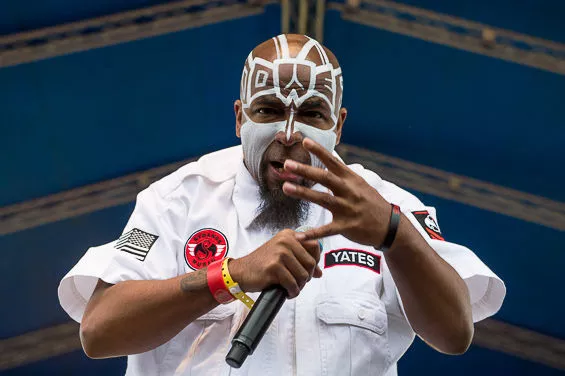 Tech N9ne is the only rapper on the 2013 Forbes Hip-Hop Cash Kings list who wears face paint and has performed at the Gathering of the Juggalos six times. After raking in an impressive $7.5 million over the past twelve months, the Kansas City native appears on the list in between Swizz Beatz and 50 Cent.
How did this happen? Tech N9ne has built his own empire from the ground up with Strange Music, one of the most successful underground record labels. Remaining fiercely independent and uncompromising has earned the rapid-rapping artist a unique place in the hip-hop community, having recently collaborated with artists like Kendrick Lamar, Serj Tankian of System of a Down, T-Pain, Cee Lo Green and the Doors. His Something Else tour hits Pop's tonight; we spoke to Tech N9ne about his new EP, Therapy, and what it's like to conquer the world while still being himself.

Drew Ailes: You've recently hit Montana and the Dakotas. How is it out there for hip-hop?
Tech N9ne: Well, Digital Underground's Shock G had a song where he said "all around the world, same song." And it's lucky when it comes to me because all around the world is the same love. Same love I have in Minnesota, I have similar love in Denmark. Love I have in Denmark, same love I have in the Dakotas. The love I have in the Dakotas, same love I have in Australia. All my fans are connected as one mind, body and soul, brother. Even if they can't speak the language, as soon as the music comes on -- when I'm in Poland, if they don't speak English, they speak English at that moment.

Have you found that people in Europe are brasher and honest with artists, letting them know what they like and don't like?
No, I just know that they really love hip-hop all around, a lot more. The reason why I say that is because I can go overseas and go see an EPMD show. I can't really catch that over here in the States. I can go over there and see Slick Rick. I can't really catch that in the States unless it's on Rock the Bells or something. I can go over there and catch M.O.P. like they just came out. They respect real hip-hop; that's all I've observed. But we're lucky and blessed to have that love in the States as well.
You do a lot of shows, averaging over 200 shows a year. Is touring an addiction for you?
It's my habitat. It's mandatory. If you want to be the hip-hop president, you've got to get out there and politick. And how do you politick in hip-hop? You get out there and tour. You sell merchandise. That's what we do, and that's why we're able to chart No. 2 under Jay Z in the rap charts when Jay Z is massive and we have no video and no radio play. That's an amazing feat as an independent artist.

Do you think there was a time five years ago that you could've put out a goofy dance song and hit the mainstream earlier?
[Laughing] I would never conform for any amount of money. I would never take my face paint off for any amount of money just because I scare certain people. That's just the kind of person I am. Yeah, I could've possibly conformed, but that's never been in my makeup. Tech N9ne has always done party tracks like "Caribou Lou," "Planet Rock 2k" and "KCT" and so on, but I do them my way. I don't do it to fit any mold. I think that's why a lot of rock artists and the hip-hop artists respect me, and I love them as well for recognizing real.

You've forged a path by being yourself -- do you find that carries over in your personal life as well? Are you confident going out there and being kind of a weird dude, or are there times it hits you and you sink back and stare at your feet?
No, never that, man. When I walk in a room, it lights up. I get to be me in every situation. I've been to some uptight, really rich parties before, man. It doesn't matter, man. People are people. People have their different conversations. They might be talking about taxes, they might be talking about women -- in that case, I can talk all day. But I'm me in every situation. I'm comfortable in my skin, no matter what. I'm slightly reclusive, but when it comes to me walking into a room like when we did Kuwait and Bahrain for the USO tour a couple years back, they had us doing meet and greets with the soldiers. We'd walk into these rooms and these soldiers would be sitting around the room. I'd just go around the room and shake everybody's hand before we got to talking about everything and anything. I greet people. I do that in every situation because I'm comfortable in my skin, no matter how weird I was as a kid and no matter how weird I am as an adult.

You're an artist who's pretty open with your past with the struggles you've had with drug abuse and depression. Do you ever feel like an ambassador to people in parts of society that aren't as open with some of the struggles they've had?
I'm an open book. I'm transparent. Quincy Jones taught me when I was younger, he said, "Write what you know and people will forever feel you." That was the best information he could ever give me because I started writing my life. As far as society, yeah, I don't really care what they think about me. They've labeled me a Devil worshipper for so many years, and I overcame that. But nah, I don't feel a certain way about people and their beliefs. We're all different in every aspect. We all have different cultures, we're all different cultures, but the one thing I did and learned from Quincy Jones is to tap into emotion. And that's what we all have in common. We all know sadness, we all know happiness, we all know madness. We all know confusion as one.

Photo by Erik Hess
Tech N9ne at Soundset 2013
I read some criticism on a message board where someone said they respected you, but they didn't feel you rapped about things they could relate to. It made me wonder what kind of life they were leading.
Yeah. I'm so ambidextrous -- I'm not repetitious when it comes to subject matter. If someone can't relate to me, you've got to wonder what kind of life they lead. I might do a song called "Areola," as a joke, about women's breasts. Somebody that has never had sex at 25, and don't really know what to do with ladies, might not be able to relate to that. "Well, I haven't seen a titty in my life except for on television or a porno," and there's people out there like that. If it wasn't true, they wouldn't do movies called The 40 Year Old Virgin. So there's some people out there who can't relate to some of the sexual music I do as a Scorpio male, but when I spew all my pain, a lot of people seem to connect.
A lot of the partying songs I have, maybe they can relate to songs like "Caribou Lou" because they drink it and I tell them how to make it. But maybe these people don't party. Maybe they're in college and studying to be lawyers or doctors. But on the other hand, I have a lot of lawyers and doctors that love Tech N9ne. It's just different walks of life. I had to understand that, because when I reached up like that, I attacked it like, "What do you mean, I don't relate to you? What do you do?" It could be a really religious Christian or Muslim, or Buddhist or whatever that think that Tech N9ne, some of the things I speak is nonsense. But if they listen closely, they will always find something that they will relate to.
You have the Therapy EP coming out soon in early November. You did that with Ross Robinson [Korn, Slipknot, At the Drive-In], right?
Yes I am. I've been listening to the mastered version for the last three days, and I am beside myself in a wonderful way. There's seven full songs on there because it's an EP, and I'm in love with all of them. I can't believe how it came out. I sat on Venice Beach with Ross Robinson and wrote a song a day, right on Venice Beach. Right on the water. This is what came forth and it's truly therapy. I named it Therapy because I worked with Ross in the past on this documentary called House of Shock about a haunted house down in New Orleans. When I was there doing that for him, the way we connected I was like, "Oh my God, he'll pull shit out of me," and I was already inside-out and transparent, but Ross is a different kind of muse.

I knew once we agreed to do a full project with him that I was going to call it Therapy, because that's what it was going to be. So when we got to the house on Venice Beach, he'll say something to the effect of, "So what do you want to do on this one? What do you want to talk about? What do you think you're going to pull out on this one? How do you feel about this one? If you're going to write a song called 'I Like Ladies,' are you going to talk about passion? You have to dig deep down into yourself and call forth what you really want to say to the female sex." With all the songs, he did that. It was truly therapy. I knew it was going to be that before I went to record. He told people to come in and play guitar, play drums, play bongos.
Who are some of the people involved in the recording?
Wes Borland of Limp Bizkit came through and recorded on most of the songs, dude. He was staying there those two weeks I was there. He was just getting away at that time and moved in Ross' house. They're really good friends. I was there and he was there, and he'd come downstairs and say, "Hey, I like that, let me see what I can do." It was so wonderful. Sammy Siegler [Youth of Today, Glassjaw, Limp Bizkit] came and played drums, and Alfredo Ortiz, the percussionist of the Beastie Boys, played bongos. So many people came through and played bass.
It was so wonderful how it came about and how we created this music with my producer, Seven. It's wonderful, brother. I wish it would come out today. I think we're going to leak one this week, and I'm totally anxious to hear it. Some of it is punk and some of it is ultra metal. Some of it is super melancholy. And some of it is self-indulgent, like that song "ILL -- I Like Ladies." I'm three-dimensional. It's all Tech N9ne, but it's totally different.
RFT MUSIC'S GREATEST HITS
The 15 Most Ridiculous Band Promo Photos Ever "Where Did My Dick Go?" The Gathering of the Juggalos' Best Overheard Quotations I Pissed Off Megadeth This Week, My (Former) Favorite Band The Top Ten Ways to Piss Off Your Bartender at a Music Venue
---