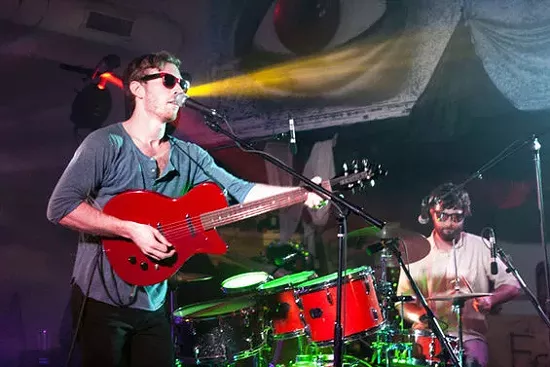 InFest is back this weekend!
This weekend, take advantage of the fact that it's perfectly acceptable to leave the house dressed up as whatever you want. Halloween's still a week away technically, but no one's going to judge preemptive costume enthusiasts unless it's part of a contest. InFest StL 4 hits four Cherokee Street venues this weekend and encourages ghoulish garb. The same goes for the Guitar Dog Halloween party down the street at Livery Company. Choose a character wisely while attending any of the following shows, but most importantly: Get out of the house this weekend!
Friday (October 25):
This Friday, Animal Collective invades the Pageant, New Music Circle welcomes William Parker's In Order to Survive and Doom Town releases a record. Click on the links to learn more.
Saturday (October 26):
The Boxer Rebellion w/ The Glass Cavalry @ The Gramophone 8 p.m. | $14/$16 Please note: Boxer Rebellion THE BAND, from London, will be coming to the Gramophone this weekend, NOT Boxer Rebellion the WAR in China from 1899. I know, I know; I was confused at first too. But yeah, the BAND. (DH)
Broncho @ The Firebird 8:30 p.m. | $10-$12 Please note: Broncho THE BAND will be coming to the Firebird, NOT the horse....oh shit, I just made that joke, didn't I? Damnit. OK, well just go to this show; it'll be fun and Broncho rules. (DH)
Guitar Dog's Halloween Freak Show w/ Maness Brothers, Durango, Zak Marmalefsky, Peck of Dirt, Vanilla Beans and more @ Livery company 3 p.m. | free We had a helluva time deciphering the Halloween-themed code names for some of the bands playing, but a free day-long show with live music, bobbing for apples, tarot card and astrology chart readings, caricatures and decorations galore seemed liked a no-brainer. The Maness Brothers release 25 of their test pressings this evening, too! (MS)
JJ Grey & Mofro w/ Revivalists @ The Pageant 8 p.m. | $22.50-$27 JJ Grey & Mofro is a combination of soul, funk, blues and Southern rock and comes welcomed by KDHX. See what they had to say about the upcoming show in an interview with Grey here. (MS)
Ex-Cult w/ The Little Big Bangs, Rat Heart, Con Trails, Animal Teeth @ Billiken Club 7:30 p.m. | free-$5 Goner Records' Ex-Cult plays garage-tinged punk that has simple but catchy hooks and the occasional meandering guitar solo. Note the early start time on this show -- it's jam-packed with a fine line-up of like-minded openers to get the kids jumpin' this Saturday night. (MS)
M. Doughty of Soul Coughing, InFest StL #4 and Scuzz Fest occupy south city on this night. Click the links to check out previews for these shows.
Sunday (October 27):
Dead Waste w/ Life Like, Nos Bos @ CBGB 9 p.m. | $5 Ever wonder what black metal and New Order sound like mashed together? Ok, ok, so maybe that's not the most enticing mash-up, but it's what synth-punks have tagged themselves as on their Bandcamp page. Check out a track called Contagion from their 2013 album to get a better taste, and catch them Sunday night if you're not quite ready for the weekend to end. (MS)
Harry Connick Jr. @ The Fox Theatre 7:30 p.m. | $49.50-$125 Three Grammys, two Emmys and 25 million records sold can't be wrong, right? (DH)
Lisa Marie Presley @ Old Rock House 8 p.m. | $30-$130 Daughter to the King of Rock & Roll and ex-wife to the King of Pop, Lisa Marie Presley is certified royalty. (DH)
Warbringer w/ ThorHammer, Manifest @ The Firebird 7:30 p.m. | $12-$15 Warbringer delivers blistering thrash metal of the new school, but without the pizza-party zombie skateboards stuff. Just top speed, riff-tastic metal sure to satisfy even the most jaded old metalheads. (DH)
Young the Giant w/ Grouplove @ Plush 7 p.m. | $50-$100 This concert benefits TASK: Team Activities for Special Kids, so if indie's your thing, rock out to a good cause! Hear some tracks from California's Young the Giant via its Soundcloud. (MS)
Also on Sunday, Death Angel performs on stage at Fubar.
Note: Though we wish we could, we can't feature every great show happening in town in just one measly post. Peruse the St. Louis concert calendar for more ideas any time. Let everyone know what else you're looking forward to seeing this weekend in the comments below, and send show tips to clubs@riverfronttimes.com to be considered for inclusion on these lists.
RFT MUSIC'S GREATEST HITS
Remembering STLPunk.com -- How to View the Site Today and Find Your Old Profile Page "Where Did My Dick Go?" The Gathering of the Juggalos' Best Overheard Quotations The Ten Best Dive Bars in St. Louis The 15 Most Ridiculous Band Promo Photos Ever
---