You know, sometimes even zombies crave a little recognition. Oh, sure, they stink from all the guts hanging out of their bacteria-ridden holes or sometimes they try to eat your brains, but deep down, zombies just want to earn a trophy for being the best at something -- same as any of us.
A group of St. Louis zombies is hungry for such an honor. The growly ones will gather this Saturday, October 26, at the Lemp Mansion to participate in a global effort to set or break world records for the largest simultaneous "Thriller" dance. Yes, that "Thriller."
See also: So You Wanna Be a Zombie? One day at Ghoul School
Led by certified Stott Pilates instructors Kelly Ruesing and CJ Thomas, the St. Louis group is part of Thrill the World, an annual worldwide event created in 2006 by Ines Markeljevic of Toronto, Canada, to pay tribute to the late King of Pop Michael Jackson and raise funds for local charities. Through Markeljevic's coordination, thousands of undead people around the globe will synchronize watches and perform a special version of the iconic zombie dance from the 1983 video at precisely 4 p.m. Central. Officials will determine if all requirements have been met before declaring any new records.
Ruesing, who owns Studio Rue in Webster Groves, and Thomas, who operates Body by Pilates out of Studio Rue, have led weeks of choreography rehearsals and have scrutinized the rules to ensure that the St. Louis contingent's efforts on Saturday will count toward the official world record attempt. RFT Music chatted with Ruesing and Thomas about why "Thriller" continues to attract so many zombies and how the Lemp Mansion spirits might react to the commotion.
What appealed to you about Thrill the World?
Thomas: I grew up watching Michael Jackson's career grow, and his "Thriller" video was an amazing music video at that time. I also love Halloween, dressing up and dancing!
Ruesing: My decision to do this was based on four things. I've always wanted to do a flashmob. I also have "setting a world record" on my bucket list. The biggest thing that appealed to me was that it was a fun event that I could involve my clients in. Finally, I liked the spirit of the event; since Michael Jackson holds the world record for being the most philanthropic, each event around the world is encouraged to sponsor a charity.
Is this an official Guinness World Record event?
Ruesing: The St. Louis event, in conjunction with all the others around the world, is officially competing for one world record with several organizations. Guinness is just one of them; there are also the World Record Academy and the World Record Republic.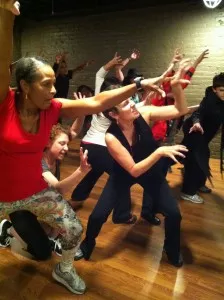 Nancy Pasternak | HEC-TV
Paws up, little monsters!
Classic zombies, like those in George Romero's "Night of the Living Dead," are slow movers. Do you think those zombies are agile enough to dance to "Thriller," or is choreography best left to the fast-moving zombies like the ones in 2009's "Zombieland?"
Thomas: LOL, this choreography is definitely fast paced and energetic, taking creative license with your classic slow-moving zombies. We start out slow but the tempo picks up. Think dead people on Red Bull.
Ruesing: The official choreography used for this event is the exact choreography in the 1983 video. The only thing that has been removed is a head pop and some other minor things, and only for safety purposes since not everyone is a professional dancer. The actual choreography is only three minutes long, but since all world records indicate the length of the dance must be greater than five minutes, the creator of Thrill the World broke down the original choreography into simple phrases and them repeated them throughout the length of the song. It's very easy for even the unfortunately unflexible or rhythmically challenged person to understand.
Seriously, can *anyone* learn the "Thriller" choreography -- even if their dance experience solely consists of being forced to drunkenly spin on a dance floor at a wedding reception with Aunt Patty?
Thomas: Well... the organizer of this worldwide event says that anyone can learn this dance. There are a couple of challenging parts, but all of our non-dancers have really stepped up to the plate and put the time into practice. It is really not so much the steps as it is the rhythm and speed with which the dance is executed. And I think more than skill, the participant needs to have the determination to do it. I have found myself in the position of cheerleading with some of our dancers, encouraging them and pulling them along, telling them that they are doing it! A Japanese proverb says "Fall seven times, stand up eight." That's what we do.
Continue for zombie disaster prevention and Batman zombies.
Ruesing: Yes! The proof is in our group! We have ten year olds, sixty year olds, dancers, non-dancers, rhythmically challenged and many victims of Aunt Patty. As CJ mentioned, we have had to play cheerleader quite a bit since people think that if they do not look exactly like MJ the first time they do it, then they are doing it wrong. The most challenging thing we have encountered is building confidence. A lot of the time, people think we are just blowing smoke up their ass. We just can't seem to get them to understand that zombies aren't supposed to be perfect dancers.
What are some obstacles in teaching zombies how to dance?
Thomas: We have to avoid limbs falling off due to safety issues with our dancers. We also asked that props such as hatchets, guns, swords, severed heads and such be eliminated. Following Murphy's law (who is Murphy, by the way?), if something can go wrong it certainly will. Dancers were instructed to begin dancing in the shoes they plan to wear as well as practice with any hats, headpieces, wings and flowing garments to make sure everything stays where it should during the dance. I choreographed for years and generally did not have to require such restrictions from professional dancers; we would just need to build that into the rehearsal practice and, of course, had a costume designer helping with logistics. Here, we are working with some trained dancers but mostly non-dancers as well as some children.
Ruesing: Ditto to everything CJ said. The biggest obstacle I see is with directions. This dance changes directions fast. I'm afraid of someone getting their eye poked out or a domino effect from someone falling over! At our last rehearsal, I squashed a ten year old when I moved backwards and he didn't. If someone falls in this, they could get stepped on -- repeatedly!
Nancy Pasternak | HEC-TV
This is Thriller. Thriller night.
Will everyone be in costume? If so, are only zombie costumes allowed, or will an army of superheroes, fairy princesses and SpongeBobs also show up?
Thomas: Yes, everyone will be in costume and makeup. Most will be a zombie of some sort. There will be a couple of Michael Jacksons and at least one bird zombie that I know of. Go figure!
Ruesing: We are requiring everyone to be in some sort of costume. They don't have to go wild, but they do have to be costumed. We have not encouraged anything but zombies. Anyone who has done the choreography can clearly see that zombie is the necessary costume. Now with that said, there is nothing keeping them from being a fairy zombie, a Batman zombie or even a SpongeBob zombie. But everyone will be a zombie of some sort.
Which local charity will the St. Louis zombies be supporting?
Thomas: Dancers can make contributions to Carol House Quick Fix Pet Clinic in Lafayette Park through our event. The Quick Fix Clinic offers low and subsidized fees for spaying and neutering pets. The suggested donation is $10.
The St. Louis contingent will be dancing at the Lemp Mansion, which is said to be haunted. Do you think the house ghosts will be dancing along to "Thriller?"
Thomas: Oh, gosh, I hope we will be joined by the spirits of the Lemp Mansion! How cool will that be?
Ruesing: I hope so, too, but since Lemp is having their raging Halloween party later that night and the Cards are playing, they might just rest up for all the festivities that night. If they do decide to dance, they'd better be in costume and know the choreography and rules. I would hate to get disqualified because of something they did. If anything, I know they will be watching!
Zombies in St. Louis' Thrill the World will perform at 4 p.m. Saturday, October 26, in the parking lot of the Lemp Mansion, 3322 DeMenil Place. Participant registration for the event is closed, but spectators are encouraged. For more information, email info@studiorue.net or visit the group's Facebook page.
RFT MUSIC'S GREATEST HITS
The 15 Most Ridiculous Band Promo Photos Ever "Where Did My Dick Go?" The Gathering of the Juggalos' Best Overheard Quotations I Pissed Off Megadeth This Week, My (Former) Favorite Band The Top Ten Ways to Piss Off Your Bartender at a Music Venue
---