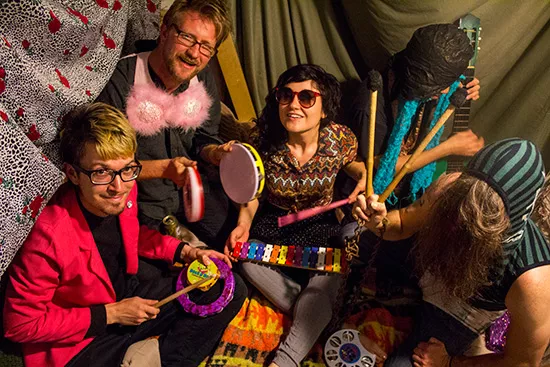 Mabel Suen
Beauty Pageant is (left to right): Mister Ben, Dada Vid, Blyre Cpanx, Hi Otter and Wiggpaw.
In this weekly column, RFT Music gets to know local creatives, musicians and their missions. Get a slice of the local scene, complete with a snippet of sound and info about upcoming releases and shows. Stick around to see what St. Louis artists have to say whenever they Fill in in the Blank.
On a cold fall evening, performing artist Blyre Cpanx apologizes to her landlord for the complaints made about the wall of noise coming from her art loft in downtown St. Louis. She is one-fifth of the official line-up for Beauty Pageant, an improvisational experimental band that had its first performance in April 2012. Even though it has played more than twenty shows since, this is only the group's third practice together, and the explosive ruckus it generates is so loud and abrasive that none of the members could even hear the neighbors knocking on the doors and walls to quiet them down.
On Saturday, October 26, the group will perform at Scuzzfest 2013, a party put together by Beauty Pageant guitarist and subversive visual artist Mister Ben. Ben, who also creates the well-established Freezerburn zine, will release the latest issue of his Scuzz Report, a periodical yearbook of south city oddities, at the event. Beauty Pageant was born at now-defunct performance/arts space Pig Slop during an ongoing local concert series he curated (dubbed "Noise") and has crept around south city (and the woods) blasting out heavy, hairy textures ever since.
Video by Chizmo.tv.
"There are many incarnations of Beauty Pageant, but you can maybe categorize us as snot vomit rock," says Ben only halfway-jokingly, clad in his trademark hot pink blazer. "There are many sub-categories to what we do -- exotica is one thing, a beach party is another -- but overall, we're trying to make people catch some wave. We're not sure if they like it or not, but they will be surfing with us on some level."
With a constantly ebbing and flowing cast that consistently creates quite a spectacle, Beauty Pageant provides an accessible bridge to noise music. Vocalist Blyre Cpanx, who's used to strutting in the spotlight as a burlesque performer, insists she's not a front-person. Instead, her vocals act as layer, reacting to the convoluted mesh of guitar squealing, primitive drumming, synth-pounding and bird-whistling around her. Local impresario Johnny Vegas once categorized the band as an "earbortion," while the members liken their sounds to an audio interpretation of artist Gerard Richter's work, citing cult leader Jim Jones as another "influence."
Beauty Pageant currently has a recording out on cassette tape, but you'll have to track it down at a show. Meanwhile, you can check out some live recordings on the Soundcloud page of drummer, Wiggpaw (also of Skarekrau Radio and Perverted). As for future plans? The group responds: touring to offend everyone equally, penning a tell-all book, having shows in people's basements except they won't know about it and working on their inevitable synth-pop demise, Booty Pageant.
We invited guitarist and Scuzz Report ringleader Mister Ben to fill in the blanks ahead of Scuzzfest this weekend. Click through to see what he had to say.
Mabel Suen
Beauty Pageant at Blank Space with Melanmypha Meatbeat.
What I like most about St. Louis is... Mister Ben: how little people mind if you don't attach a genre to what you're doing. Remember when post-rock was a thing in Chicago? Nobody here cares about calling something "post-rock" because many things are still "pre-" everything. The pre-rock scene in St. Louis is amazing.
I make music because... I have a lot of noise in my head and sometimes it squeezes itself out in the form of wrong notes and awkward chord progressions. "Tra-la-la" doesn't exist. Should it?
I'm most inspired by... annoying kid siblings who won't shut the fuck up no matter how hard you beat them. Thirty years later, you realize they had a point.
Five current artists worth listening to are... locally, Pet Rock (The Musical), the Night Grinder, Perverted, Britches and Larva Lu. Anything but Beauty Pageant! Yuck, those guys...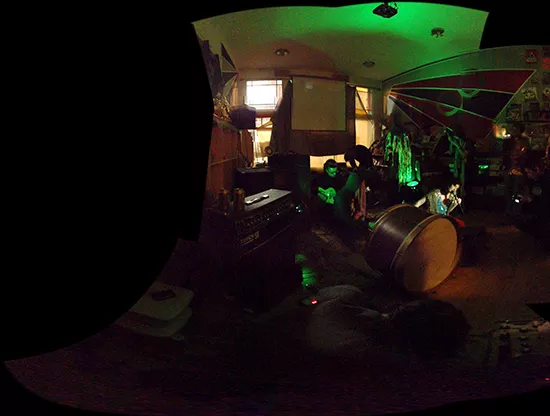 Mabel Suen
Beauty Pageant at Apop Records.
The St. Louis music scene could use... more self-confidence, especially when it comes to weirdness. There's obsession with paying tribute to indigenous folk music from half a century ago, which the RFT oozes orgasmic love for. I'd rather see more creeps lurking in the corner wielding contact mics, prepared to make utterly uncomfortable noises. Because it's okay, goddammit, to make those noises. You can get away with it here! It's cheap and easy! Maybe we could use a more flexible critical standard, or another beer.
The best post-show food in St. Louis... is always the worst. How many times have we all been to Uncle Bill's and eaten slingers because that makes logical sense at 2 a.m.? Or, lord, the Buttery? By worst I mean best. We're like moths to the flame when it comes to the Buttery's uncleaned grease traps.
The most memorable show I've played in this project... was anytime at Pig Slop when Zak Marmalefsky was giving out his "special" mixed drinks. We played a church in Chicago and he had a full bar set up. It was coincidentally the most memorable hangover I've ever had.
Video by Chizmo.tv.
Scuzzfest 2013 Saturday, October 26, 8 p.m. w/ Beauty Pageant, Brain Transplant, The Night Grinder, Wamhoda, Dave Stone, Birches, DJ Dog Dick @ Blank Space - $10 (includes a copy of Scuzz Report)
Beauty Pageant Saturday, November 2, 9 p.m. w/ Stephanie Rearick Jr. @ Foam - $5
Acid Kat Fall Freak Out Friday, November 22, 5 p.m. w/ Beauty Pageant, Zoned Out, Snooty and the Ratfinks, Babe Lords, Tubby Tom, 32 Piece Vintage Party Set, Animal Teeth, Nightmare Boyzzz, Dad Jr. @ Livery Company - free
Click through to see some more photos of Beauty Pageant from a recent practice in Blyre Cpanx's loft.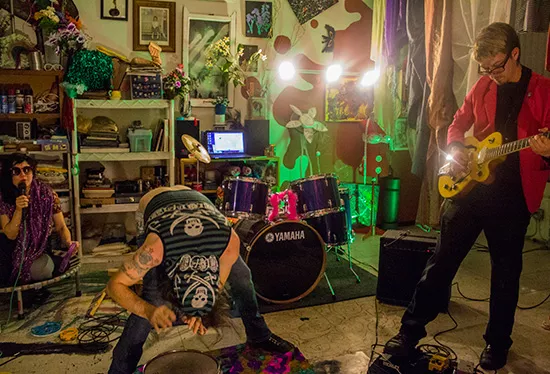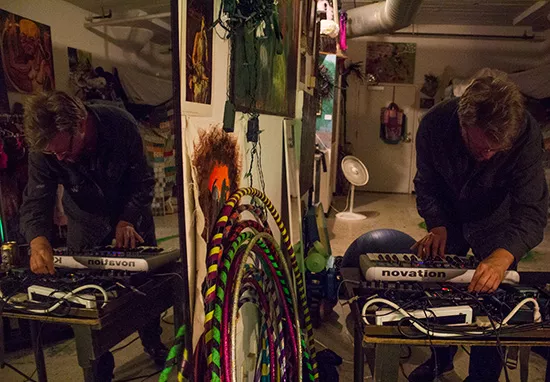 Get on Facebook to follow Beauty Pageant and Scuzz Report.
Do you know a project or band that should be considered for this series? Drop a line to fillintheblank@riverfronttimes.com.
Previously from our Fill in the Blank series: - Pillow Talk - The Tennis Lesson - The Funs - Brothers Lazaroff - Quaere Verum - Mastermind Einstein - Sarah Bollinger - Little Big Bangs - Everything Went Black - Lions Eat Grass - Kevin Harris - Laika - Heavy Horse - Barely Free Partial Prisoners - The Defeated County - Lizzie Weber - Kenshiro's - B.E.L.L.A. - Superfun Yeah Yeah Rocketship - Humdrum - The Blind Eyes
Follow RFT Music on Twitter or Facebook. But go with Twitter. Facebook blows.