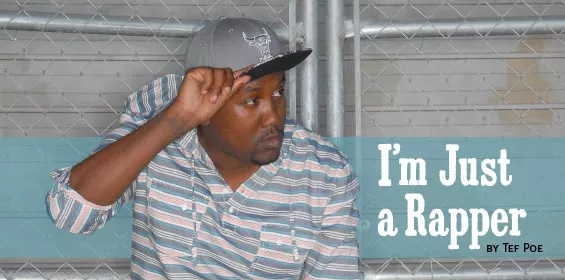 Editor: Tef Poe is an artist from St. Louis city. Through powerful imagery and complicated honesty, he has earned a reputation as one of the best rappers telling the story of St. Louis, which is about much more than one place. Poe has been featured in music publications such as XXL and Urb Magazine. His project The Hero Killer was released on January 21 and will be followed up by a full-length with DJ Burn One entitled Cheer For the Villain. Follow him on twitter @tefpoe. Get The Hero Killer here.
Hip-hop purists are basically the gatekeepers of the genre: The people who seek to remind you that hip-hop isn't a fluke and has an actual history that should be respected. I consider myself a purist to a certain degree. I'm all about keeping hip-hop alive and treating the culture with dignity and respect. Most people don't understand that hip-hop has more than a few different elements, and the art of rapping is simply a branch from the family tree. The average person probably couldn't name all of these elements if they had a gun to their head.
See Also: Definitely the Best Rap Quiz You're Going to Take Today
I don't see anything wrong with letting the quality-control sect of the hip-hop universe run rampant and do its job. I do, however, have a problem with a few things. First of all, I hate it when people say "hip-hop is hip-hop, and rap is rap," simply to justify wack-ass rapping. I hate the fact that most people prefer garbage music over quality music. But I am not willing to join the bandwagon of people who have classified the more lyrical rap as "hip-hop" and the less lyrical rap as "rap."
In the past, rap music was rap music regardless of the lyrical content. If the music you put out sucks, classifying it as "rap" and not "hip-hop" doesn't make it sound better. The industry went sour because people have found ways to summon excuses for poor pitiful bastards who lack talent.
On a philosophical level, I technically don't believe in "wack music." I think wackness is based upon perspective, life experiences, personal taste and more. That said, I still believe everyone on the planet has the right to simply say, "I don't like this song."
As a young girl, Lauryn Hill was booed from the stage of Showtime at the Apollo. She's a creative genius, but the day she was on the Apollo stage the audience wasn't having it. This could possibly be the very moment that created the genius inside her. In today's hip-hop climate, the notion of accepting the fact that you suck or someone has the right to not like your music is illegal. This is indeed a problem, but the greater problem is the fact that certain hip-hop purists have transformed into gatekeepers, and anything that didn't get released during the era of their time as a fan is not embraced by them.
The Internet is wide open, and people worldwide are releasing new and innovative music in all form and fashion. The Internet forced the music industry to take heed to what the fans actually desire. But when I go out to a "hip hop" event in the city of St. Louis I typically hear the same exact songs over and over, precisely at the same exact time of the night, every weekend. We are living in the information age; everything has opened itself up, yet some people's musical taste buds are stale. The musical perception of certain hip-hop fans has officially aged itself.
A form of retro-ism in the culture made a return a few years ago. We had groups like the Cool Kids setting the tone for certain trends and bringing back the fashions of the '90s. Along with the fashions of yesterday, the musical stylings of the '90s started to make a return as well.
This is the complicated area where things get tricky, because old school hip-hop made a roaring come back. Young rappers modeled themselves after their favorite old school rappers and every party I went to around that time was overflowing with sneakerheads and hipsters that loved groups like De La Soul and Tribe Called Quest, while also admiring new schoolers in the same vein, but not really playing as much of the new music publicly at a party. It was exciting to see the interest in this type of hip-hop music return.
Then, on the heels of this action, new schoolers like Drake came through with his first mixtape and ushered in a class of emcees that consisted of people like Kendrick and the entire TDE crew, Big Krit, J.Cole, Action Bronson and Curren$y, to name a few. The problem is certain people took a piece of this resurgence and only inhaled the portion of it that was relevant to them feeling like they are twenty years old again. They have no idea how to use the internet to find new music. They still rely on radio to educate them about the newest emcee.
They hate the radio because it's traditionally the enemy of all real music lovers, but they still listen to it faithfully and rely on the same institutions they hate to tell them about music that will potentially revive the creative juices of the culture.
They spend all day on the Internet, but this doesn't matter. They don't actively seek and search for new music, so the machine is their friend. This is today's so-called hip-hop head. Let's allow some PR firm to blow up the latest new artist and hop on the train with the rest of the late fans once they score a nationwide hit record being pushed by a corporation. You hear anything 30 times a day and you'll love it. The same science applies to good music, maybe even more so, since the music actually doesn't suck.
Unfortunately, people are ruining classic old school hip-hop for me. I can't hear the music of my current generation without hearing primarily music from the '80s and '90s. We all love '90s hip-hop because it's the best of the best. Nothing tops the '90s when it comes to hip-hop. But in 2013 I'm not having a good time if I go out and hear a set full of records strictly from 1995. DJs grow older, start families, get real jobs and stop actively searching for new music until it hits them in the face.
The younger DJs and fans in my age bracket don't have the political influence and control the older people have, so we're stuck in a salty position. Sometimes my only chance of hearing some music of my era that I'm actually a fan of is at the clubs you traditionally wouldn't expect a purist to visit. I can go to these spots and hear some new Asap Rocky. The DJ will actually play some records off the new Drake album. If I went to a so-called "real" hip-hop club I would've heard the same exact Beastie Boys record they play every week. I can't blame the DJs too much because they'll actually only play what they assume the particular crowd they spin for wants to hear.
If you only hit the floor when they spin Dead Prez's "Bigger than Hip Hop" for the 1,000,000,000th weekend in a row then it's not their fault. You suck as a fucking hip-hop fan. It's really selfish and unfair to the rest of us that are actively participating in the culture on a full-time basis to be subjected to your horribly cliche musical preferences. If I'm not in a hood spot I won't hear Asap Ferg's "Work" remix. If I do it'll be buried inside a bunch of records that are hella old. There's nothing wrong with old records -- we need and adore the classics. But the classics are being treated with very little respect in certain environments, being turned into cliche records for cliche moments. Do you really need to hear "Poison" every week at the same exact time for a trillion weekends in a row? Do you need the reggae mix at the same moment of the night, every week, with the same exact songs that you heard last weekend?
I can stay at home and listen to all the Danny Brown I want. I can follow it up with a little Beastie Boys and then cue in the Weekend. I can start off with a little classic Snoop Dogg on my playlist, go into some Rakim Allah, and then play some newness from Lil Wayne or Meek Millz. I can sit right on my couch and crank up some Ab-Soul, follow it up with some Pharoahe Monch and M.O.P., then hit myself over the heard with a song from Jay-z's Magna Carta album. You can't claim to be a hipster, dress like a hipster, try to act like a hipster, but for some reason not play one single record the actual hipsters want to hear. It all starts with the assumption that playing records from the '80s and '90s makes you a real hip-hopper. If it's not from a certain timeframe, purists act like it doesn't exist. They're really just lazy consumers and convenient music lovers.
They complain and deride the radio at every chance but when it comes to progressive hip-hop music they have identical playlists. They will complain about Drake for naming a record after Wu-Tang, but they will neither spin Wu-Tang nor Drake tonight. These people sold millions of records, so clearly we know the music because we're the ones that bought it at some point.
I'm about to walk home from Coffee Cartel and listen to a little bit of Puffy's new lyrical beast King Los. Then I'll follow up with some goodness from RZA and maybe a little Freddie Gibbs (produced by Madlib), or maybe even some newness from 2Chainz. By the time I get to my door I'll be playing either Rick Ross or Kool G Rap. It's all about variety, so this walk home will be more enjoyable than going out on a Saturday night in St. Louis.
RFT MUSIC'S GREATEST HITS
The 15 Most Ridiculous Band Promo Photos Ever "Where Did My Dick Go?" The Gathering of the Juggalos' Best Overheard Quotations I Pissed Off Megadeth This Week, My (Former) Favorite Band The Top Ten Ways to Piss Off Your Bartender at a Music Venue
---