The Head and the Heart - Tuesday, October 22 @ the Pageant
This week, check out our critics' recommendations, including Desaparecidos, M. Doughty and Death Angel. Read about these performers and more after the jump, and stay tuned to our weekend best bets post for more shows on Friday, Saturday and Sunday.
Soulard Blues Band Monday, October 21, 9 p.m. @ Broadway Oyster Bar - $5 By RFT Staff The Soulard Blues Band has gigged around town for more than twenty-five years. Most notably, its weekly residency at Broadway Oyster Bar perfectly accompanies the Southern-themed vibe complete with booze and Cajun food. Bassist and sole remaining founder Art Dwyer, a blues aficionado on local community radio station KDHX, holds down the band with his casual plucked lines. The rest of the rhythm section follows suit, allowing room for solos to float between rounds of drinks and a comfortable swing.
The Head and the Heart Tuesday, October 22, 8 p.m. w/ Thao & the Get Down Stay Down, Quiet Life @ The Pageant - $22.50-$27.50 By Katie Moulton From this 2011 show review: During an hourlong set, THATH played its full catalog to 300-plus already-diehard fans. The band's first three songs, including crowd favorite "Ghosts," kept up the energy thanks to jangling tambourine and Kenny Hensley's jaunty piano lines. This '60s sunshine bounce was not exactly what you expect when the band's been associated with "old-timey folk," but it reveals the band's true leanings toward influences like the Beatles' reeling pop. Of course, the band demonstrated plenty of folk tendencies: talk of "mama," imagery of family and home, as well as a bounty of pretty three-part harmonies.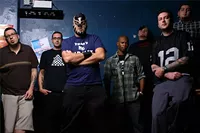 Voodoo Glow Skulls Wednesday, October 23, 7 p.m. w/ The Toasters, Left Alone @ The Firebird - $15-$18 By Bob McMahon From this 2012 show review: Clad in matching black shirts, Voodoo Glow Skulls entered the stage firing on all cylinders, pumping out four fast newer songs. These were well received, but older selections from fan-favorite albums Firme and the Band Geek Mafia predictably stole the show.... Songs like "Human Piñata" and "Shoot the Moon" set the mosh-pit ablaze and hardcore fans in the front were quick to sing every lyric when singer Frank Casillas thrust his microphone to them. Occasionally, the two-piece horn section struggled to cut through the mix, but trombonist Brodie Johnson compensated with an intensely enthusiastic stage presence. Overall though, the band's road-seasoned chemistry shone through in a tight performance that would please any '90s ska fan.
Desaparecidos Thursday, October 24, 8 p.m. w/ The So So Glos @ The Pageant - $25-$27 By Roy Kasten Of all of Conor Oberst's many trappings -- Faint, Commander Venus, Bright Eyes, Monsters of Folk -- Desaparecidos, the punkish outfit Oberst sported for just two years in the early 2000s, fits the Midwesterner most neatly. The band really sounded like a band, and judging by its recent reunion and stray singles, it still does, falling somewhere between the Clash and Hüsker Dü at its most political. As a protest songwriter, Oberst has never been afraid of the soap box, but with Desaparecidos his anti-consumerist harangues and solidarity songs have the muscle they need to matter to an audience that's in it for the liberated rock & roll and not just the alienated self-regard.
Animal Collective Friday, October 25, 8 p.m. w/ Deradoorian @ The Pageant - $25.$27.50 By Keegan Hamilton From this 2008 show review: The band's light show was mind-blowing. They were backed by a row of neon strobes, flashing electric purple, green, blue and red. At one point the lights morphed into a hypnotic row of florescent dots that jumped and pulsated like fireflies. It was something straight out of a Dan Flavin art exhibit. They were also definitely the loudest band of the festival.... The bottom line, I think, is that you either love, or love to hate, Animal Collective. Pitchfork and its minions are in the former.
William Parker's In Order to Survive Friday, October 25, 7:30 p.m. @ Mad Art Gallery - $10-$20 By Joseph Hess From this New Music Circle season preview: The series continues later this month with William Parker's In Order To Survive, an ensemble with Hamid Drake (drums), Rob Brown (saxophone), Lewis Barnes (trumpet) and Cooper-Moore (piano). Notable for his work with the Cecil Taylor Unit through the '80s, Parker will bring his quintet to the Mad Art Gallery on October 25 with arguably the most star-studded line up this season. Expect a powerful wall of horns and keys, peppered with brain-shaking percussion.
M. Doughty Saturday, October 26, 8 p.m. @ Off Broadway - $20-$25 By Christian Schaeffer M. Doughty has spent quite a bit of his post-Soul Coughing career either describing his distaste for his former bandmates (see his tome The Book of Drugs) or ignoring the songs he wrote and recorded with his former group. So it was curious when Doughty announced an album and tour based around tracks from Soul Coughing's three-album songbook. He was convinced and enabled to revisit these songs through the modern miracle of crowdfunding, but no matter the reason, it's a pleasure to hear "True Dreams of Wichita" and "The Idiot Kings" again, reworked around Doughty's jaunty acoustic guitar and boho/jazz delivery.
InFest StL #4 Saturday, October 26, 4 p.m. w/ Hands and Feet, Fumer, Magic City, Acorns to Oaks, Jordan Pippen Rodman, The Leopard, it!, The Incurables, Mathias & the Pirates, many more @ 2720 Cherokee, Foam, Blank Space, Melt By Mabel Suen From "InFest STL 4 Hosts 30+ Bands at Four Cherokee Street Venues": St. Louis' quarterly indie-music and art festival, InFest STL, strikes again on Saturday, October 26. In honor of it being the fourth event in its series, Loyal Family decided to host one day of music across four Cherokee Street venues: 2720 Cherokee, Foam, Blank Space and Melt.... Each of the 30-plus acts hail from St. Louis, with the exception of one act from Illinois (named the Locals, ironically enough). The event will be Halloween themed, and attendees are encouraged to show up in costume.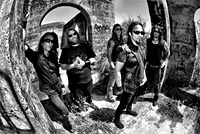 Death Angel Sunday, October 27, 5:30 p.m. w/ 3 Inches of Blood, Battlecross, Revocation, Diamond Plate, Truculent Void, Encrypted, Danny Greene, Hallow Point @ Fubar By Rick Giordano Death Angel has been tearing it up ever since it first opened for Forbidden at Mississippi Nights back in the early '90s. The band has always stood out in the world of thrash metal, playing with an infectious groove that is seldom heard from most straightforward Bay area thrash bands. Over the past three decades, that groove has grown into an overwhelmingly heavy and frantic bitchripper of a heavy-metal band. Death Angel's latest album, The Dream Calls for Blood, was just released on October 11 and may be its heaviest material to date.
Note: Though we wish we could, we can't feature every great show happening in town in just one measly post. Look for plenty more recommendations this Friday in our weekend shows post, and peruse the St. Louis concert calendar for more ideas any time. Let everyone know what else you're looking forward to seeing this week in the comments below, and send show tips any time to clubs@riverfronttimes.com to be considered for inclusion on these lists.
RFT MUSIC'S GREATEST HITS
Remembering STLPunk.com -- How to View the Site Today and Find Your Old Profile Page "Where Did My Dick Go?" The Gathering of the Juggalos' Best Overheard Quotations The Ten Best Dive Bars in St. Louis The 15 Most Ridiculous Band Promo Photos Ever
---