Mabel Suen
Sex Robots, subject of one of Lees' favorite Haiku Lou reviews.
HaikuLou, the fun-loving local music blog that efficiently recaps shows in just three concise lines of Japanese poetry, has written hundreds of snarky show reviews since the spring of 2011. To celebrate hitting 500 reviews on the mile-marker -- that's 8,500 syllables worth of haiku gold, people -- HaikuLou and crew hold an informal meet-up at the Silver Ballroom (4701 Morganford Road; 314-832-9223) tonight. We spoke with the brains of the operation, Jaime Lees (also an RFT Music contributor) and Matt Harnish to get some insight into their interesting meter.
Warning: the following post includes twenty-plus haikus.
See also: HaikuLou Wants You to Commit Your Concert-Going Experiences to Poetry
RFT Music: Five hundred haikus Is a lot of show reviews. How did you do it?
Matt Harnish: I go out a lot And counting syllables beats Talking to people
Jaime Lees: We don't really know We just love going to shows And, like, kickin' it
How many people Contributed since the start? How many were yours?
Harnish: Ms Lees runs the blarg So she has the whos & whats I did a million
Lees: Haven't kept records But guest writers have written maybe twelve percent?
Why choose a haiku? How about a limmerick? That could be fun, too.
Harnish: They're easy to do Conciseness is the key, and They're kinda cliche
Lees: We like it dirty, But limmericks are harder. And... that's what she said.
Any advice for Haiku writers that want to Sell their souls to you?
Harnish: Quit before you start You should see all our hate mail This ruined my life
Lees: Keep your nails pretty Cuz errbody gon see you Counting on fingers
Click through to read Lees and Harnish's top five favorite picks from their website's archive so far.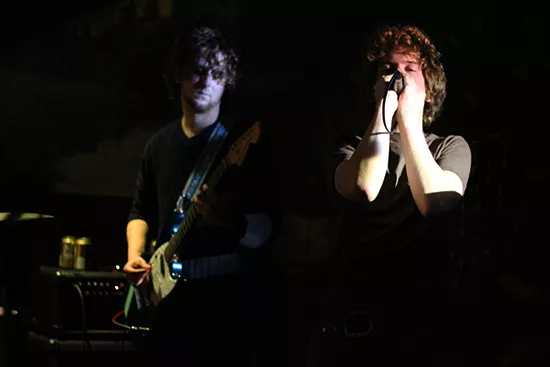 Mabel Suen
Bug Chaser.
Matt Harnish's Favorite HaikuLou Reviews
Bug Chaser at El Lenador, 02/10/12 This is the soundtrack To your next bad decision Boomshakalaka!
Demonlover at El Lenador, 04/23/12 Oh, I get it now Setting up all of that gear Is part of the show
Tower Groove Record Release round 2 at Off Broadway, 05/19/12 Got to the show late Magic City rocked the nite and then I sharted - via reader Johnny Vegas
Bob Reuter's Alley Ghost at Off Broadway, 02/24/12 Will you be around to see if this much you rock when this old you reach? - via reader Matt Pace
Googolplexia at El Lenador, 09/26/11 Man, going on tour Sure made Rob all slick & pro Ha Ha! Just kidding!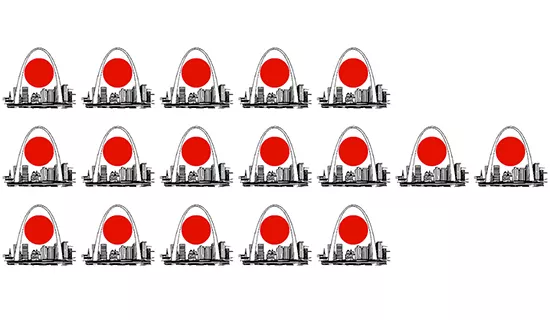 This is how you HaikuLou (sort of).
Jaime Lees' Favorite HaikuLou Reviews
Sex Robots at Chill Dawg Cove, 08/07/13 Let's say it again: "Music is the healing force." Thank you, Sex Robots.
Chuck Berry at Blueberry Hill, 04/24/13 You'll hear people say, "Chuck can't hack it anymore." Well, fuck them. He ruled.
Eric Hall at Old Post Office Plaza, 06/29/13 Subtle and lovely Sound bouncing off high rises Hall is our Eno
Ransom Note at Off Broadway, 05/19/12 There's a theory that Their songs will get you pregnant Bring a coat hanger
The Phonocaptors at Off Broadway, 10/12/13 These pro dudes drop rock That makes my damn heart explode Like it ain't no thang
Keep up with HaikuLou via the HaikuLou website and Facebook.
RFT MUSIC'S GREATEST HITS
The 15 Most Ridiculous Band Promo Photos Ever "Where Did My Dick Go?" The Gathering of the Juggalos' Best Overheard Quotations I Pissed Off Megadeth This Week, My (Former) Favorite Band The Top Ten Ways to Piss Off Your Bartender at a Music Venue
---