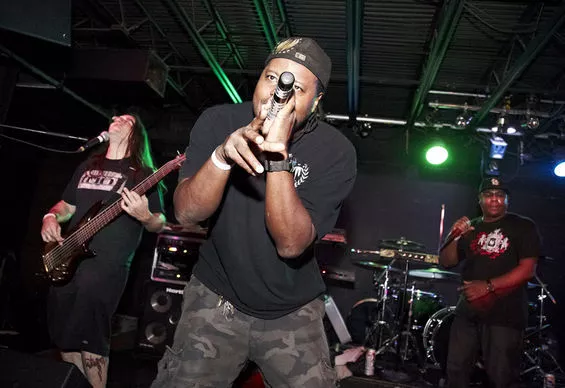 It's a busy weekend for St. Louis' leading independent record stores. Vintage Vinyl celebrates its 33 1/3 Anniversary Party, Euclid Records hosts its annual sidewalk sale and Apop Records acts as the venue for the second annual Tower Groove Records street party. Beyond that, there's much, much more. See what we mean after the jump.
Friday (October 18):
Black Milk w/ Quelle Chris, DJ Sober, Thelonius Kryptonite, Darris Robins @ Blank Space 9 p.m. | $12/$15 Detroit's Black Milk has worked with hip-hop legends like J Dilla and Pharoahe Monch in his eleven-year career, producing soulful, jazz-influenced tracks enjoyed by hip-hop heads and average folks alike. (DH)
Midwest Avengers CD Release w/ Exit 714, Mr. I, Unifyah, Trillitary, Daniel Dwyer @ Pop's Nightclub 7 p.m. | $5-$9 By now a bona fide St. Louis institution, the Midwest Avengers release a highly anticipated new record at this show. The group's own description on its Facebook page is better than anything we could write here: "Mash a bunch of dope music together and throw some liquor in it!" (DH)
The 1975 w/ Linus Young @ The Firebird 8:30 p.m. | $15 The 1975 comes to St. Louis from all the way "across the pond," as they say. The Manchester-based alternative/indie rock group's latest effort debuted at No. 1 on the UK Albums chart, beating out even Nine Inch Nails' Hesitation Marks in first-week sales. (DH)
Loyal Family 10th Birthday Bash w/ Young Blood Brass Band, Aaron Kamm and the One Drops, Crate 2 Crate Sound System @ 2720 Cherokee 9 p.m. | $10-$15 Loyal Family turns ten! Celebrate in true 2720 fashion, featuring a couple of regular performers and live art. (MS)
Also on Friday, check out the Del-Lords at Off Broadway, the Hobosexuals and more at the Livery, Armadillo at the Gramophone and Gateway to the West Fest. Click on the links to learn more via our coverage in recent weeks.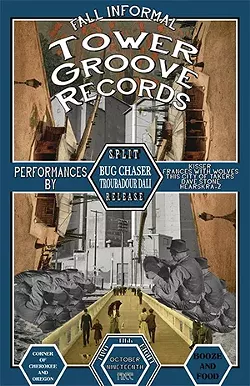 Saturday (October 19):
Tower Groove Records Block Party w/ Bug Chaser, Troubadour Dali, Kisser, Dave Stone, Hearskra-z, This City of Takers, Frances with Wolves @ Apop Records 2 p.m. | free Tower Groove releases its latest single: Bug Chaser and Troubadour Dali. See the two perform along with a varied line-up of local talent. Bonus: Bring in a receipt from Euclid Records or Vintage Vinyl dated 10/19 or 10/20 this weekend only to receive a 10% discount at Apop. Spread the local record store love! (MS)
Euclid Records Annual Sidewalk Sale w/ Miss Molly Simms Band, Grace Basement, The Jans Project, The Del Lords, Middle Class Fashion @ Euclid Records 1 p.m. | free In addition to the boxes of deals on the sidewalk, check out store-wide discounts, drink some free beers from PBR and enjoy a great line-up of music. (MS)
Rectal Hygienics w/ Shaved Women @ CBGB 9 p.m. | $5 Rectal Hygienics heads over from the Windy City to make up the most inappropriate sounding bill of the year along with grisly hardcore punks Shaved Women. Listen to the noisy rock on Bandcamp. (MS)
Also on Saturday, Vintage Vinyl celebrates its 33 and 1/3 year anniversary, Pretty Little Empire releases an album, the Union Electric puts out a new EP, and day two of the Gateway to the West Fest hits Fubar. Click the links for more info!
Sunday (October 20):
Pete Rock w/ CL Smooth, Camp Lo @ 2720 Cherokee 9 p.m. | $25-$32 It was already pretty cool that Pete Rock has been visiting St. Louis so much lately, but this time he takes it a step further and is bringing along his old partner in rhyme, the venerable CL Smooth. (DH)
Tera Melos w/ Zorch, Laika @ The Demo 8 p.m. | $10-$12 Tera Melos plays some of the face-meltingest math rock around. Listen to their latest on Bandcamp, and while you're at it, check out tourmates Zorch and local openers Laika, too. (MS)
Benefit for Tommy Bankhead w/ Brian Curran, All Roostered Up, The Cryin' Shames, Big George Brock @ Schlafly Tap Room 1 p.m. | $10 St. Louis blues legend Tommy Bankhead is currently resting in an unmarked grave, and that just isn't right. Luckily, Killer Blues, a local organization dedicated to placing headstones on the graves of St. Louis blues musicians, is on the case. Catch some great tunes and support an even greater cause! (DH)
Sunday night is action packed! For more options, check out these recommendations from our Out Every Night post: Built to Spill, Neko Case and Sturgill Simpson.
Note: Though we wish we could, we can't feature every great show happening in town in just one measly post. Peruse the St. Louis concert calendar for more ideas any time. Let everyone know what else you're looking forward to seeing this weekend in the comments below, and send show tips to clubs@riverfronttimes.com to be considered for inclusion on these lists.
RFT MUSIC'S GREATEST HITS
Remembering STLPunk.com -- How to View the Site Today and Find Your Old Profile Page "Where Did My Dick Go?" The Gathering of the Juggalos' Best Overheard Quotations The Ten Best Dive Bars in St. Louis The 15 Most Ridiculous Band Promo Photos Ever
---