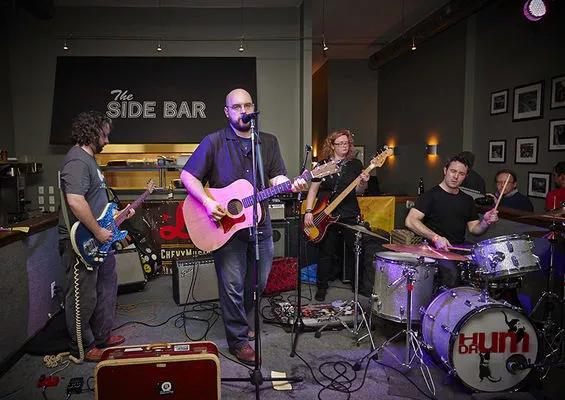 Steve Truesdell
The Union Electric at the 2013 RFT Music Showcase
The Union Electric Cover Charge EP/From Bad to Worstward EP (theunionelectric.bandcamp.com)
If done properly, covers records can offer an entry into a band's inner world. Usually more lightweight than a proper album and more passionately curated than a mere list of influences, these collections of other people's songs are at their best when the band is clearly, audibly having fun. That's what makes this seven-song Union Electric EP Cover Charge such a joy for a band that more often trades in socially trenchant seriousness. (The set is available as a free download on the group's Bandcamp page.)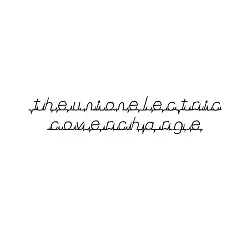 The band stays pretty faithful to the spirit of the originals -- these songs aren't recast as Union Electric compositions, which gives the EP a stylistic bounce. It probably helps that the members picked songs and songwriters from that pantheon of (mostly) American writers who trod the same lyrical soil as band leader Tim Rakel. It's almost a given that Woody Guthrie and Townes Van Zandt are represented here; both are patron saints for lovers of Americana and its discontents.
This take on Van Zandt's "Lungs" turns the thumping lope of the original into a fully barbed performance with an overdriven guitar line helping to ratchet up the doom. That ragged, metallic guitar is a rough counterpoint to Glenn Burleigh's smooth lines on the pedal steel for a shambling but faithful take on Guthrie's "Ain't Got No Home." The more modern covers show an entrenching weirdness, including two Handsome Family covers. Opener "Amelia Earhart Vs. the Dancing Bear" is easily the most carefree thing that Union Electric has put down, which contrasts with the stark "Bottomless Hole" at the EP's close.
The real revelation here comes with the most recent song: PJ Harvey's "The Words That Maketh Murder" appeared on her Let England Shake, and bassist Melinda Cooper steps up from backing to lead vocalist to honor Harvey's original while adding something extra. Cooper's own act, the Town Cars, has been rightly tipped as a new band to watch, and this recording is a nice apéritif for what's to come.
Continue to page two for our review of From Bad to Worstward.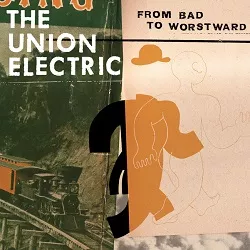 If the Union Electric turned to its record collection for Cover Charge, it headed for the library stacks for the four-song seven-inch From Bad to Worstward. Irish playwright and novelist Samuel Beckett provides the seeds for these tunes, though the references would be obscure to all but scholars without Rakel's helpful liner notes. As befitting a collection from an Irish literary titan, the band asked Grace Basement's Kevin Buckley, an Irish fiddler of some renown, to contribute. He provides a reel for "Every Word a Stain," against which Rakel recites a passage from Beckett's Watt novel; aside from that direct lift, the other songs are a bit more interpretive with the source material. Side B's "Day of the Dead" wrangles the band's twangiest leanings into a quick-and-dirty rock song, while "Nothing to be Done" is a little more resigned but, like Beckett, marked with bleak humor in the light of existential oblivion. I can't think of many other local bands that have put out so many seven-inches in so short a time, and this Beckett-inspired set is a welcome addition.
Want your CD to be considered for a review in this space? Send music c/o Riverfront Times, Attn: Homespun, 6358 Delmar Boulevard, Suite 200, St. Louis, Missouri, 63130. Email music@riverfronttimes.com for more information.
RFT MUSIC'S GREATEST HITS
The 15 Most Ridiculous Band Promo Photos Ever "Where Did My Dick Go?" The Gathering of the Juggalos' Best Overheard Quotations I Pissed Off Megadeth This Week, My (Former) Favorite Band The Top Ten Ways to Piss Off Your Bartender at a Music Venue
Follow RFT Music on Twitter or Facebook. Follow RFT Music editor Daniel Hill on Twitter too, if you are into that sort of thing.