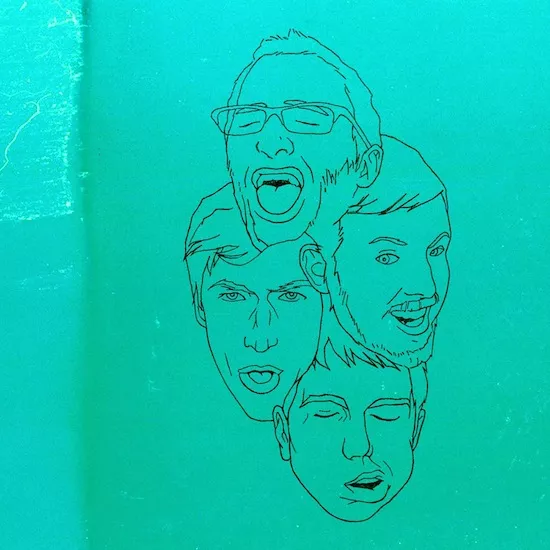 Courtesy of facebook.com/aarrmmaaddiilllloo
Darkness settles onto the evening of October 9, 2013. The bar at Sandrina's, a local late-night hot spot for the slurring and weary, is teeming with Cardinals fans. Our birds are flying toward victory against the Pittsburgh Pirates to clinch the National League Division Series. Applause and howls of despair break out intermittently as the Cards are elevated by Adam Wainwright's pitching, or stymied by the Pirates' persistence. Suddenly, three members of St. Louis' Armadillo stroll in. Aimed like a strung arrow, vocalist/guitarist Jake Marks shakes hands with vigor and boasts a smile that overwhelms his face. Armadillo may be new to notoriety, as the band has played just a handful of shows in a little under a year, but Marks rolls into the space like he signed the lease yesterday.
We proceed to the back of Sandrina's. There, drummer/vocalist Phil Fargason bends his limbs -- which have the length and girth of a young oak tree -- to an angle which allows him to slump into his seat at the booth. His plucky demeanor never displays the difficulty of folding all that mass into the tight squeeze of Sandrina's booths. Armadillo's guitarist, Logan Alexander, sits next to Marks -- his face wears signs of fatigue. The band's fourth member, Matt Strom, formerly of Union Tree Review, is in New York on business.
The Washington University graduates burn with nascent intellectualism, the kind not hardened by pretension, but by the nagging pull of simple curiosity, "[Strom] was a drummer before, but he plays bass in this band," begins Alexander. "He said, 'I want to learn how to play a different instrument.' He's gotten so much better. He learned bass through our band."
Marks, Fargason and Alexander have been playing music since their early teens, sometimes in bands, but mostly developing solo. "We've all been playing a while, in our own ways, but playing together is this hugely rewarding, titanic task. Like, how do you communicate with people when they're playing? So often you can't hear anything," says Marks.
When Armadillo finds a way to create, it results in songs like the no-nonsense, rockabilly swing of "Girls." Fargason, who wrote and sings on the track, puts his frothy personality forward.
"Here's the dilemma with 'Girls.' I really think live music should be danced to. That's the point of it. I've just been to so many shows where people just don't dance. And it breaks my heart." As Fargason continues, his distaste for tranquility becomes palpable not only in his speech but also in his actions. He gestures with his hands, leaving his palm up; every finger but his index is curled. His pointed index finger seems to be triggered every three or four words as he waves it back and forth between Marks and Alexander. "Especially when it is bands I like," he elaborates.
More of our interview with Armadillo on page two.
"It's that Dionysian impulse of, 'Let's just lose order for one second, and you can maybe be someone else, or like a communal subject in this place, for half an hour or 45 minutes,'" Marks continues. "Maybe that will feel nice, and maybe that will change things after that. That's the most fun for me as a player, is that I can somehow still play while losing my mind.... And I can only do that when the audience seems to be doing that."
Alexander shares the sentiment. "It's really fun to be loud and make a lot of noise, but that's for me. I mean, that's the most rewarding thing for me, when people move."
Fargason orders another beer and waxes on this potential during live events. "It seems like that can only happen in the tiny basement shows, like Blank Space. The audience is sitting on your fucking lap."
Marks begins to stir as he recounts the band's Blank Space encounter. "Just the feeling of sweat, OK? Not a physical feeling, but a nominal feeling. Like, you feel something happening here."
He animates as he remembers the night. "I lost my glasses in that show. I was all sweaty, and they just went." He starts making noises like he is trapped inside of a wind tunnel, wiggling his head to and fro. It creates the exact look of someone so enraptured by the task at hand that they neglect to take note of their physical environment, or spectacles.
No band member seems too enthralled with the idea of breaking nationally. Marks is most vocal on his ideal scene: "I don't feel like a lot of music these days needs to be heard nationally. Why push against infrastructure that's not there? Why not just have great music in one place, and why not have great live performances?" he ponders.
"There are tons of venues here, there are tons of bars, and people who don't have shit to do on a Wednesday or Thursday. Why not go listen to music?"
As the interview comes to a close, Marks continues describing his desires for strictly local attention. "It would be cool if, after we have been playing for a while, if people just want to jam with us, you know? 'Hey, we saw you play; do you want to play music with us some time?' It would be nice if we had more of that stuff going on." He shuffles in his seat as another thought stirs in his mind. His speech comes out like a soliloquy -- an errant thought directed at no one in particular.
"Yeah, I think we'll keep playing. As long as people are into it."
Armadillo will play this Friday with Bo & the Locomotive and Starlight Girls at the Gramophone. Show starts at 8 p.m. $7 cover.
RFT MUSIC'S GREATEST HITS
The 15 Most Ridiculous Band Promo Photos Ever "Where Did My Dick Go?" The Gathering of the Juggalos' Best Overheard Quotations I Pissed Off Megadeth This Week, My (Former) Favorite Band The Top Ten Ways to Piss Off Your Bartender at a Music Venue
Follow RFT Music on Twitter or Facebook. Follow RFT Music editor Daniel Hill on Twitter too, if you are into that sort of thing.