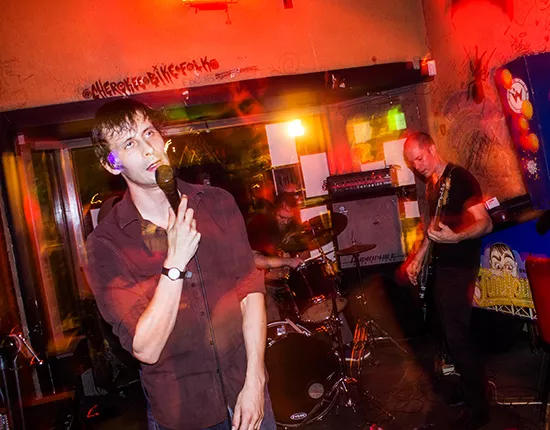 Mabel Suen
Pillow Talk at CBGB.
In this weekly column, RFT Music gets to know local creatives, musicians and their missions. Get a slice of the local scene, complete with a snippet of sound and info about upcoming releases and shows. Stick around to see what St. Louis artists have to say whenever they Fill in in the Blank.
Pillow Talk doesn't subsist on subtlety. Mark Winters' max-level metallic guitar noise crashes headfirst into rock-solid advancing rhythms laid down by drummer Mike Hansen and bassist Lorne Day. Meanwhile, vocalist Jeff Robtoy jerks his body erratically to match the derisive, snark-edged words that sometimes creep, sometimes cry their way out of his mouth. Drawing from influences including Scratch Acid, Wire, Neu and Dropdead, Pillow Talk puts out some of the highest intensity noise-punk an adrenaline junkie could ask for.
At a typical gig in south city, the guys of Pillow Talk can be spotted in the dark corners of their regular watering hole, CBGB, getting ready to open a show in support of a touring band. The amps' power switches flip on, and before long, they transform the dim dive into a punk rock people zoo. Some bodies find their way into the room to see what the fuss is all about, and a few bystanders look on through the window from patio benches, a typical low-key scene for the space.
Videos by Graham Matthews
Robtoy launches into performance mode, paying close attention to carefully-placed syllables that cut through the ornery fury of distorted sounds behind him. Between songs, he sarcastically confronts his audience, taking on a persona inspired by Andy Kaufman, Lenny Bruce and a host of singers including the Birthday Party's Nick Cave and Pere Ubu's David Thomas. It's a combination of stand-up (one of his occasional side gigs) and honest cynicism.
"I just feel like we've lost a lot of the 'performance' aspect of performing," Robtoy says. "It's so easy to just get up there and play while people doze off, play with their phones, update their Facebook, talk over you or whatever. By creating a very real persona that isn't afraid to pay attention to the audience, it creates a tension. It forces the audience into a corner: 'I can watch this or I can leave, but I can't ignore it.'"
Since the winter of 2012, Pillow Talk has consisted of three-parts members from the defunct Glass Teeth paired with Mark Winters, formerly of There's a Killer Among Us. All members have spent time in their fair share of projects over the years, including some of Robtoy's other current projects: Tone Rodent and his label Problem Solved Industries. After nearly a decade since Robtoy and Hansen started playing in groups together, they're still collaborating, cranking out heavy sounds regularly at a Lemp Brewery practice space.
Pillow Talk is currently in the midst of mastering tracks for a new single recorded at Yellow Hat Studios. Listen to their most recent completed recording, a track laid down for Label Day, below, and check out their other free demos on Bandcamp.
We invited vocalist Jeff Robtoy to fill in the blanks. Click through to see what Jeff had to say.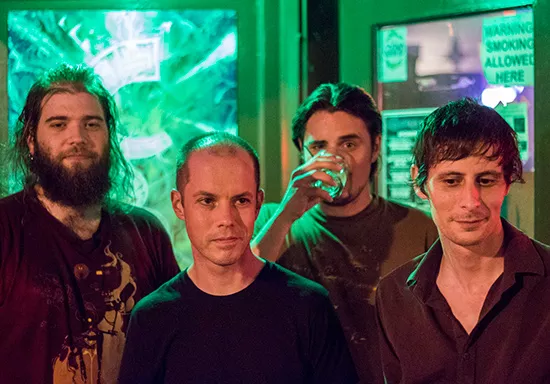 Mabel Suen
Pillow Talk is Mike Hansen, Lorne Day, Mark Winters and Jeff Robtoy.
What I like most about St. Louis is... Jeff Robtoy: there are too many things to name just one aspect. The city is a host to so many great bands and artists. You can live cheaply here, which allows more time/money to be dedicated to your art. Although many of the great bands in this town kinda slip through the cracks nationally, we still have some of the weirdest, most unique sounds in the entire country. We have our very own distinctive aesthetic.
I make music because... it's really all I've ever wanted to do. Plus, sometimes it's cheap therapy. Mostly I make music because I feel like I have something to share with the world in general, I guess.
I'm most inspired by... seeing other bands. Listening to records. Seeing good art. Talking with people. St. Louis.
The best show I ever played was... It's kind of a tough question. I've played a bunch of cool shows, and even under-attended shows can be fun because you get to play tunes for people. All 3 of those or whatever it is.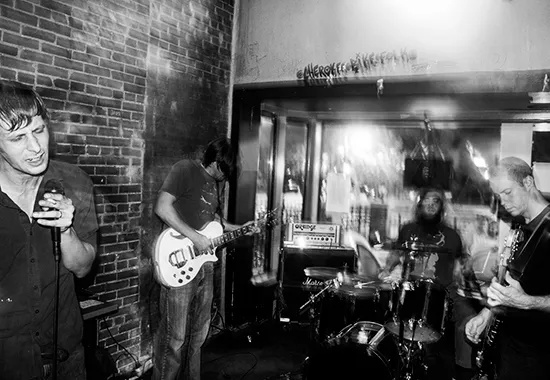 The best post-show food in St. Louis is... I'm not too big on eating after shows. Is that something other people do? What do they say? Pizza?
Five current artists worth listening to are... Bug Chaser, Demon Lover, Times Beach, Maximum Effort, Trauma Harness.
The St. Louis music scene could use... more bands that tour consistently, put out records, promote themselves and become recognized on a national level. There are so many crummy bands that are popular not because they are interesting or talented, but because they come from money, a cool part of the United States, or are not afraid to promote their product. St. Louis bands could really be big if they tried a little harder (myself included).
Follow Pillow Talk via its Facebook and Bandcamp, and check out the Problem Solved! Industries website for more releases.
Click through to see more photos of Pillow Talk from a recent show at CBGB.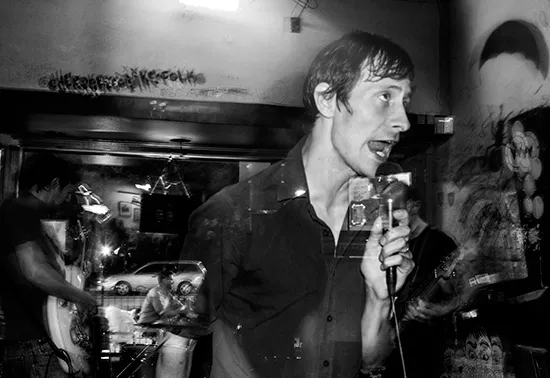 Do you know a project or band that should be considered for this series? Drop a line to fillintheblank@riverfronttimes.com.
Previously from our Fill in the Blank series: - The Tennis Lesson - The Funs - Brothers Lazaroff - Quaere Verum - Mastermind Einstein - Sarah Bollinger - Little Big Bangs - Everything Went Black - Lions Eat Grass - Kevin Harris - Laika - Heavy Horse - Barely Free Partial Prisoners - The Defeated County - Lizzie Weber - Kenshiro's - B.E.L.L.A. - Superfun Yeah Yeah Rocketship - Humdrum - The Blind Eyes
Follow RFT Music on Twitter or Facebook. But go with Twitter. Facebook blows.