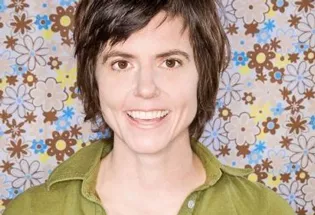 For those in search of laughter or curious about the goings-on of the comedy scene in St. Louis, we will be making monthly recommendations for shows in (and near) the city. From sure-thing hilarious to fingers-crossed, "Oh God! I hope this works" affairs, Funny Events is your connection to sketch, standup, improv and everything in between and out of the box.
The Cardinals are in post-season play, so for the month of October the entertainment industry is going to have to get scrappy -- St. Louis has a one-track mind when it comes to baseball. This month is big for comedy in St. Louis, and it's a shame it's up against such terrible odds. So to baseball fans who like to laugh and are dynamic enough to have other interests, we'd like to plead the case for comedy: You can check the scores later, but here's no comedy show replay.
So, here goes nothing...
Tig Notaro at Maryville University October 9 9 p.m. | Free
Tig Notaro is coming to town. I also didn't know, until someone said, "Hey, isn't that Tig person you did a video for already coming to St. Louis?" It's not been publicized, at all, but she will in fact be performing at Maryville University. The show is open the public and free. If you're not on the Tig Train, here's the 411... She's funny!
Notaro's performance last August at Largo, which addressed her recent cancer treatments, has been praised by the most respected names in comedy (such as Louis C.K.) as legendary. Since then, she's been a regular on Conan and the aforementioned C.K. sold her album exclusively on his website. Comedians give no guarantees; they are just as likely (arguably more so) to have a bad performance as any musician, actor and so on, but I'd bet on Tig putting on a show that will exceed your expectations any day.
A Special Show at Brennan's October 15 8 p.m. | Free
On Tuesday, October 15, Brennan's is throwing a special show in the form of a three-floor whiskey-induced party. The bar is celebrating ten years of comedy, and it's going to be in style. With the exception of the list of sponsors, time and date, the staff at Brennan's is keeping the show details on the down-low. There will be comedy, music and obviously plenty to drink and smoke (Brennan's is a cigar bar).
The highlight of the event will no doubt be the comedian who, per Kevin Brennan, "contractually cannot be named." Who doesn't love a good old-fashioned surprise?
@Dadboner at the Duck Room at Blueberry Hill October 16 8 p.m. | $15-$18
Karl Weizen is @Dadboner, Mike Burns' America-loving degenerate brainchild. It's an act that is so good Deadspin took the time to not only investigate the matter but inevitably unmask the man behind the story. Comedian Kyle Kinane is quoted by a Deadspin reader as stating, "DadBoner's story is all fake, but the love of bold flavors, '80s rock and Detroit Lions is absolutely real."
Karl Weizen seems to be the character traits and interests of one man, all souped-up and over-exaggerated (which is really what all comics do), only Mike Burns adopted a new personality rather than pass it off as his own. Weizen bleeds red, white, blue and cheap beer, and is the kind of guy whose scent would linger after he slept the night on your basement couch. He's got a lot to say, all of it honest-to-God bullshit and honest-to-God hilarious.
Mary Mack and Tim Harmston at Foam October 24 9 p.m. | $10
The first matter to address is Mary Mack's voice. If you're not a fan of the way grown-ups talk to children, don't even bother clicking this -- Mary Mack is not for you. It's a bold approach. She's a curious woman so in a way embodying the voice of a child is pure genius. Mack is silly as she is smart and genuinely strange.
Teaming up with Mack is Tim Harmston, a comic who spins the average into interesting just as any comic should do. His lackadaisical approach to storytelling is a much-needed alternative to the current all up-in-your face comedy trend. Harmston is soft-spoken, so he wouldn't grab your attention in a crowded room, but once you heard him, you'd be disappointed you haven't been listening to his guy all night.
Together, Mack and Harmston make an adorable duo whose comedic styles not only compliment each other but take it to the next level of hilarious abandon.
Nick Vatterott at the Firebird October 25 8:30 p.m. | $12
Three years ago Nick Vatterott was marked by Montreal's Just for Laughs Comedy Festival as a "break-out" comic. Since then he's defended the title by earning the Andy Kaufman award in 2011, landing a Comedy Central Stand-Up Special and a variety of performances on the late-night television circuit. A bunch of awards and recognition from comedy festivals you've likely never heard of doesn't guarantee funny, but it does prove the capability of making people laugh.
Vatterott is a dynamic comic; he has worked with Second City, so he has got more than just jokes under his belt: He has a hat full of comedy tricks that will lead you in more than one direction but won't lose you along the way.
RFT MUSIC'S GREATEST HITS
The 15 Most Ridiculous Band Promo Photos Ever "Where Did My Dick Go?" The Gathering of the Juggalos' Best Overheard Quotations I Pissed Off Megadeth This Week, My (Former) Favorite Band The Top Ten Ways to Piss Off Your Bartender at a Music Venue
Follow RFT Music on Twitter or Facebook. Follow RFT Music editor Daniel Hill on Twitter too, if you are into that sort of thing.