Ancient press photo from old timey times.
The Angry Samoans
Are you sick of being responsible? Does it annoy you to have to follow rules or be pro-social? Do you like basements? Well, if you are a goofy, degenerate weirdo who doesn't quite fit in anywhere else, you might consider our city's hardcore/punk shows.Your underlying anger problems can be brought out to their fullest potential (in a positive way). These are my recommendations for great local and national bands that don't play five-minute (marathon!) songs or remind you about drink specials. General rule of thumb: If you have five bucks and can show up by 9pm, then it's go time in the pit. One, Two, Fuck You!
[Disclosure: The author of this article is in bands, some of which will be playing some the following shows. But the author of this article is in five (maybe six now? I can't keep up) local punk bands, so that is kind of an inevitability. It does not influence the choosing of these shows.]
The Copyrights, The Timmys, Better Days, the Winchester at Fubar October 10 8 p.m. / $10
Chicago's Copyrights just won't stop being productive, making us all look bad. Feel free to come yell this sentiment at its members. Yell that one of their side bands, hardcore punk masterminds Business Papers, should come down here with them next time. Yell whatever you want, as long as you can muster up the guts after a few cheap beers and don't get caught in the hypnotic trance of toe-tapping, pop punk catchiness. The Timmys are great as well; think of a non-political Propaghandi or a less nasally take on NOFX/early '90s Offspring (or anything on Nitro Records in general).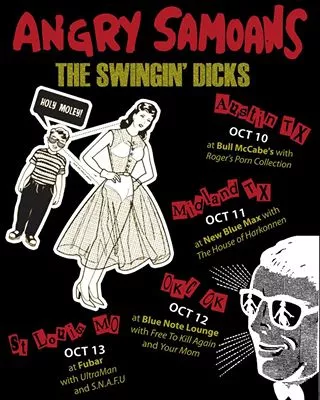 The Angry Samoans' tour flyer
The Angry Samoans, SNAFU, the Swingin' Dicks, Ultraman, SVK at Fubar October 13 8 p.m. / $14-$16
Finally, after 25 years as a band, the Angry Samoans is coming to St. Louis. Back From Samoa is one of the punkest records ever written; the first four songs are unforgettable classics. Reports from various traveling sources have confirmed the band is still great live and the singer, "Metal Mike" Saunders, still acts like a maniac. Don't dismiss this as an "old guy" show; this could be the most punk thing you see this year, aside of course from Miley Cyrus' "Wrecking Ball" video.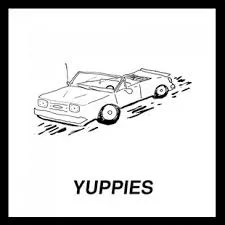 Yuppies, Nuclear Santa Claust, Black Panties, Animal Teeth, Trauma Harness at Ask A Punk October 15 9 p.m. / $5
BYOBB (extra B is for basement), middle of the month pogo-party show! This hootenanny will be a hell of a humdinger. Nuclear Santa Claust is one of the more ridiculous band names that's popped up lately, in an entertaining and non-infuriating way. The music is fantastic as well. Killing your ear drums at this show wouldn't be the worst way to go deaf.
Gateway to the West Fest at The Mad Magician and Fubar October 18/19 Day One: 5 p.m., $15 / Day Two: 12 p.m., $40
After another year of planning, Adam "The Devastator" Greer and Donna Klein's hard work and badgering of killer hardcore/punk bands has resulted in another Gateway to the West Fest. There are too many bands playing between the two days to give equal coverage in just a paragraph, but most notable is that legendary Boston hardcore band Slapshot has been added as the headliner at the end of Saturday. The Mad Magician (formerly AB's place, near Nick's pub) will be experiencing its first gigantic influx of two-stepping stage dive maniacs. Among the tons of bands will be the SNAFF reunion and Bracewar's fast, full-scale assault on anything that doesn't know how to mosh.
The Rival Mob (Multi-Cam Full Set) from hate5six on Vimeo.
Spine, Vice, the Killer, EWB, Black Teeth, RZL DZL, Death Before Dishonor, the Rival Mob (first St. Louis show) and, to reiterate, fucking Slapshot will be providing some of the best hardcore punk over the past twenty-plus years in one day, right here. The relatively high price tag for this show is definitely justified. Rumor has it the after-show/party is going to be an insane jammer as well...ask a punk.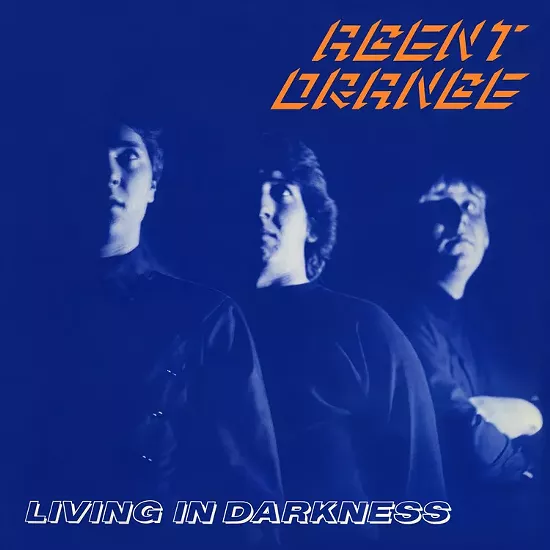 Agent Orange - Living In Darkness LP
Agent Orange, the Pencildicks, the Unmutuals, Hard Evidence at Fubar October 24 8 p.m. / $14-$16
Agent Orange is coming back through, adding more early California punk to October. This band has written some of the catchiest riffs ever imagined in punk rock. "Bloodstains" and "Everything Turns Grey" are classics in their own right. Agent Orange puts on a great show and always plays the hits; come witness history before all these older dudes from California start dying and you miss out forever.
Doom Town/Autonomy split LP
Doom Town/Autonomy Split LP Release show at Ask a Punk October 25 9 p.m. / $5
You're invited to the public birthing of St. Louis and Carbondale, Illinois' vinyl lovechild -- Doom Town and Autonomy's split LP will be available for the first time at this show. This collection of cool kids will be drunk and rowdy, especially after getting warmed up by Shaved Women and Violations. This is the type of show to bring someone to if they've never experienced STL DIY before.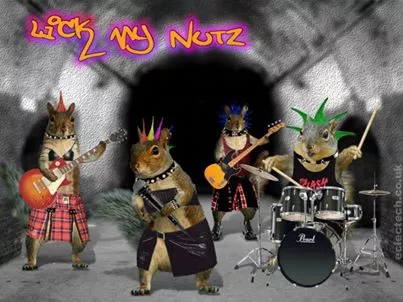 Closest thing to a flyer available, accurate presentation of attendees/bands playing
Nothing Is Original: Halloween For The Punx Cover Show at Melt October 31 9 p.m. / $5
Local dreamboat/DIY instructor Luc Michalski has organized another Halloween-centric cover show for the purpose of exciting all punks. People will actually know lyrics to sing along with at this show, instead of faking it like usual. The lineup is pretty spectacular: So Many Dynamos as Gang of Four, Bug Chaser as the MC5, Kisser as Pentagram, Black Panties as Weezer, the Conformists as Black Sabbath, Times Beach as Gauze, Trauma Harness as the Urinals, members of Doom Town and Life Like as Crass. No matter what part of your record collection you want to hear most, chances are someone's got you covered.
Evidence from last year:
RFT MUSIC'S GREATEST HITS
The 15 Most Ridiculous Band Promo Photos Ever "Where Did My Dick Go?" The Gathering of the Juggalos' Best Overheard Quotations I Pissed Off Megadeth This Week, My (Former) Favorite Band The Top Ten Ways to Piss Off Your Bartender at a Music Venue
Follow RFT Music on Twitter or Facebook. Follow RFT Music editor Daniel Hill on Twitter too, if you are into that sort of thing.