Sorry, St. Louis -- these people refuse to clothe you.
True story: Adam Levine of Maroon 5 and The Voice and Nicki Minaj of...well...Nicki Minaj, now are clothing designers! AT KMART! This week, Mr. "She Will Be Loved" joined Ms. "Starships" in becoming part of the Kmart family with clothing lines that continue the 'Mart's tradition of mediocrity. Press releases say that 500 stores around the country are getting into Levine's and Minaj's pants, and the duds also are available at Kmart's shopyourway.com.
RFT Music had grand intentions of checking out these clothes in person, but the Kmart gods have decreed that no St. Louis stores will receive the uber-hip attire. WHY CAN'T WE HAVE NICE THINGS, KMART?
But wait! There are other celebrities with wonderful/terrible fashion lines! So in the spirit of St. Louis Fashion Week (happening through Sunday, October 6), we grabbed RFT staffer Danny Wicentowski and hit the Saint Louis Galleria Mall in Richmond Heights to model the best and worst (mostly the worst) of what's out there for celeb-drunk guys and gals.
See also:RFT Music Writer Auditions for The Voice, Still Hates Adam Levine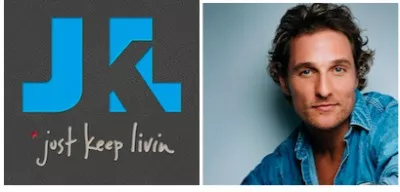 Celebrity: Actor Matthew McConaughey Clothing Line: JKL (just keep livin') Website: jklbrand.com Brand promise: "JKL is a brand that accompanies customers on their own journeys, leading by example. Customers are welcomed, encouraged and recognized for their own paths. JKL isn't just about the clothes on your back. It's about what's in your head, what's in your heart, and the things that get you out of bed every day."
Can we take a moment to express our surprise that Matthew McConaughey even has a clothing line? The guy appears shirtless in just about every movie or magazine (not to mention Whole Foods), for Pete's sake. The irony is just too great, folks.
But it's no joke. We, indeed, found JKL at Dillard's and were kind of disappointed. We weren't expecting velcro pants from Magic Mike or anything, but this stuff was just boring: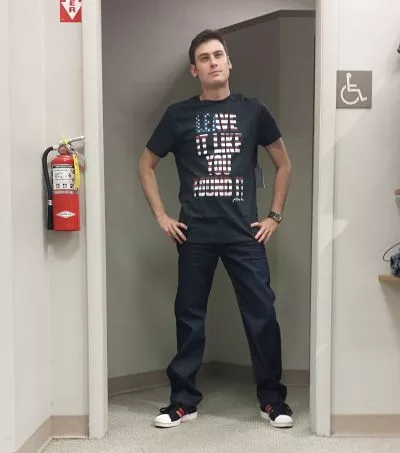 The American flag motif makes Wicentowski think he's Superman.
JKL is all about being outdoorsy, so we can only surmise that "Leave it like you found it" means you shouldn't trash campsites or dump nuclear waste into lakes. 'MERIKUH, AMIRITE?
"This outfit wasn't too bad, and you rarely can go wrong with jeans and a T-shirt," Wicentowski says. "That being said, whoever designed the slogan didn't have much awareness of, well, American history. I imagine if a group Native Americans saw me wearing this shirt they would stomp my ass. And I would deserve it."
It ain't easy bein' green.
This is a joke, right? Did Matthew McConaughey base his "celebrity designer know-how" on the Garanimals color-matching model? Still, golf clap for Danny doing McConaughey proud by unzipping the sweater-shirt and showing off his chest.
"It's too bad the outfit makes me look like rotting green bean," Wicentowski says. "I must say that the air passing over my exposed chest made me feel incredibly masculine and very McConaughey-esque -- two things I do not usually feel like."
Continue for fashions by a former "Newlywed" and a guy who can't decide on a name.

Celebrity: Singer Jessica Simpson Clothing Line: Jessica Simpson Collection Website: jessicasimpson.com Brand promise: "The collection is inspired and designed in collaboration with Jessica Simpson. The products celebrate her iconic, American image that is fashion-forward, accessible, comfortable and timeless."
Does anyone even remember that Jessica Simpson sings (or "sings") anymore? A zillion years ago, the woman became famous not for her voice, but for being on a terrible reality show with the dude from 98 Degrees and having a dad who wanted to whore her out. Now that she's all grown up, though, she's become a fashion designer and hawks clothing and accessories, including some we found at Dillard's:
We don't hate it. That's something, right?
We're going to be honest: The Jessica Simpson Collection has a couple of not-awful things, this being one of them. Sure, the little black dress sort of reminds us of a Stevie Nicks frock, but we might buy it on clearance. Things could be worse.
Oh, look, things are worse! Um, yeah, we're going to avoid bag dresses with ugly prints that make us look eight sizes bigger than what we are. Thanks, though. Surprise: This sack costs way more than a month's supply of PBR for a house of hipsters. Yeesh.
Celebrity: Rapper Sean Combs (Diddy, P. Diddy, Puff Daddy, Puffy) Clothing Line: Sean John Website: seanjohn.com Brand promise: "Sean 'Diddy' Combs has always incorporated his acute sense of style into every aspect of his life. In 1998, Mr. Combs decided to fulfill a life-long dream when he launched a signature collection of sportswear under his name Sean John. Mr. Combs created the line to fill a void in the market for well-made, sophisticated, fashion-forward clothing that also reflected his sensibility and style."
Sean Combs has done well as a fashion entrepreneur. Ol' Diddy's line has been going strong since 1998, and it's now one of the most successful celebrity clothing lines in history. The man's rightfully got some swagger, and he brings some of that to his fashion line, which pushes a mix of beachy, preppy and street looks. We found some interesting things at Macy's.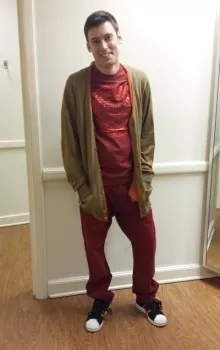 The epitome of baller prep, y'all.
OK, maybe we should take back what we said about swagger. This definitely is not the milkshake that would call all the girls to a dude's yard.
"Pro: The cardigan is amazingly soft. Con: It fits like a wet paper bag and doops off the shoulders the way a used condom hangs off a chain-link fence," Wicentowski says. "Also, I look like a human Twizzler."
Twizzlers are yummy, and we're down with a safe-sex message, but there's no chance of getting laid if you're wearing this, anyway.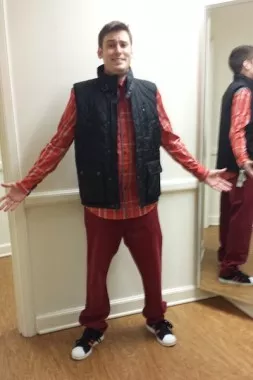 Good for milking cows or tagging buildings.
We're all about a colorful wardrobe, but it's time to drop the red pants -- and we don't mean in the sexy way. This city-man-pretending-to-like-the-back-country look isn't 100 percent horrible, but some slim-fit dark jeans would do a world of good.
"The vest, unsuprisingly, was apparently designed for maximum puffiness. It's quite substantial, sturdy even, like a life preserver stuck with a bunch of random buckles and pockets. (Note: I would not suggest using this vest as an actual life preserver, lest you are torn apart by fashion-conscious sharks.)," Wicentowski says.
Continue for more by Diddy and Madonna's finest boob enhancers.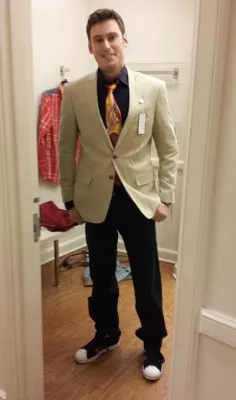 Like Macklemore says, this is fucking awesome.
Confession: We bent the rules a little and threw together an outfit that's not by any single musician. The jacket and shirt are by Sean John, the tie is by Jerry Garcia and the pants are...actually, they're just some random pants we grabbed. But, hey, doesn't Wicentowski look snazzy?
"Somehow the shitnado of combining a Sean Jean dress shirt, blazer, Jerry Garcia tie and some random pants resulted in me looking dashing as fuck. I have no explanation for this." Wicentowski says. "I am breathlessly awaiting a Vatican emissary who will surely confirm the miraculous nature of this ensemble."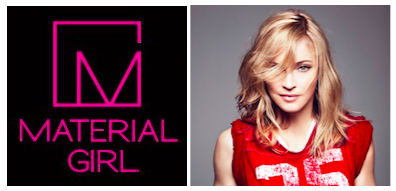 Celebrity: Singer Madonna Clothing Line: Material Girl Website: materialgirlcollection.com Brand promise: "The Material Girl is spontaneous and fearless. She loves to shop and she mixes her fast fashion with designer pieces. She invents her own fashion trends and is never afraid to make a bold creative statement. Influenced by her eclectic taste in music, dance and Hollywood."
Though Madonna has pretended to be a classy British broad for a decade, people still view her as the boundary-pushing singer-fashionista she was in the '80s. Back in the day, she wore eyeliner that would make Avril Lavigne jealous, sported lace everything and desacralized wedding dresses. Madge definitely wore some awesomely risque (read: tawdry) outfits that some of us still use for inspiration today. Ahem. Anyway, that's the kind of stuff her collection at Macy's promises.
And, boy, does Material Girl deliver on that promise! We've hit the jackpot of horrifically ugly and cheaply made treasures! But first, a not-so-bad item:
The studs on the dress show how punk rock we are.
All in all, this isn't horrendous stuff. Make no mistake: The dress isn't quality. It's made from some kind of itchy poly-blend and has a really cheap zipper and stupid metal studs that likely will rust after a few washes, but looks-wise, it's not awful. Those leggings, on the other hand... eeeek. They look somewhat OK in the photo, but up in person, they're hideous.
And now for the good stuff: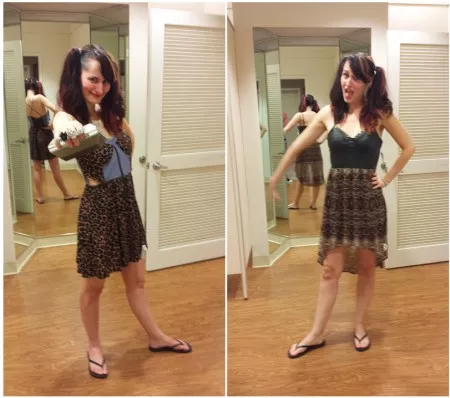 Double your displeasure, double your fun.
Let us lay it out for you: The Material Girl line is all about fake leather, itchy fabrics, shoddy workmanship, garish prints, ill-fitting boob cups and strange cutouts. The spaghetti straps give these dresses a tiny bit of sweetness, but overall, they're terrible.
For the dress on the left, we got tangled up in the crisscrossing straps that require a Mensa membership to figure out, and though the photo doesn't show it well, our leopard-print boobs don't gel with the bargain-basement denim. And yes, that's a gold purse we're holding -- BY ITS BRASS KNUCKLES HANDLE. As for the dress on the right, our torso was sweating buckets during the three minutes we had the outfit on. That fake leather feels clammy, and no matter how much we adjusted the straps, we couldn't get the boob cups to rest anywhere flattering. Don't even ask us what in the hell the skirt was made of.
But this is the big winner: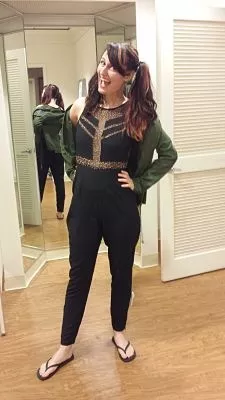 This definitely is not the sassy pink evening gown from the "Material Girl" video.
Folks, you're looking at a godawful jumpsuit, with black polyester pants attached to a shirt-thing made from sheer leopard-print scratchy stuff. It has a halter neck, and if you look closer at the chest area (savor the moment), you'll see that the sheer material is broken up by black diagonal patches. On top of that, we're sporting an olive-green jacket that's riddled with gold metal studs.
We have no words, really. This monstrosity is the reason celebrity fashion lines often come off like jokes. And we're not about to pay $78 for a rimshot.
RFT MUSIC'S GREATEST HITS
The 15 Most Ridiculous Band Promo Photos Ever "Where Did My Dick Go?" The Gathering of the Juggalos' Best Overheard Quotations I Pissed Off Megadeth This Week, My (Former) Favorite Band The Top Ten Ways to Piss Off Your Bartender at a Music Venue
Follow RFT Music on Twitter or Facebook. Follow RFT Music editor Daniel Hill on Twitter too, if you are into that sort of thing.