Screen grab from the video.
Instinctively, you might want to root for these guys, because it is the Westboro Baptist Church and all. But you shouldn't. Everyone involved here sucks.
Recently, a "punk" band called Get Shot! decided to do what "punk" bands love to do for the attention of the media: make a brainless scene. In this particular case, it was a brainless porn scene. In a video shot by the group, Get Shot!'s bassist, Laura Lush, masturbated on the lawn of notorious hatemongers the Westboro Baptist Church in Topeka, Kansas.
Not coy in the attention-seeking department, Get Shot! also runs a porn site that promotes its music (NSFW, obviously). The stunt has recently caught fire across the Internet, gaining the band attention from websites like Gawker and Spin. And it sucks.
Because they are assholes.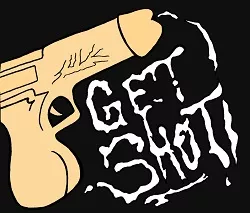 The band members themselves, like any real punk band, list their influences on their Facebook page as groups like New York Dolls, Dead Boys, Hanoi Rocks and Motley Crue. Their stated intent is also fairly credible and familiar to any legitimate punk band out there: to get famous. Prior to this breathtakingly creative viral video, Get Shot! could be seen on every Facebook group even vaguely connected to the word "punk," ingeniously promoting the band with photos of naked women.
Also, one time vocalist J.P. Hunter falsely claimed to have thrown a hot dog at Tiger Woods, for some reason.
This video, uploaded by the band, is entitled "GET SHOT! - 'Cum On You' (Album Version with Sexy Band Pics)."
Then there's the quality of the music. While it would be easy to pick apart the band's infantile and hackneyed brand of strip-mall-style "punk rock," the real trouble comes when you examine the homophobic and (predictably) misogynistic lyrics. From its Reverbnation page:
"EMO FAG, CUT YOUR HAIR I'D KICK YOUR ASS BUT IT WOULDN'T BE FAIR"
"THE NAME IS GET SHOT! WE'RE BRINGING YOUR BOYFRIEND DOWN CUZ WE'RE THE SLUTTIEST BAND IN TOWN TELL YOUR LONG HAIRED DRAG QUEEN HE'D BETTER GET HELP BECAUSE WHEN YOU DON'T COME HOME HE'LL KILL HIMSELF!!!"
"FAGGOT TWEEKERS LETS FUCK THEM ALL UP"
"THEN SOME STUPID BITCH STOOD ME UP ON A FUCKING DATE"
This one is "GET SHOT! - "Tommy Tag Team" (Album Version with Sexy Band Pics)"
The problem here is that punk rock is something that genuinely means a lot to some people, more than as a self-promotional marketing gimmick. In an age where punks are still imprisoned and persecuted around the world (see: Pussy Riot), to champion a band like Get Shot! for pulling such an obvious stunt on a target that no one cares about is way off base. Is there anyone out there who hasn't seen an Internet meme of someone heckling the Westboro Baptist Church with a funny sign? Is there someone out there who doesn't understand that they are a hate group?
It is a lazy stunt pulled on the easiest target ever, for exclusively selfish purposes. Essentially, Get Shot! has created the equivalent of Michele Bachmann making fun of Justin Bieber, not only arriving late to the party, but also happening to be the biggest douchebag on the scene.
RFT MUSIC'S GREATEST HITS
The 15 Most Ridiculous Band Promo Photos Ever "Where Did My Dick Go?" The Gathering of the Juggalos' Best Overheard Quotations I Pissed Off Megadeth This Week, My (Former) Favorite Band The Top Ten Ways to Piss Off Your Bartender at a Music Venue
Follow RFT Music on Twitter or Facebook. Follow RFT Music editor Daniel Hill on Twitter too, if you are into that sort of thing.