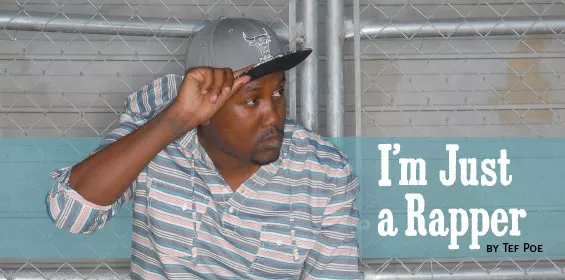 Editor: Tef Poe is an artist from St. Louis city. Through powerful imagery and complicated honesty, he has earned a reputation as one of the best rappers telling the story of St. Louis, which is about much more than one place. Poe has been featured in music publications such as XXL and Urb Magazine. His project The Hero Killer was released on January 21 and will be followed up by a full-length with DJ Burn One entitled Cheer For the Villain. Follow him on twitter @tefpoe. Get The Hero Killer here.
Well, the Affordable Care Act is now in effect and tons of artists such as myself now have access to healthcare. I attended a meeting last week about pursuing a personalized artist grant on behalf of the Regional Arts Commission. During the course of this meeting I sat in a room full of artists from different parts of the city. We were all black, white, Latino, Asian, man, woman, etc. All of us were artists of some sort, but we weren't all musicians. During the course of this meeting we each obtained a flyer that advertised the fact that healthcare is now available to the artistic community via the ACA, which is commonly known as "Obamacare."
See Also: The Thirteen Best St. Louis Rappers in 2013
The Republicans ignorantly named this bill "Obamacare" as a means of turning it into the boogie-man, hiding underneath our beds and lurking in our closets. We were all supposed to live in fear of this thing passing; it would push us closer to living in Nazi Germany. Instead these idiots actually branded the healthcare act with a name that is more recognizable and easier to remember. Now that the general public has embraced the term "Obamacare" the Republicans will more than likely attempt to start calling the bill by its actual name. I'm drifting (as I often do in my blogs) but walk with me and I promise you all of my points will eventually connect.
So I sat in this meeting and I read the flyer distributed to us upon entry. And as I read, it really hit me. Hate it or love it, we're living in historical times. I'm an artist and I now no longer have to worry about whats happens when I get sick. As artists, we are members of a occupational field that doesn't offer us benefits. We don't typically have a 401k or a life insurance plan. We have freedom that other people lack in their daily occupation, but we frankly do not have access to the stability supplied by a "normal" job. This is a lonely, desolate lifestyle choice. We give it our all and get very little in return. Our futures are uncertain in many regards and we usually don't share the comfort originally described in the manual of the American dream. I'm an artist and I'm proud of it. I'm speaking from the lens of a person that was born with a certain gift and has decided to use it for the betterment of the world.
I exist to utilize every ounce of my creative instincts for the good of our society. I am not special. I am not superhuman; I have flaws and imperfections, and through my talents I share them with you. I believe we deserve more credit. By "we" I mean each and every true artist on this planet deserves more credit. Art separates us, as humans, from the rest of the animal kingdom. For many years throughout the centuries we have been robbed of the basic necessities that are enjoyed by humans in other occupations. Now we can remain self-employed and self-reliant while finding a small sense of normality within the fact that the Affordable Care Act has made the distant dream of being an artist with ready-made healthcare a reality.
This is the true spirit of the American dream being realized in our modern day. All of the world's problems are not solved, and I don't totally support either party, but if the shoe fits, put it on and walk a mile in it. The Republicans look like the old people fighting the tide of change on this issue. We had an election, the country voted and the Democrats won.
It's 2013; this is the year we live in. We live in the future of the future -- shutting down the government just makes us look like we're governed by a bunch of country back-road hicks. Where's the dignity in this? People like Michelle Bachman said this was a good idea. But this is also the same exact party of people that endorsed Todd Akin, a man that brought us the ridiculous term "legitimate rape." The votes were cast and the bill was passed. The truth is, the Republican's don't give a damn about this health care bill. They ultimately just want a reason to flex a little bit of muscle and show the world that their party could stand its ground and shut the government down. This is the highest definition of "lame."
In my community there is no greater insult than being called a lame. The Republicans are the biggest lames in Washington for this move. This is not a moment of victory; this is a moment of ignorance and self-centered pride. The country is set up as a democracy for a reason. I wasn't the biggest fan of this bill originally, but eventually I was swayed over. Historically, people are going to look back and take notes of all the imbeciles that voted in favor of shutting down the federal government over the health care reform bill. The old guard is furious and irate, but this is our time, and our generation will not be denied as we press forward and usher in a new era of progressive thinkers. I am a member of the Squirrel family lineage. You are a nut.
I will gladly participate in our country's new health care system. Once it's all said and done I'm going to the doctor, and I will laugh my ass off at the thought of your anguish.
So many artists attempt to model themselves as people that could care less about politics. I understand the place these emotions come from. I have often shared the same exact sentiments, because as artistic people we tend to find ourselves more critical of our government. But it is our job to pave the way for the future free thinkers and creatives. As a musician I have a responsibility to create content that reflects the concerns of the community I come from. My community is often treated like a step-child by our favorite politicians.There are times that I am the only voice capable of unleashing my community's concerns. I have an unspoken obligation to side with the popular opinion of my people, since my music is partially a reflection of our collective consciousness. And the collective consciousness of my people simply does not trust the government.
I am aware of this, but there are times that I find myself wedged in between the plight of the people and my personal opinion. There are times I find myself speaking solely for myself, regardless of the responsibility I have inherited as a artist. This healthcare thing is something I've discussed with many of my friends in the art community. Rappers don't have health care. If we get sick a freestyle won't cure us. We have options now, despite the fact that some of us didn't even vote. I have a bad back; I actually need to have several operations in order to fix it. I ruined my back riding uncomfortably in tour vans and packed SUV's while traveling to do road shows. I tend to crack a lot of jokes in the name of exaggeration, but this is a serious concern of mine.
The President introduced a bill which was passed by Congress and upheld by the Supreme Court. This legislation went through the full monty and survived. You would've thought the Republicans were fighting the legalization of using HIV infected needles to distribute antibiotics to newborn children. The ACA went through the entire process and won. It's game over; let's move on. Closing the government over a law that already passed and even stood its ground at the Supreme Court is horrid and childish. For further information OFA Missouri is throwing a series of town hall meetings sharing all the truths about the Affordable Care Act. Whether you agree or disagree with the law you can attend one of these meetings and see what all the fuss is really about. You can also choose to do nothing, and just sit on Facebook and listen to a bunch of people that didn't even vote falsely educate you about something they know nothing about.
One more thing before I depart...
Dear John Boehner,
We've had enough of you. Most of your ideas to counter the Democrats absolutely suck. Punishing the entire country in the name of stopping something that actually passed through the rounds of due process? You're acting like a group of spoiled rich kids. (Oh, my bad, you poor pathetic bastards actually are a group of spoiled rich old geezers, silly me.) Do us all a solid and stop making those stupid faces on live television. I actually wouldn't have a problem rooting for the Republicans if you assholes had an inkling of an idea about being an inclusive party, but as I gazed at the television I saw nothing but old, disgruntled, angry white people. Herman Cain swallowed his own nuts, so he technically hasn't been black in years. He's the real-life Uncle Ruckus.
This would be OK if most of America actually resembled people like you. But we're moving into a new era; it's time for your party to stop functioning as if we are living in the 1800s. The world isn't turning over on it's axis, so take a deep breath and relax, You look like you're about to drive yourself into a stroke, and of course we all know you won't need Obamacare to pay for your medical bills. So cheer up, you miserable bastard.
On Thursday the check for this piece will arrive in the mail box. I will cash it and go buy some Nikes to wear onstage while I perform at Grovefest this weekend. I'll also get paid for performing at Grovefest. I'm an artist and this is my job, and now thanks to Barack Obama I can now afford healthcare. I love America.
RFT MUSIC'S GREATEST HITS
The 15 Most Ridiculous Band Promo Photos Ever "Where Did My Dick Go?" The Gathering of the Juggalos' Best Overheard Quotations I Pissed Off Megadeth This Week, My (Former) Favorite Band The Top Ten Ways to Piss Off Your Bartender at a Music Venue
Follow RFT Music on Twitter or Facebook. Follow RFT Music editor Daniel Hill on Twitter too, if you are into that sort of thing.