Electrical Guitar Company axes will make an appearance at this year's GEARage Sale.
To all of the gearheads out there: Hear ye, hear ye; lend us your gear! The third St. Louis GEARage Sale hits the Firebird (2706 Olive Street; 314-535-0353) this Saturday, October 5, from noon to 3 p.m. and offers up the biggest bounty of pro audio, video and music gear from local professionals that the area has to offer. The sale only takes place once every two years and it's free to get in and sell, so get in before it's gone.
Justin Fisher of SmithLee Productions and the Audio Engineering Society came up with the idea to organize the GEARage sale in 2009 after looking around his own studio at the mountains of stuff he wanted to get rid of. He realized that other engineers and media professionals probably didn't want to deal with the daunting task of attempting to sell gear on eBay or Craigslist, either.
"It's just a place for people to meet up to buy, sell and trade audio and video gear as well as instruments face-to-face," says Smith. "It makes the process easier and is a really good networking event as well. It's a good place to hang out and socialize with people in the industry."
Courtesy of Justin Smith
The first GEARage Sale.
The first GEARage Sale had about fifteen sellers from recording studios around town, primarily selling pro audio gear. The second sale in 2011 grew to include video gear and a good amount of instruments, including guitars, amps, drums and even a collection of vintage synthesizers. Firebrand Recording brings boutique guitars to the table, including Electrical Guitar Company instruments (so if you've ever wanted to shred on aluminum axes like Shellac, the Jesus Lizard and the Melvins, now's your chance).
Besides the pro gear and pro attitudes, look forward to simpler items, too. While plenty of niche gear will be on hand for true music nerds to peruse, everyday folks can and will sell items including pre-owned guitars. In addition, expect plenty of odds and ends like cables, mic stands and even stereo equipment.
Courtesy of Justin Smith
The second GEARage Sale.
This year's sale boasts 24 sellers including SmithLee Productions, Shock City Studios and the exTreme Institute by Nelly. Smith anticipates plenty of rack mount audio gear, audio consoles such as mixing boards, some guitars and guitar effects, and a collection of snare drums. As with any community sale, the early bird gets the best goods. If you're interested in a table of your own, contact Smith at justin@smithlee.com, or just bring a few items to set down or trade at the end of the day.
"The first year, I didn't anticipate trades at all," says Smith. "Around closing time, everybody was like, 'OK, I have all this stuff leftover and I don't feel like taking it home.' People were swapping things out. It kind of evolved into this other thing when it was done, which is pretty neat. People coming to buy things will bring things with them in their car just in case."
Follow St. Louis GEARage Sale on Facebook. Event flyer below.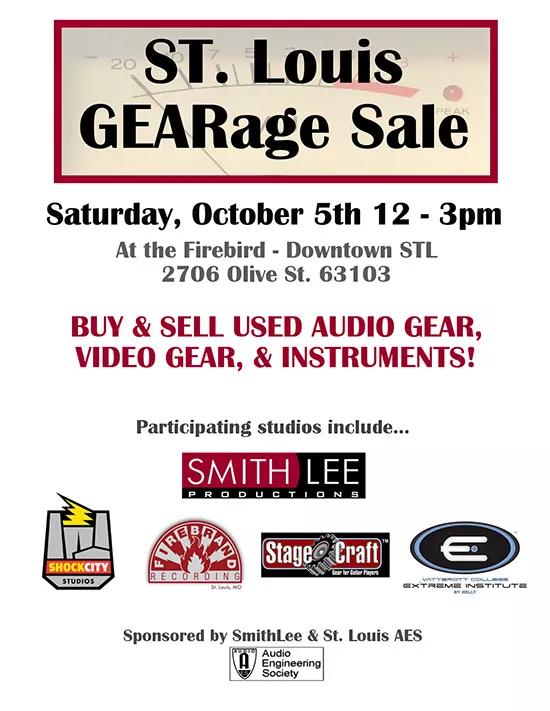 RFT MUSIC'S GREATEST HITS
The 15 Most Ridiculous Band Promo Photos Ever "Where Did My Dick Go?" The Gathering of the Juggalos' Best Overheard Quotations I Pissed Off Megadeth This Week, My (Former) Favorite Band The Top Ten Ways to Piss Off Your Bartender at a Music Venue
Follow RFT Music on Twitter or Facebook. Follow RFT Music editor Daniel Hill on Twitter too, if you are into that sort of thing.